Jurassic World: Dominion Dominates Fandom Wikis - The Loop
Play Sound
Secret Pages are various written segments that flesh out the lore of Inverted Fate. A scavenger hunt for the fans.
To read the pages, go to invertedfate.com/secretword and replace "secretword" with the keywords to the secret pages.
Hints and Clues
The following is a list of hints[1] for the secret pages:
1. You just remembered _____. (Two words, no spaces or underscores or anything in the URL, the phrase can be canon in UT.)
2. Three words, the most commonly repeated phrase in the comic. (Same as before- no spaces, underscores, etc in the URL).
3. Four letters, a very cool sound.
4. Starts with H, one word that has some relation to Undertale, 14.
5. Four letters, starts with an S.
6. Three letters, a nickname for a character.
7. Color
8. Term for a male family member. A cutesy term of endearment. Bonus hint: Pizza.
9. One word, not found. Bonus hint: Milk carton
10. An animal
11. A character's driving motivation. One word.
12. The first stage. One word.
13. What's yet to come.
14. horses and ten gallon hats
15. Something you use when cooking.
16. Surprisingly deadly. Also stylish.
17. Way to uncover digital secrets.
18. One word. Snack in a spooky place.
19. Not a burger. One word.
20. A day that makes you wanna be fresh and party.
21. Never put these on burgers. They're tacky.
22. Can be a tool or a weapon.
23. A cute animal sound.
24. Something you stage when things have gotten out of hand.
25. Irritable pincushion.
26. A foreign word for a feline sound.
27. Something you say when parting ways.
28. A way to describe a child.
29. Larger than a stream, smaller than an ocean.
30. A way to describe feeling bad.
31. Spiky sea critter.
32. Before later.
33. Uncooked meal.
34. The state or a period of forced absence from one's country or home.
35. A dark place with forbidden wares.
36. Nobody likes them.
37. Can be found or born into.
38. Prophesied being.
39. Something you use to construct a machine.
40. Strong and militaristic force.
41. A special day of the year.
42. Career advancement.
43. Someone who helps another with their job.
44. A meaningful connection.
45. The first showing
46. A feeling or flavor that is not sweet.
47. Lord of the castle.
48. What you have to do if someone flirts with you in battle.
49. System of protection and safety.
50. Period of rest after an unfortunate event.
51. One who works with a skilled employer or mentor.
52. It sucks here.
53. Before DVD, there was...
54. Thinking about something in the past
55. Something in a story that surprises you
56. Don't put these in pies
57. Not quite a king
58. Growing closer
59. What happens when you lose
60. Not a pleasant dream
61. Something you recognize from a long time ago
62. Not a lie
63. Something new that you find, usually before anyone else
64. Something others might not know that might be surprising
65. Something you do to succeed on a test
66. Like Jerry but not
67. A powerful weapon used by folks without skin
68. This popular anime heroine is a _
69. Term for a girl who's very passionate about an interest
70. Not arms
71. Passing the _
72. A very great year
73. A sad color
74. A very special action you can't do without a body
75. A sort of arrangement you make with someone, often financial
76. The opposite of success
77. Not to be confused with a geek
Last warning for spoilers. Seriously, go away.
Solutions and Explanations
1. You just remembered something funny. (A line said by Chara in a violent run where you killed the dogs.)


2. Three words, the most commonly repeated phrase in the comic. -> everything is fine (First said early in the comic's Snowdin arc)


3. Four letters, a very cool sound. -> nyeh (Papyrus's signature sound)


4. Starts with H, one word that has some relation to Undertale, 14. -> heartache (Heartache is the 14th song on Undertale's OST)


5. Four letters, starts with an S. -> star


6. Three letters, a nickname for a character. -> Cap (In the comic, Chara is given the nickname Captain Cryptic, or Cap, by Frisk)


7. Color -> green (The Kindness SOUL plays a much larger role in Inverted Fate than in canon Undertale)


8. Term for a male family member. A cutesy, childish term of endearment. Bonus hint: Pizza. -> papa (This one took me the longest to figure out. Papa, as in Papa John's pizza.)


9. One word, not found. Bonus hint: Milk carton -> missing (Do I need to explain the milk hint? Yeah, I think so. They put pictures of missing people on milk cartons. Enjoy your angst.)


10. An animal -> lizard (Alphys is a lizard, not a dinosaur - though that would be cool)


11. A character's driving motivation. One word. -> promise (Undyne's promise to free the Underground)


12. The first stage. One word. -> denial (Denial is the first stage of grief according to the Kubler-Ross model)


13. What's yet to come. -> future


14. horses and ten gallon hats -> rodeo


15. Something you use when cooking. -> recipe


16. Surprisingly Deadly. Also Stylish. -> glamour (This is a reference to Death by Glamour, the theme that plays during Mettaton EX's boss fight in Undertale)


17. Way to uncover digital secrets. -> defrag


18. One word. Snack in a spooky place. -> chisps (The spooky place is the True Lab, where Poptato Chisps can be obtained from a vending machine)


19. Not a burger. One word. -> fries (If you go to Grillby's with Sans in normal Undertale, you'll have the option to choose between a burger or fries)


20. A day that makes you wanna be fresh and party. -> friday


21. Never put these on burgers. They're tacky. -> sequins (The Glamburgers at MTT Resort have edible sequins on them)


22. Can be a tool or a weapon. -> hammer


23. A cute animal sound. -> mew


24. Something you stage when things have gotten out of hand. -> intervention


25. Irritable pincushion. -> dummy (Mad Dummy is sometimes compared to a pincushion when attacked with Undyne's spears)


26. A foreign word for a feline sound. -> nya OR nyan (This is the Japanese word for "meow" or "mew")


27. Something you say when parting ways. -> goodbye


28. A way to describe a child. -> fallen (The first human to fall is referred to as the Fallen Child or Fallen Human)


29. Larger than a stream, smaller than an ocean. -> river


30. A way to describe feeling bad. -> guilt


31. Spiky sea critter -> urchin


32. Before later. -> soon


33. Uncooked meal. -> sushi (A reference to the "Smells like sushi" flavor text from the Undyne fight in Normal Undertale)


34. The state or a period of forced absence from one's country or home. -> exile


35. A dark place with forbidden wares. -> alley (Refers to the alley where Bratty and Catty have their shop)


36. Nobody likes them. -> jerry


37. Can be found or born into. -> family


38. Prophesied being. -> angel


39. Something you use to construct a machine. -> blueprint


40. Strong and militaristic force. -> guard


41. A special day of the year. -> holiday


42. Career advancement. -> promotion


43. Someone who helps another with their job. -> assistant


44. A meaningful connection. -> bond


45. The first showing. -> premiere


46. A feeling or flavor that is not sweet. -> bitter


47. Lord of the castle. -> king


48. What you have to do if someone flirts with you in battle. -> date (If Papyrus is flirted with in his fight in normal Undertale, he'll think this means he has to date the human)


49. System of protection and safety. -> security


50. Period of rest after an unfortunate event. -> respite


51. One who works with a skilled employer or mentor. -> apprentice


52. It sucks here. -> wifi


53. Before DVD, there was... -> vhs


54. Thinking about something in the past. -> remember


55. Something in a story that surprises you. -> plottwist


56. Don't put these in pies. -> buttercups (Refers to when Asriel and Chara made a pie with buttercups in it)


57. Not quite a king. -> prince


58. Growing closer. -> bonding


59. What happens when you lose. -> gameover


60. Not a pleasant dream -> nightmare


61. Something you recognize from a long time ago -> familiar


62. Not a lie -> truth


63. Something new that you find, usually before anyone else -> discovery


64. Something others might not know that might be surprising -> reveal


65. Something you do to succeed on a test -> study


66. Like Jerry, but not -> terry (In Chapter 2 of Deltarune, there is a monster who looks like Jerry but is actually called Terry, and is more popular)


67. A powerful weapon used by folks without skin -> blaster ("Folks without skin" refers to skeletons, and the weapon is the Gaster Blaster)


68. This popular anime heroine is a _ -> catgirl (The anime in question is Mew Mew Kissy Cutie)


69. Term for a girl who's very passionate about an interest -> fangirl


70. Not arms -> legs


71 . Passing the _ -> torch


72. A very great year -> 1997


73. A sad color -> blue


74. A very special action you can't do without a body -> hug


75. A sort of arrangement you make with someone, often financial -> deal


76. The opposite of success -> failure


77. Not to be confused with a geek -> nerd


? (78) -> bestfriendsforever (No hint is associated)
Wingdings Translations
17.-datamine/defrag 1st set-

WHEN THE LIGHT IS RUNNING LOW

AND THE SHADOWS START TO GROW

AND THE PLACES THAT YOU KNOW

SEEM LIKE FANTASY

17.-datamine/defrag 2nd set-

I SEE.

VERY.

VERY.

VERY INTERESTING.

LITTLE PIECES STITCHED TOGETHER. REALITY IS HIS MOSAIC.

AND THE SCRAPS ARE NOW AN UGLY. HIDEOUS. ATROCITOUS MESS.

IF YOU ARE READING THIS.

THE ANSWER IS BEPIS VALLEY GRANOLA BARS.

18.-chisps-

AMPLIFY WITH CORE TO MATCH HUMAN OUTPUT
Transcriptions
Page 1 Transcription
"Haha… Papyrus… didn't expect you here. Isn't it a bit early?"

"UNDYNE… WHAT'S GOING ON? "

"Look. Take the day off. It's fine."

"NO. YOU KNOW I DON'T DO DAYS OFF!!! "

"Well, today, you DO. So go! We can pick back up tomorrow."

He just had to step closer. Shit, shit, SHIT. Good thing it was dark. Made it harder to see the… results.

A slick trail along the floor. Discarded coat. Shattered syringes. What a mess.

What. A. Freaking. MESS.

HahahAHahAHahahaha…

When did the floor get so close? When did she fall to her knees? Footsteps approached. A shadow cast over her in the dark.

Tears.

But it was too late to turn back.
Page 2 Transcription
Tubes and wires, tubes and wires. Running through, deep breaths. Deep, deep breaths. In and out. It was fine. Just peachy!

They'd never have to see.

She'd cover it with bandages for now. Pass it off as a lab accident. Give her time to… finalize the rest of the work.

One step, two steps, the lights flickered on.

"you screwed up. you know that, right? "

A flash. A crash. Teeth bared. Fists clenched.

He didn't flinch. Just sighed.

"look. you're lucky you're still alive. maybe it's time to call it QUITS. "

Another flash. He dodged.

"Leave. Me. ALONE!"

He shook his head, then turned around. "suit yourself, i guess "
Page 3 Transcription
He should have told her to stop! But it was Undyne. She could do anything! She made the holo-sky. She built Mettaton! It was her idea to use that power on the bodies. And they woke up! So that was good! It was great, even! They…

They…

How long had he been pacing? He stopped. He slumped. His legs… shaking slightly. How long? And why? Surely it'd happen. A flash of brilliance, and all would be well.

Right?

Any second now.

Any. Second. Now.

The lab doors wouldn't open no matter how many times he knocked. Eventually Sans grabbed his hand, and the whole world flashed. But not the flash he wanted.

Just… home.

He sank into the couch cushions. Someone knocked on the door, but his body weighed ten tons. He stayed stuck to the cushions.

The back of the couch sagged, and he looked up. Nearly jumped.

"SO! I'VE HEARD THERE WAS TROUBLE AT THE LAB TODAY."

"O-OH… METTATON. " He perked slightly, but couldn't meet his… well, not eyes. Pointy sunglasses? Very pointy sunglasses. "I'M SURE IT'S FINE. UNDYNE IS- "

"STUBBORN. RECKLESS. CAN'T SEE THE FLAMES UNTIL THE WHOLE HOUSE BURNS."

"HEY!!! THAT'S RUDE. "

"…BUT AM I WRONG?"

"I… " He slumped again. "WELL. REGARDLESS! I'M SURE SHE HAD HER REASONS FOR… WHATEVER HAPPENED. "

"SHE HAD HER REASONS FOR LEAKING THOSE TAPES, TOO, AND YOU SAW WHAT HAPPENED."

Papyrus opened his mouth, but words failed to fall. Mettaton rolled around, awkwardly parking himself next to the skeleton.

"ALL I'M SAYING IS THAT YOU DON'T HAVE TO DEFEND HER EVERY ACTION, PAPYRUS. SOMETIMES THE BEST THING YOU CAN DO IS TELL THE PEOPLE YOU CARE ABOUT WHEN THEY DO HURT YOU."

"BUT… IT'S NOT ME I'M WORRIED ABOUT. IT'S WHAT SHE'S DONE TO- "

"HERSELF? I KNOW." He folded his arms. "IT'S NOT MY PLACE TO SAY WHAT YOU SHOULD OR SHOULDN'T DO. JUST… BE CAREFUL, ALL RIGHT? THAT WHOLE DETERMINATION BUSINESS SEEMS SO NEEDLESSLY DRAMATIC!"

"I SUPPOSE… "

And then, out of nowhere, he clapped a hand on Papyrus' shoulder. "HERE'S AN IDEA. WHY DON'T WE HIT THE TOWN FOR A BIT, HM? MY TREAT."

Googly eyes burst from his sockets, and he nearly fell from the couch. "W-WAIT. LIKE A PRIVATE TOUR? REALLY?! "

"SURE. ALL WORK AND NO PLAY MAKES FOR ONE NEEDLESSLY STRESSED YOUNG SKELETON!"

"WELL… I GUESS I COULD USE A CHANGE OF SCENERY. "
Page 4 Transcription
"TIME IS RUNNING OUT."

She knew. How could she not know? How could she ignore the blatant signs? She had watched over them since they were a child. She had seen them flourish, from a kind but akward child with a love from cooking to a skilled sorcerer standing strong alongside the Underground´ s proudest warriors. At first, it was not so bad.

She knew, of course, that children grew. Hers never did. Taken too soon. Even now, the heartache lingered. The day her son´s body, warped and grotesque, collapsed before her, a piece of her shattered. She had cried until her eyes ran dry and the tears could no longer flow.

But that was over eighty years ago.

Toriel sat in her throne, clutched her cyan staff, steeled herself. Steadied her breathing. in, out, deliberate and slow.

"PLEASE. WHEN THE TIME COMES. LET ME CARRY THEIR SOUL."

"The answer is no" She did not mean to growl, yet growl she did. Slivers of smoke crept from her fingertips despite her best efforts.

But of course he would not take a no for an answer. Of course he would step forward, his perpetual grin unwavering even as his eye sockets narrowed in blatant frustation.

"IT IS PERTINENT THAT YOU. GRANT ME THIS REQUEST." One step, two steps, three steps, all with hands clasped behind his back. "WE HAVE MADE... GREAT PROGRESS. TRULY ASTONISHING LEAPS AND BOUNDS. FOR THE SAKE OF THE UNDERGROUND-"

"My child's SOUL is NOT YOURS to take!" A fireball soared through the air. He flashed away. Reappeared near that accursed trident with a sigh.

"AND THEY ARE NOT A CHILD. NOT ANYMORE"

Her nostrils flared. The smoke intensified. She took another tremendous breath, then spoke in a steady tone. "I do not appreciate your secrecy, Doctor. Why should I entrust you with their SOUL when you cannot even share your objectives with your queen? My child is dying, and all you can think of is your own desires."

She shut her eyes, shaking her head. "Now if that is all, i really should be going. They have waited long enough for their butterscotch pie."

With that, she rose from her throne and stormed down the hall. She had to make their remaining moments count.
Page 5 Transcription
BANG!

Metallic shrapnel cleaved across her face. The force of the explosion hurtled her out of her hovercraft, down, down, down...

Shit, shit, SHIT!

No parachute. No helmet. No padding. NOTHING.

And so many eyes gazing up. Anticipating the aquatic pancake to come when they could have HELPED her, and-

She blinked and she was fine.

Standing just outside the Inn and Item shop. She wobbled a little, reeling from... whatever just happened. Did it even happen at all, or was she just hallucinating? Did someone spike her drink at Grillby's?

Maybe that dog that liked to chase Papyrus around.

"Ugh, what the hell?" She rubbed her temple, grumbling to herself. What a pain.

But her contemplation would have to wait as an all too familiar voice shouted "UNDYYYYYNE!!!! "

She looked up, smirking as Papyrus barreled across the snow, clad in a lab coat way too big for his dweeby preteen body and a pair of goggles.

But Undyne wasn´t one to settle for a simple wave and greeting. Instead, she bolted right back at her skeletal buddy with an explosive, "SNOW WRESTLING!"

"AGH! WAIT, UNDYNE, DON'T- "

SPLAT. Down went Papyrus before he could so much as dodge. A bombardment of noogies followed, despite Papyrus' squirming.

"UNDYNE, WHY MUST YOU TORMENT ME SOOOO? "

"Because it keeps you on your toes, duh!" But she relented after a few more seconds, though not without leaving a particularly deep, Papyrus shaped indentation in the snow. "So! you doin' good in school?"

Papyrus moaned as he rose from his is accidental snow angel. "YES! VERY. I, THE GREAT PAPYRUS, ACHIEVED THE GLORIOUS HONOR OF EXTRA CREDITS ON MY LATEST AND MOST PRESTIGIOUS PUZZLE PROJECT!!! "

"...Ugh. I dunno how you can stand it." But she clasped a hand on his shouder anyway. Gotta encourage him in one way or another. "Well, whatever! Point is, it´s good to see ya, And how´s your brother doing?"

"OH, HE´S AT ANOTHER MEETING. APPARENTLY IT'S RATHER URGENT? SO URGENT THAT THE ENTIRE GUARD WAS SUMMONED!!! "

"...Huh, so that's why those dogs weren't at Grillby's earlier."

"...WAIT. YOU WERE AT GRILLBY'S? BUT I THOUGHT YOU JUST GOT HERE! " Papyrus paused. "AND FURTHERMORE, WHY WOULD YOU TAINT YOUR TASTEBUDS WITH SO MUCH GREASE?! "

"DUDE! Are you for real?" She snickered, shacking her head. "C'mon Paps. You haven't lived 'til you´ve had their cheese fries! They're so unhealthy in all the BEST ways!"

"ERK. R-RIGHT. BUT... " He looked up, then snapped his mittened fingers. "OH! WEREN'T YOU SUPPOSED TO BE WORKING ON THAT SKY PROJECTION TYPE THING TODAY? " He pointed to the incomplete framework spanning over the town.

...Shoot. That was a lot of work she musta dreamed up. Sighing, she turned around and cracked her knuckles. "Yup. But, geez, I'd better step it up if I wanna get this done by the end of the week." If she could pull it off fast enough, maybe Queen Toriel would let her pick up where Sans left off. Somebody had to take over as head scientist, after all.

But as she turned to the Box to dig out her belongings, something strange caught her eye.

Something... shiny.
Page 6 Transcription
CW: Contains mild depiction of substance abuse.

That was…Chara.

What. The. HELL?

Undyne pounded the control panel. Glowered at the monitor. Chara was supposed to be dead! How could they just… exist? Their SOUL just…disappeared, didn't it?

But then, human SOULs were supposed to persist. Asriel had absorbed it, sure, but Boss Monster SOULs and human SOULs carried a notable power discrepancy. If Asriel's SOUL shattered…what would that do to the human component?

She narrowed her eyes. Rubbed her chin. This was…unexpected, sure, but not unprecedented.

Still, to think that little punk had that traitorous pipsqueak inside all along. How did it happen? What did it mean? Humans couldn't absorb other human SOULs, so what other possibilities existed?

Well. That certainly explained why their determination was so potent. A single human SOUL was already enough to edge her out, but two in one body?

She stuffed a hand down her pocket, plucked out a syringe. Pulled up her sleeve. Refused to look at what hid underneath.

She shut her eyes. Jammed the needle in. Then another. Then another, grimacing and gritting her teeth as electricity flowed through her. Just a little boost. Just a precaution. The Determinator would still do all the heavy lifting.

But at least this way, she could get revenge for that little demon's crimes…

x.x.x

"…I knew it."

Chara was alive.

In at least some form. They were there! Right there!

But as quickly as a smile overtook Flowey's face, that smile flipped upside down. Vines lashed out at the vending machine.

Just as soon as Chara appeared, they disappeared again! Why did that kid get to hog them? Why did THEY get to talk to Chara? Why didn't Chara talk to HIM?!

Pellets ricocheted off the walls. He didn't care. He. Didn't. CARE at this point! Undyne was probably too busy watching the kid, anyhow.

How insulting! How infuriating! More bullets. More vines. He'd wasted days palling around with the kid, pretending and projecting, when they were within a literal arm's length!

He'd been exposed. Undyne became a living roadblock between him and the SOULs, and now this?!

…

……….

No.

No, this was nothing to get upset over. Chara didn't really distrust him! Chara would never hate him.

This was fine. Everything was just fine. Flowey forced a smile, shook his head, and looked away from the dented hunk of metal and glass.

No sense flipping out just yet. He'd made it this far, after all. Besides, he'd already resolved to let the kid and Papyrus handle Trashbag, and he was way worse than Undyne in the end.
Page 7 Transcription
The elevator screeched to a halt. Doors opened to a dimly-lit hall. The lights buzzed and flickered, providing the barest illumination for the dull, teal walls. They waited several seconds as their host practically glided into the hallway. He raised one bony hand and waved for them to follow.

Down, down the hall they strode in pure and utter silence, past inactive monitors. He stopped in an open chamber, hands behind his back.

"SO. YOU HAVE. A QUESTION, CORRECT?"

"Yes." The mage bowed their head. "Tell me, Doctor, what do you know about the human SOUL?"

"OHO. THE SOUL. YES. IT IS VERY, VERY INTRIGUING." He turned his head partway to look at his hooded company. A strange glint overtook his eye sockets. "NATURALLY, THE HUMAN SOUL IS POWERFUL. UNPARALLELED BY ANY MONSTER. ITS ABILITY TO PERSIST. TO WARP A MONSTER'S VERY BEING… SO PHENOMENAL. SO. FORBIDDEN."

He traipsed around them, looking them up and down.

"HOW I HAVE LONGED TO. STUDY ONE UP CLOSE. BUT THE QUEEN. SHE IS… APPREHENSIVE. I WONDER. IS IT BECAUSE OF THE LATE PRINCE? BUT THAT WAS DECADES AGO. TRAGIC. BUT PERMANENT. MISTAKES CANNOT SIMPLY… BE ERASED."

He stopped, stared. The mage backed away. Averted their eyes. Ah…

"…What if I told you that it can?"

That glint from before became a full on glow. The Doctor's unwavering smile grew and grew, and he sauntered closer.

"YOU. DON'T. SAY." He steepled his skeletal fingers. "CARE TO… ELABORATE?"

"…This probably sounds ludicrous." The mage blew a soft sigh, fidgeting with a sleeve. "But I remember it well. That other child…"

"SPIKY HAIR. BANDANNA?"

"Yes. He had… killed Mother, and I." They wrapped their arms tightly around their torso. "I was so terrified. I didn't want to believe it was real. I wanted to go back, to warn her. To save her…"

This shouldn't have bothered the mage. It was so long ago. Still, the mage continued, "And then, before I knew it, I was back in the town square. Like nothing had happened."

The Doctor turned his back, stroking his bony chin. "FASCINATING. TRULY FASCINATING."

"But even before that, there were moments where time seemed to spiral backwards. I remember getting into an argument with the other child over dinner because he didn't appreciate Mother's snail pie. Mother was heartbroken, and then… it was the middle of the afternoon." They reached for their forehead, rubbing in circles. "And before I ran to the throne room, I'd felt similar… I don't want to call it deja-vu, because the feeling was so real. That day in particular, I'd experienced… at least five? Though all of them felt so coincidental at first."

They looked down at their hands, rolling them into tight fists. "But… after Mother's death, something changed. I tried to speak to the child as well, to understand why he had attacked her. He just glared and shouted, 'You wouldn't understand! I bet you got nobody else to go back to.'"

"AND THEN?"

The mage slumped against the wall, gazing distantly at the ceiling. "They ran off in a huff, and…" Their voice started trembling. "By the time I got to the barrier…it was already too late."

Several moments of silence passed before the Doctor turned back around. His eye sockets narrowed, but his smile ever remained. "ALL RIGHT. I HAVE AN… IDEA. I WANT YOU TO DO YOUR… TEMPORAL JUMPING THING HERE AND NOW."

The mage gasped. "But if I do, surely you'll forget…"

He raised an index finger. "I WASN'T FINISHED YET. NOW. DO YOUR WARP AND THEN SAY TO ME… 'I AM A PEANUT-BRAINED NITWIT.'"

"…But why?"

"ONE! BECAUSE IT IS AMUSING. TWO. IT IS A CODEWORD. I ALWAYS FIGURED THAT IF I EVER DISCOVERED A MEANS TO TRAVERSE TIME, I WOULD. UTILIZE IT. FOR CONVENIENCE. BUT THIS IS VERY. VERY DIFFERENT."

This still seemed so silly, but the mage relented with another sigh… And then the whole lab went white.

When they next knocked on the Doctor's door and delivered the so-called 'codeword,' he burst into shrill, haunting laughter.

"I SEE, I SEE! SO YOU CAN. TRAVEL THROUGH TIME." He spun on a heel, waving for the mage to follow. "COME. WE HAVE… MUCH TO DISCUSS."

So began their joint venture into unraveling the mysteries of the human SOUL.
Page 8 Transcription
Pap wouldn't stop blabbing about it. The big man in red, the jolly giant of holiday cheer… Heh. Good to know he had a guiding hand. Sans should've kept a closer eye on him, honestly. But everything happened so fast. After over a year of putting up with pressure and expectations, he just wanted out.

What a lousy older bro he was.

Well, not today.

Undyne was nice enough to keep an eye on him this afternoon, and so Sans took a shortcut to the woods, all the way to that big old door.

The Ruins.

He'd heard about it from time to time. Naps liked to slip on in, but was always cagey. Something, something, privacy. Sans knew better than to pry. Lucky for him, their cousin proved an open book, like always. The ghost's eyes lit up at the prospect of the 'Ruins Door mystery,' and before Sans knew it, he was blabbing a mile a minute.

"Ooh, I can see it now! Mystery monster in the Ruins. A secret society swept under the proverbial rug! A door to the past few dare to defy…"

Sans shook his head as the ghost went on and on, slurping some cola through his teeth. "pap says it's 'santa's workshop.' "

"It wouldn't surprise me!" The ghost glanced from side to side, then floated closer and whispered, "Between you and me, I think Blooky's been helping him deliver presents. Of course, they never give me a straight answer! For shame!" He fell backwards through the air, as if he'd fainted.

…What a weird kid. …Disregarding the fact that Sans was only sixteen, anyway, and ghost ages were. Weird. Now that he thought about it, was he a kid? A teen?

Eh, whatever. His remark got a chuckle out of Sans either way.

"so, uh. wanna check it out? "

"Hm!" The ghost brought a stump of an arm to his mouth, spectral tail swishing and swaying. "It is tempting, but I promised Shyren I'd help her rehearse. The poor dear's just so desperate to reach the same heights as her sister…"

"heh. i getcha. " Sliding down from the couch, Sans turned to the door. "welp, i'll keep ya posted, okay? "

"Of course, of course! Anything for the Underground's brightest-"

Sans' eye sockets darkened, but only for a split-second. "no, i'm just sans. sans the skeleton. "

"Oh. R-right… Carry on, then."

That encounter had ended on… awkward terms. He'd have to make it up to Metts later, but for now, Sans sauntered up to that door, and then…

Gave it a knock.

At first, nothing happened, so Sans parked it against the door. He'd knock again every few minutes, until eventually…

"Hello?"

Jackpot.

Sans snickered to himself and said, "knock knock. "

"Yes, I heard you knocking. Is there-"

"nah, man. y'gotta say, 'who's there?' "

"Oh! A joke? Hohoho…" The monster, presumably 'Santa,' seemed a bit too easily amused. After all, Sans hadn't even hit the punchline.

Eh, whatever. He pressed on with, "adore. "

"Adore who?"

"a door is between us. open up. "

"…Ah." A pause followed. "You wouldn't be Sans, would you?"

"heh. what gave it away? "

"The joke, mostly. Papyrus told me you, erm… Really enjoy making puns. It's. Nice." There was a strange sadness to his voice. Most monsters would probably pry.

Sans didn't.

"yeah, so. about that… my bro's been goin' gaga over you. keeps tryin' to sneak out here. and, hey, cool. you looked out for him when i couldn't… but i'm the only family he's got left now, so y'know. gotta make sure he's in good hands. "

"I understand." And, after a moment, the door cracked open.

The massive, figure, clad in a cloak gave Sans pause. His humongous horns, floppy ears, white fur… All dead-giveaways. Expected ones, of course; Pap had already talked Sans' nonexistent ear off, but seeing him up close, without the holiday disguise…

"heh. well, ain't that a surprise? "

The monster's eyes widened by a hair. "Is there a problem?"

"dunno. i know one monster who'd probably say it is, but… well. i ain't her. " And judging by the way the monster winced, he knew exactly who Sans meant. "kinda funny how no one else has connected the dots. 'course, they don't really hang pictures of ya in any halls of fame these days, and i'm sure you ain't lookin' for the spotlight either. "

The monster hung his head. "…No. I don't deserve it. My actions were unforgivable."

"see, and that's the thing. i could get on your case for why you're hidin' in the ruins, but.. .well. a little ghost says they're one of the happiest places in the whole underground. and i ain't gonna knock that. all i want is for my little bro to be safe. "

"And I assure you, Sans, I want nothing less myself. He's such a kindhearted lad. He's glowing with enthusiasm and hope… something to nurture and cherish."

"heh. " Sans shut his eyes. "good. glad we're on the same page. "

"Then… what exactly are you trying to say?"

"just… had to make sure my bro was in good hands. y'know, if he ends up sneakin' out here again. and he will. gettin' the kiddo to sit still's like gettin' a whimsun to grow a backbone. "

The monster laughed. "Oh, I'm working on that! Why, we have weekly gatherings to discuss our feelings specifically to help more timid monsters come out of their shells."

"…huh. explains why naps likes ya so much. " At least, that'd explain their frequent trips. "welp. point is, you're okay, asgore. i'll let my bro hang with ya, long as ya keep him out of trouble. "

Clasping his free hand over his chest, Asgore bowed. "Of course. You have my word."

"cool. then, uh… stay cool, i guess. and… thanks for lookin' out for pap. "
Page 9 Transcription
She knew something was wrong the moment their picture appeared in the paper. Just like they always wanted.

A child gone missing. It's not like it was anything new. Kids went missing all the time. Some people were numb to it. How many people would look for one orphan among the masses of kids, some of whom had families? And it wasn't like Frisk had made the best name for themself over the years.

Wiping her glasses, Lilac sipped her milk and fiddled with the remote. She and Frisk hardly parted on the best terms. She rubbed her cheek, wincing at the memory.

Frisk's fist flying for her. The rage burning in their eyes.

All because she cared…

All because… she was scared.

The TV clicked on to the news. She had every intention to change the channel to something more entertaining, but hesitated as an image of an all too familiar mountain appeared onscreen.

"Yes, siree. Our local landmark, Mt. Ebott's sparked all sorts of sensational speculation over the years! A string of child disappearances spans at least a century! But are the legends true, or is it all just a tall tale? Stay tuned as our experts-"

The remote clattered to the floor.

Mt. Ebott. The very place they promised to run away to.

…

And Frisk had disappeared. It must've been at least a few days, for people to take notice and for the word to spread. And in that time… who knew what could've happened?

It'd been so long since she'd seen them, spoken to them, but this…

It was stupid.

She had a home now. A family. She was safe. Most people would've moved on.

She could've, should've waited for her new parents to get home from the store. She could've, should've called the cops, somebody, to report Frisk's potential whereabouts.

If they were even still alive.

Instead, she ran across the room, grabbed her jacket, and ran outside. She didn't even lock the door.

She'd give them a call later. That's what cellphones were for.

But she had to make it up to Frisk somehow.
Page 10 Transcription
Bombs. Smokescreen. A chance to escape. She couldn't look away. Crawled from her kotatsu right up to the screen.

"Run!" she screamed. Her heart raced. This was it. Their one chance. If they hurried–

The ground rumbled. Mettaton's eyes opened wide, and then–

And then–

Fast. Titanic. Claws. Wings. Yellow eyes. Falling, falling-

CRASH.

Static.

Just… static.

Alphys' hands trembled. She fell to her knees.

Was that…

Did Undyne…?

"N-no…"

A pitiful whimper.

Why?

Was this her fault?

She sniffled. Her eyes stung. Rivers trailed down her cheeks.

She'd told… She said she'd… t-talk to Undyne. And what'd she do?

She hid. She cowered. She promised she'd try.

But no. She got cold feet. Became paralyzed further and further with each new broadcast. While Papyrus, Mettaton, Sans, and so many others did what was right, Alphys… curled up in her little pity corner, too weak to do what was right.

And now what?

What could she hope to do now?

Had she missed her only chance? Would Frisk even survive? What about Undyne? Alphys struck the floor with a pitiful fist. The feed had cut out. Undyne had stopped answering calls. And Sans.

And so she sat in an empty room, with nothing but the hiss of static to accompany her sobs.
Page 11 Transcription
She stood at the edge, amidst a sea of endless white. Silent, statuesque, she clutched her staff and gazed into the unknown. Her eyes, distant. Empty. A hollow sigh escaped her lips, as it had many times before. But nothing changed.

Nothing ever changed.

One, two, three, four, five…

She grasped her chest, suppressing tears.

Six.

So close, no doubt her people thought. Freedom in sight. An escape. A new beginning…

But at what cost?

Thud, thud.

She squeezed her staff in both hands, spinning on a heel and heat busting at her fingertips, but…

"Ah. It is only you…"

The plucky young scientist cocked her head to the side, raising an eyebrow.

"What do you mean just me?"

"…Forgive me, child. These old ghosts of mine need not concern you."

Undyne crossed her arms, moving closer. "You can't say that and expect me not to worry."

"Hm." Toriel looked away, face downcast. She slumped, as if the weight of an entire mountain had crashed upon her shoulders. "It has been… some time since a human last fell, and yet I hear murmurs even now. The people still crave what they cannot grasp."

"Well, yeah. We've been rotting under this mountain for eons now! I can't blame 'em for getting antsy."

"And yet…" Toriel trailed off. It was not right to burden someone so young, so hopeful, so… passionate. Because that passion, as beautiful and bright, could so easily spark a wildfire. She had to choose her words carefully. Act as a proper queen and guide the youth- this next generation- with care and compassion…

And so she cast a half-glance at Undyne. "Tell me, child. How do you feel about humanity?"

Undyne's eyes widened. Her toothy maw hung ajar. "I…" Her fists clenched and she looked away. "Man, you don't make this easy, do you?"

"It is a question that merits… careful thought, is it not?"

"Ugh. No kidding. I mean, humans started the war! They're the whole reason we're stuck down here! They killed your son. And one of 'em nearly wiped out all of Waterfall!" Each word cut like an invisible knife. Stung with phantom pains. Yet Toriel did not flinch.

Undyne continued, "But… you don't hate them. I know Chara was pretty important to you. And that Mage…"

"Here until the end… and beyond." Toriel heaved another sigh, heavier than the last. "I have seen atrocities committed by humankind, but I have also seen good. And I have seen many children die."

"…Yeah. I can't even imagine."

"You should not have to imagine… but we cannot leave unless another dies. Maybe not until they have grown old and grey, lived a fulfilling life… but one far from their loved ones. But no matter what, our happy ending will be bittersweet."

A prolonged silence followed, save for a grunt from Undyne between clenched teeth.

And then, to Toriel's surprise, she said, "No."

And this finally got the old Queen to turn around, to break from her statuesque stance and stare at the young scientist.

"I do not understand…"

"You heard me!" Undyne pointed at Toriel, flashing a toothy smirk. "I won't let that happen. I don't care WHAT it takes! There's GOTTA be another answer."

"But-"

"No buts, Your Majesty! You made me Royal Scientist. That means it's my JOB to research this kinda thing! So you bet your BUTT I'm gonna figure this out!"

"…But how do you ever expect to do so when even your predecessors could not?"

"Well, did they ever try?"

"Ah… Well. That is a complicated question."

"Well, I don't have the patience for that. Whatever they tried, I'll try even HARDER! I don't care if it's impossible. I'll MAKE it possible!" She paused. "…With your permission, I mean. And… maybe the SOULs for good measure."

…

Ah. There it was again.

'PLEASE. WHEN THE TIME COMES. LET ME CARRY THEIR SOUL.'

Toriel's eyes narrowed. She tightened her hold on her staff, ready to refuse, until-

"…I won't absorb them. I just want to study 'em."

"Oh." That was… different. Still, was it right? The SOULs once belonged to living humans… and yet, no matter what, they would be used as a means to an end.

Undyne's heart was in the right place.

"…I will. Consider it, child. But to what end?"

Undyne cupped her chin in hand. "Well, we need the power of human SOULs to break that thing. Knowing what those SOULs are really made of might help me figure out a safer alternative. I'm… Shoot. Honestly, I kinda thought this up on the fly, but I SWEAR I'll work it out! I'll come up with the BEST project proposal you've ever SEEN! Then we can REALLY give the Underground something to smile about!"

Was it wishful thinking? Perhaps a little. Was it overzealous? Absolutely, and yet… for the first time in what seemed like an eternity, the faintest hint of a smile crossed Toriel's muzzle.

"Very well. You may write your proposal. But whatever you do, please be careful. I do not want to lose another brilliant mind…"

"Ha! Don't sweat it, Your Majesty! Everything's gonna be just fine!"
Page 12 Transcription
There was no mending the damage. Just patching it. Stitching it. Pasting the pieces back together.

Just another member of the circus freak show. How ironic. How painfully ironic.

So ungodly ironic she laughed. And laughed. And laughed, until her throat ran dry and her voice grew hoarse and that laughter became a mangled mess of sobs and wheezes.

And yet, who was she to complain? She was still herself. Or at least some facsimile of herself. Not some shambling, dripping, oozing mess, shrieking and wailing and howling and uttering jumbled up nonsense.

She shoved the eye into its empty socket, screwing it in tight. The yellow light flashed on. Her world widened. The image flickered at first, then stabilized. Almost normal.

The rest needed work.

She pulled her sleeves down, gritting her teeth all the while. Didn't feel right, but she'd deal. Not much of an option, really. Sans was right about one thing: she was lucky to be alive.

If this could even be called living.

She dragged her feet over to her workbench, grimacing at the… mess.

One glove on, then the other, pulled good and tight.

Baby steps.

That was… all she could do right now. The world still rocked. Her head still spun round and round.

"…Everything is fine. Everything is FINE." A lie. A stupid, bald-faced, utterly transparent lie… but it was all she could say to avoid buckling under the weight of all that had transpired.

The experiment was a disaster.

If those monsters had passed peacefully in their sleep, at least they would have died with dignity. Everything was so… so perfect, she'd thought, when they opened their eyes. Even if she couldn't claim their SOULs, it was… it was supposed to be a miracle…

Tears splattered on the workbench. More breathless laughter followed.

"P-please… just let me go BACK…" She closed her eye- her normal eye. Took a staggered breath.

Nothing.

She swept her arm across the table. Several beakers and test tubes shattered on the floor.

She punched a hole in the wall.

This was all… it was her…

…

No.

Her new eye surged, gleaming like a flame in the dark.

None of this would have happened if humanity hadn't declared war on monsterkind. None of this would have happened if Chara hadn't lied to their family and used the Prince, costing him his life. NONE of this would have happened if the NEXT humans hadn't SLAUGHTERED INNOCENT MONSTERS.

None of this would have happened… if she hadn't extracted that extra determination from… Human SOULs…

"H…hahaha…. HahahAHahaHaha…"

Another punch. Another hole.

The experiment was a disaster…

But it wasn't over.

She hobbled away from the fractured wall, gazing down at her quivering, gloved hands. Her fingers flexed, stiff but stable. A crooked contortion of a smirk overtook her face.

She tore off the bandages. Dared to wander to one of the lifeless black screens and catch the glint of her wretched reflection on the glass.

She never should've gotten others involved in the first place. Not when the answer stared her in the face.

Her promise. Her failure. Her crimes and her mistakes…

They'd fuel her. Keep the fire burning inside. Keep the life flowing through her when, by all accounts, she stood inches from death's door.

At the end of the day, this all started with her… and that was how it would end.

"So in the end, it's back to Plan A. What a joke…"
Page 13 Transcription
...C'mon. Don't you need those SOULS?


Well, if you REALLY wanna get it over with, then by all means...

I've been watching you this whole time, punk, and I've noticed Something weird. You keep talking to someone, even when you're all alone...

this ain't just about him, is it? you're just stuck on one track, screeching toward a cliff...


He's been deceptively vague. He's made promises, offered ideals with very little proof.

I have tried, you know. Time and time again, I tried to change their perspective. That there is still good in humanity. That by seeking vengeance, we are no better than them.

NO! NO!!! THIS IS ALL JUST A BAD DREAM. IT ISN'T REAL! IT CANT BE...


But the truth is... For as much as I adore the spotlight... What I need now isn't a fan, but... a friend.

DESPITE EVERYTHING, I STILL BELIEVE IN YOU...


Know that I will always be with you. Know that you do not have to put up walls around you. Above all else, know that you deserve to be happy.

I'M AS GOOD AS DEAD ALREADY. METAL AND WIRES CAN ONLY DO SO MUCH...

I still remember their faces. Their NAMES...

What was I even thinking? Attacking you... As if that would accomplish anything... You deserve so much better...

You mean NOTHING to me! You're EXPENDABLE! You're GARBAGE! I DON'T NEED YOU ANYMORE!

Get. OUT! You had your fun. You made your point. So just LEAVE ME ALONE!!!

YOU HAVE TO STAY STRONG. STAY DETERMINED... YOU HAVE TO LIVE!!!


Aw, don't look so glum, buddy! Aren't you excited? Aren't you happy? YOU'RE going to be free.
Page 14 Transcription
She heaved a deep sigh. This was it. The moment of truth.

She shoved her final bullets into her gun. She had to make them count.

But now, as she wandered down the hallway, inches from retribution, one had to wonder...

Was this really right?

These monsters... They had friends. They had families. They had hopes, dreams, and futures. That old goat, Asgore- he was nothing but kind. Patient, understanding of her frustrations.

"I know that it must hurt, to feel wronged. There was a time that I condemned all of humanity. Many monsters still do. But please, whatever you do, try to understand. Our people live beneath the shadow of past suffering. Like you, many seek justice..."

But that still didn't justify those who had died before. She tried to keep herself at a distance. Tried to push through.

This was a matter of human justice...

"The humans, afraid of our power, declared war on us. They attacked suddenly, and without mercy."

But was this truly just?

One, two, three, four. Closer and closer she drew. She tightened her hold on the gun.

And there, amidst the sea of blinding white, a figure stood with her back turned, cape tattered.

Another step. She cleared her throat. "I'm here for the SOULS. "

A deep. labored sigh followed. The monster queen cast a weary glance. "They would do you no good. You are human."

"I don't care. " She raised her gun. "Those human SOULS ain't your prisoners. "

"I agree. But one cannot wind the clock back. These humans have died. Their bodies are buried. And these SOULS are the only keys to free us from our prison...."

"That's a lie." The human glared, weapon trenbling in her grip. "I already know. It takes just one human SOUL for a monster to leave. If ya cared about freedom, you could-"

"Take one hunan SOUL, cross the barrier. and free our people in peace?" The monster queen shook her head. "I had thought that, once upon a time, and that was how my son died. Perhaps humanity is not ready for monsterkind..." She tapped her staff on the ground, shoulders hunched. "I do not wish to harm you. But I cannot let you leave. This kingdom needs its queen. But if you turn back, you could live a good life..."

The human scoffed, setting her free hand on her hip. "Izzat what you told the others?"

"It is. And one of them still remains. The others... were not so accepting. " She let out a broken laugh, almost a sob. "One... even started a massacre, as I am sure you have heard. "

"Yeah. The 'Incident.'" Still, that didn't...

"So. You should understand..."

Deep down, she did. This was wrong. What the human thought was a black and white issue was far more complicated.

But she'd come so far. And... her ma and pa. Her little brother. Her sweet lil' puppy...

She couldn't leave 'em behind.

So she stepped forward. "I'm sorry."

The monster queen shook her head again. "So am I."
Page 15 Transcription
"FIRST. YOU TAKE THE NOODLES. AND YOU THROW THEM IN THE POT!

BUT!!!! MAKE SURE THE WATER IS BOILING. AND YOU CAN PUT SALT IN??? BUT I'M NOT SURE HOW MUCH IT ACTUALLY HELPS!!!

ANYWAY. THEN YOU NEED TO... MIX YOUR SAUCE! OR I GUESS YOU CAN TECHNICALLY DO THAT FIRST?: FRESH VEGETABLES ARE KEY! AND ALSO FRUITS, BECAUSE CONTRARY TO POPULAR BELIEF, TOMATOES ARE A FRUIT AND NOT A VEGGIE! AS ARE CUCUMBERS. THOSE ARE BERRIES AND STRAWBERRIES ARE NOT. STRANGE, ISN'T IT?

SO! CHOP YOUR GARLIC AND ONION IF YOU SO DESIRE. GET YOUR TOMATOES PROPERLY DICED. OR CRŪSHED. OR JUICED? IT DEPENDS ON THE CONSISTENCY OF THE SAUCE!!!!

THEN. AND THIS PART IS IMPORTANT! YOU MUST BOIL THE SAUCE! ADD MEAT IF REQUIRED. OR CONVENIENT, MEAT-LIKE SUBSTITUTE I'M NOT SURE WHAT IT IS MADE FROM TO BE HONEST...

BUT THE IMPORTANT THING TO REMEMBER IS TO NOT LET THE NOODLES OR THE SAUCE BURN. WE TRIED THAT ONCE, AND IT ALMOST SET UNDYNE'S HOUSE ON FIRE!I!

BUT THEN. THEN!!! YOU CAN HAVE A FANCIFUL FEAST OF SPAGHETTI TO SHARE WITH ALL YOUR FRIENDS, LITTLE FLOWER! AND YOU WILL BE THE KING OF POPULARITY. OR QUEEN. OR MONARCH??? "

Papyrus flopped in his chair, heaving a sigh. The little flower remained still. Silent. He poured fresh water into the pot and adjusted the UV light.

"I DO HOPE YOU WAKE UP SOON, LITTLE BUD. THERE'S SO MUCH I CAN'T WAIT TO SHOW YOU!!!! "

Maybe then Undyne would see that a deadly robot is NOT the solution.
Page 16 Transcription
He'd always pined for fame andfortune. To be adored by the masses.

A shining star. A pillar of hope! To live in the lap of luxury.

Thanks to Undyne, Mettaton achieved that fame. And with fame came... interest. Romantic interest.

On paper, he'd always anticipated it, of course, but when the avalanche of love letters and Undernet DMs came crashing down...

The memory was still oh-so-clear.

Him nervously rolling around in his room, any nervous sweating conveniently contained by his robotic shell.

"HOW DO I EVEN RESPOND? THERE ARE HUNDREDS OF MONSTERS DESPERATE FOR A PIECE OF THIS!" He'd gestured at his grand, sexy rectangular form.

And Sans wiggled his... eyebrows? Funny how he could just... do that. Waggle bony brows. "heh. but it's what you wanted, right? the underground loves ya. "


"W-well of COURSE they love him!" Alphys had said between bites of ramen. "T-that latest episode when you and Shyren f-faced off with the Jerrinator really spoke to me on a deep, personal level."

Mettaton leaned back, a close approximate of lifting his chin in pride. If he had a chin. In this form? Not so much.

"OHHHHH, YES. JERRY MAY HAVE CALLED IT SLANDER. I CALL IT A THOROUGH SOCIAL COMMENTARY." He paused, slumping. ...Again, to the best of his ability. "BUT HERE'S THE THING. HOW DO I EVEN CHOOSE?"

"i mean. polyamory's a thing, right? " Judging by Sans' chuckling, he wasn't serious.

Alphys, on the other hand, perked up at the suggestion. "W-wait! Am I gonna have to start adding OT3's to my shipping chart?! O-or maybe OT4 polycules?!"

"...ALPHYS, WITH ALL DUE RESPECT. I'VE NEVER EVEN DATED ONE ON ONE."

Sans shrugged. "y'know you don't have to answer any of 'em, right? you might be a star, but they ain't entitled to your personal life. "

"TRUE. BUT I WANT TO EMBRACE EVERY ASPECT OF MY SUPERSTAR STATUS! FAME. FORTUNE. GLITZ AND GLAM!!!!"

And so Mettaton did just that.

And now, years later, here he was, once again at the rooftop table at his own resort, as his latest 'fling' ran their beak. Buff, made of literal rock. Certainly a unique, avian prospect...

Except for one problem.

"So, like. When I saw you STOMP that human menace into the ground, I just knew. It was fate! I'm so, SO hyped for our reckoning! MONSTERS FOR LYFE!!!"

...And Mettaton sighed. "AH. THAT'S... WONDERFUL. I'M FLATTERED."

It was a troubling, recurring pattern. So many monsters admired him for his stage persona and not who he really was.

His date pressed on. "Soooo. You got any cool catchphrases for when you take on the humans for REALZ?"

He could have, and even should have, kept the act up. Instead, he rolled out of his chair. "YOU KNOW, I'M NOT FEELING VERY WELL. BUT PLEASE, ENJOY THE MEAL. AND... I'M SORRY TO DISAPPOINT."

He slipped into the elevator before they could question him further.

Took the riverboat back to his home and collapsed on his bed.

His robotic body threatened to snap the framework in two. Oh well.

"so. no luck? "

Mettaton would have jumped, if his body and position properly allowed it. Instead, he awkwardly flopped, nearly face-planting on the floor. Fortunately, he'd grown well accustomed to his wheel and rectangular shape.

"YOU KNOW, YOU HAVE REALLY GOT TO STOP DOING THAT."

"hey. my routine's over, anyway. besides, i had a bad feelin' about this. "

"LET ME GUESS. THE LOOK ON MY FACE?"

"and theirs. not t'mention the past precedent. "

"...DON'T REMIND ME."

"too soon? "

"JUST A LITTLE. BUT IT'S FINE. YOU'RE RIGHT, AFTER ALL."

Sans slid from the couch, shuffling closer. "look, bud. maybe it's time ya stopped playin' pretend. and i ain't just talkin' about the dates. you and alphys both keep tryin' to please everyone, but if ya ask me, they ain't worth pleasin'. "

"BUT I'M A STAR. I CAN'T JUST-"

"hey. i make fun of everyone, and i still get laughs. "

"YES, BUT YOU'RE A COMEDIAN."

"then maybe you oughta try comedy. "

"...I'LL PUT IT ON THE LIST. BUT HONESTLY, I JUST DON'T WANT TO RISK EVERYTHING I'VE EARNED. THIS IS MY DREAM."

"i get that. but if YOU made a statement, then maybe they'd listen. and you know it'd help alphys, too. "

Mettaton brought a hand to his face. "...I KNOW THAT."

"just a thought. you do what you gotta do. "

"YES. ...BUT THANK YOU."

"'course. just take care, okay? "
Page 18 Transcription
Another all nighter. Sans shambled

to the coffee-maker, filling his cup to the brim. He blinked blearily, then slurped it down in one gulp. One might ask how a skeleton could slurp without lips, let alone without opening his mouth.

He liked to joke that it was his "special attack." But really, if anything, this caffeine was the "special attack" he needed above all else. So much time spent scrambling from the tools to the gear to the walls lined with blueprints and sticky notes.

Speaking of which, he turned around, squinting at the wall and its notes left in hands, mailboxes, and other assorted symbols. Still seemed kinda silly to keep the notes all in secret code. Not like the lab was open to the general public, or that the general public could even try to plagiarize their work.

But if there's one thing Sans knew about his old man after all this time, it was to stick to the plan and not ask too many questions.

Across the lab, a voice called out. "YES. VERY. VERY. GOOD. FRAMEWORK APPEARS STABLE. CHANCE OF EXPLOSION: .25%."

Sans chuckled. "so how do we drop it to zero? "

Dr. Gaster swiveled around, raising a bony finger. "AN IMPOSSIBLE TASK. EVERY EXPERIMENT CARRIES. AN INHERENT RISK."

Sans slumped, sipping his coffee again. "sure, but don't you think we oughta minimize the risk before we go through with this? "

".0025 IS. IN THE THOUSANDTHS, MY BOY. BUT! WE CAN. MAKE FURTHER REFINEMENTS. BOLSTER THE INSULATION OF ITS INNER MACHINATIONS. FORTIFY ITS EXTERIOR AND INCREASE ITS VENTILATION."

He strode over toward one of the blueprints, prodding at the central illustration, resembling a monstrous skull with dense pipes and wires jutting out from the top. "THE CORE. ALREADY CYCLES THROUGH A NATURAL SEQUENCE OF HEATING AND COOLING. THUS, IT IS A FUEL SOURCE UNLIKELY TO PUSH THE MACHINE INTO OVERHEATING. BUT! VENTILATION IS... IMPORTANT ALL THE SAME. WE NEED GAPS FOR THE STEAM TO ESCAPE."

Sans nodded. "sounds about right. wouldn't want any internal buildup. but what if we took it further? mimicked the core's cooling system on a micro scale. "

"HM." The doc paced back and forth with one hand tucked behind his back and the other continuously stroking his chin. "YES. THAT MAY... WORK. ADDED PRECAUTIONS NEVER HURT, GIVEN THE QUANTITY OF ENERGY REQUIRED. TO POWER A MACHINE OF THIS SCALE..."

"wouldn't hurt to add some cushions either, " Sans said with a wink. "y'know, keep things good and cozy. "

"...PERHAPS."

"and some mood music. "

"IT MUST BE... STIMULATING. AND INVIGORATING."

"throw in a hotdog maker for good-- "

"OKAY. NOW THAT IS JUST. EXCESSIVE."

"you mean excessively delicious. "

Gaster grumbled, practically wilting at Sans' words. "WELL. NOW YOU HAVE MADE ME HUNGRY. AND I CANNOT FOCUS ON AN EMPTY STOMACH. ...METAPHORICALLY. BECAUSE WE ARE. LACKING IN THAT AREA."

"heh. that why we got that vending machine? "

"...LOOK. IT IS. SATISFYING TO OPEN THE BAG. I LIKE THE POP IT MAKES. AND THE CRUNCH OF THE CHISPS. EXQUISITE!"

"yeah, yeah, i get the memo. " If there was one other thing Sans had learned, it was to never get in the way of the old man and his... 'chisps', so he shuffled toward the door. Only... hm.

Hesitating, he sent a glance over his shoulder. "so... when you gonna fill me in, anyway? be easier to work on this thing if you told me your endgame. "

The doc turned the other way, now clasping both hands behind his back.

"JUST STICK TO THE INSTRUCTIONS. I WILL HANDLE THE REST."

"but if i knew more-- "

"THERE IS. NO NEED. I KNOW WHAT I AM DOING. AND... IT WILL BE BETTER AS A SURPRISE."

Sans heaved a heavy sigh. Figured, really. Always had to have that air of suspense, didn't he?

But before Sans passed through the door and into the hall, he took one last look at the central blueprint and a little scribble of a heart.

Beneath it read, AMPLIFY WITH CORE TO MATCH HUMAN OUTPUT .

But to what end? Only time would tell.
Page 19 Transcription
Two years since he fled to Snowdin.

Two years since the responsibility thrust upon him pushed him to a breaking point.

Sans slumped over the bar, eyes half-lidded. Two freakin' years, and... nothin'. No amount of patchwork, no amount of rewiring, nor wishful thinking could fix that hunk of junk. Deep in the bowels of the lab, draped in cloth and stashed in a storage room... It was supposed to be the next 'big thing.' Something to revolutionize the whole stinkin' Underground, and...

Tremors. Lights flashing red. Sirens screaming. Heat rising. No choice, but to-

"..........your order's ready."

Ah. Right. Sans straightened his back, flashing a smile as he took the monstrous bucket of fries from Grillby. It was, after all, Friday.

"think you can hit me up with some extra ketchup? somethin' tells me i'll need it. "

Grillby nodded, then disappeared through a door in the back. The jukebox droned on and on with some... opera? Barking opera. Yeah, Sans didn't get the appeal, but a quick look across the room to one of the larger tables revealed a gathering of pups and pooches.

At first, he paid them no mind, instead drizzling ketchup ever so delicately over his heart attack in a bucket. ...Which was really no problem for skeletons in the first place. That kinda mindless task was a good way to destress, anyway, even if he

SQUIRT. Annnd there went a whole waterfall of the stuff. Welp. Maybe if he spread it around...

A brown, wavy-eared dog slammed down a mug and snarled, promptly tearing Sans from his zen time. "No, no, you dolt! The correct response to a human intruder is not to roll over and get belly rubs. We are Royal Guards! It is our duty to act as stalwart defenders, not fuzzy pincushions!"

One of the other dogs, a little white fella whimpered, while one of two larger, floppy-eared dogs patted his shoulders.

"You shouldn't be so hard on him," said one of the duo. Dogamy, maybe? Sans had seen him around in passing. "What dog in their right mind wouldn't want a good belly rub? Even from a human!"

The grumpier dog woman scoffed. "A dog with dignity, of course! We are warriors, not pets! We must suppress our canine instincts in order to act as our kingdom's protectors, lest we have another Waterfall Incident on our hands!"

"(...She has a point,)" said the... Dogaressa, maybe? Same floppy ears as Dogamy, but without the cowlick or the stache. "(But you don't have to be so rude about it, Dohj. Especially to a sweetheart like Lessy.)"

Dohj scoffed, taking another swig of her beer. "Lesser indeed... Not that their 'greater' counterpart is much better."

A whimper from a huge, clunking suit of armor grabbed Sans' focus. From the suit, a tiny little white head poked out and pouted. Heh. Kinda funny, actually...

Sans said nothing for now, opting to nibble at his fries. ...Well, as close to nibbling as one could get without lips. Really, it was more like he mashed the fries against his teeth and just sorta... absorbed them. A swig of ketchup followed, just to wash the salty carbs down.

Another dog at the table, some kinda black and white husky, chomped down on a steak. "So. You hear about the tryouts?"

"Of course I heard!" said Dohj. "And frankly, it's high time we got fresh blood to bolster our ranks. Perhaps this next wave of up and coming soldiers will bring some new... perspectives. And actual competency, for a change."

Huh. Royal guard recruitment... Interesting.

Against his better judgment, Sans swiveled his stool around and asked, "so, where are these tryouts? " Suddenly, all the dogs at the table snapped towards him. Dohj tipped her chin up and squinted.

"...You there. Aren't you the royal scientist?"

"sorta. but... hey, maybe it's about time i got a career change. "

"So you wish to go from a field of science to combat?" She snorted. "I hope you do realize that the life of a guard is far from glamorous. To enlist means putting aside your personal pleasures for the sake of a greater good. You will become one of many cogs that keeps the great machine that is our kingdom functioning, even in times of strife!"

"yeah, i know. " Slurp. Another swig of ketchup. Dohj grimaced at the sight. "you don't get to where i was by bein' stupid. i know lab work's lightyears away from combat... but, heh. guess you could say i hit a brick wall, and i'm lookin' for a change of pace. "

He paused, scooping out another fry. "and... besides, you guards are the ones fightin' to keep smiles on everyone's faces, right? seems like something worthwhile, if ya ask me. "

It... wasn't his first choice. Not by a longshot, but what had Sans really accomplished since he relocated to Snowdin? Hiding away, fiddling with a machine he busted? What kinda example did that set for his brother in the first place?

Every time Sans put on a lab coat, it just took him back. Back to his failures. Back to what he lost. That was one black stain he'd never wash out, and chasing after a way to undo it all would only keep him stuck in the past.

And what would that mean for Papyrus? He was still just a kid... and Sans had been a pretty lousy bro these past few years.

A moment of silence followed. The dogs all huddled together. It was tough to make out all of the muttering, but Sans coulda sworn he heard one of them whine, "Think about it, Dohj! A smiley bone dispenser on our side!"

"...Ugh. Of course it's about the bones with you lot." But she broke away from the pack all the same, shaking her head. "Very well, then. You have conviction, at the very least. So, if you truly wish to test your mettle, tryouts are being held in Waterfall. ...Near the garbage dump."

Huh. Kind of a strange spot for trainees, but fair enough. Sans slid from his stool, his fries still in tow, and said, "heh, thanks a million. lookin' forward to workin' with ya. "

And with that, he passed through the door, and... straight into a field of water.



Page 20 Transcription
In hindsight, Sans probably should've brought waterproof shoes.

Shorts, sneakers, and a hoodie weren't ideal puddle-hopping duds. He probably could've worn something more formal, too. But besides his labcoats, all he really had were more hoodies, maybe a few pairs of sweats, slippers, and some cheesy T-shirts with science puns and iconography.

Splish, splosh, too late to turn back. As he trudged through this trash-filled lake, his eyes darted from heaps of televisions, used tires, and other assorted junk to the waterfalls trickling all around. The currents just kept flowing down, down, down into the dark...

He stopped for a second, at the edge of the path, and watched the pieces of trash ride the current to their doom.

Or whatever awaited down there.

Then he shrugged and carried on. Not like it was his first time here, anyway. He and the old man often came down this way to scavenge for any useful new gear. Just in case the humans tossed away something they hadn't yet replicated or mass-produced...

Ugh. Great. Reminiscing again. He came this far to get away from all that! So. One. Step. Forward. Then another. Everything was fine.

Splash, splash... More heaps of junk. A discarded bicycle. A lonely cooler...

And then, finally, a small gathering caught Sans' eye. A couple of Aarons flexed and kissed their biceps. Three Final Froggits stared up at a swarm of fluttering Whimsalots, while two Madjicks muttered spells to themselves and each other. There were a few others, too. A cackling giant squid flailing around axes and spears in her tentacles... Some clam dude with shades and a cowlick...

But probably the one who stood out the most was the yellow lizard in the middle of the pack, clad in a suit of shiny, pink armor... that was slightly chipped, revealing a few specks of indeterminate metal beneath its painted exterior.

...That was Alphys, wasn't it? The resident trash collector. Lover of all things nerdy...

Heh. Maybe he wasn't so outta place after all.

And up ahead... well, at Sans' height it was tough to tell, so he sauntered on over, clearing his nonexistent throat.

"'scuse me, but this is the spot for the tryouts, right? "

Soon as he spoke up, everyone in the crowd shut up and stared, long and hard.

"...what? you got a bone to pick with me? "

It all started with a snicker. Then a couple of snorts. But then, past the wall of prying eyes, someone howled with laughter.

A woman. ...The queen?

"O-oh my goodness..." Another voice chimed in, a bit gravelly and shrill. "Well, now. Ain't this a surprise! Didn't expect to see ya 'round these parts, Sans."

Finally, the crowd parted just enough for Sans to spot a bearded, armored turtle. Gerson, the Captain of the Guard... and old family friend. And just as Sans suspected, Queen Toriel stood at his side, along with a few other figures. A stone man clad in blue armor, a massive sentinel with a horned helmet and... a face on her chest.

He didn't get long to take them all in before a voice beside him blurted out, "W-what're you doing here?!"

"...same as you. lookin' to try out for the guard. " Sans scooped up a few fries and shoved them into his mouth. A few of the monsters grimaced at the sight. Toriel, surprisingly, wasn't one of them.

"Is that so?" She frowned, inching closer. "That is... unexpected." The hesitance on her voice was impossible to miss, just like the look on her face. Those wide, worried eyes. Her tight grip on her staff...

Some of the others muttered to each other. Their faces? Just as transparent. Disbelief. Confusion. Why would a guy like him, the scientist who went AWOL, suddenly pop up just to turn soldier? It was like the setup to a joke, and they were all probably just waiting for the punchline.

Alphys fidgeted in place, but said nothing for now. Her face said it all, though. What'd a scientist have to gain from all this? Why had he abandoned his job in the first place? And why now, of all times?

Sans passed her a few fries. She blinked, but took 'em anyway and... scarfed 'em down on sight. Had she skipped breakfast? She must've, and so Sans handed her a couple more snacks.

Toriel cleared her throat. "Allow me to make something clear. Being a royal guard is about more than brawn. A keen mind and a compassionate heart are just as crucial in defending this kingdom."

This silenced the gossiping crowd... for now, though Alphys heaved a gentle sigh.

But Toriel continued, her voice softer this time. "That being said... Are you sure this is what you want? The laboratory is still open, if you wish to return. It is understandable that you would need time away, given the... circumstances of your promotion."

"Not only that," said Gerson, "but guardwork ain't all fun and games. We might be at peace now, but if you're serious about enlisting, you're gonna have to train. You're gonna hafta patrol. You're gonna need to read up on laws, diplomacy, and there may come a time where ya hafta make tough calls."

Alphys winced, fidgeting and swishing her tail. Was she having second thoughts?

Sans, despite being a relative stranger, flashed her a thumbs up. "c'mon. don't let that armor go to waste. " He then set his eyes back on Gerson and Toriel, shrugging his shoulders. "believe me, i know what i'm gettin' into. but if you're so worried... "

He swiveled toward one of the trash piles, taking a bite of his fries. An extra, ketchup-slathered bite...

A few monsters in the crowd rolled their eyes.

"He can't be serious..."

Another nibble, and both his eye sockets darkened, then his left flashed blue and yellow. With a wave of his arm, he hoisted a toppled trashcan, a dented refrigerator, and several scraps of junk into the air, then slammed them back into the pile. Then he snapped his fingers, cutting across the water with a procession of bones at varying heights.

Another bite, and he passed the bucket to Alphys, whose eyes were glued wide open, and her hands shaking as she took the 'gift.'

He coulda left it at that. Gravity manipulation was impressive on its own, and the bones had their own perks in battle...

But, what the heck? Might as well go out with a bang... So Sans turned to another trash heap and cracked his knuckles. He inhaled despite the lack of lungs, and...

Sirens blaring. Ground shaking. Meltdown imminent...

No. This time was different. Two years of sulking were two years too many...

So he let out that pent up air. A Gaster Blaster materialized overhead. Its jaws flew wide open, and...

BWOOOOM!

A flash of white later, and a black, smoldering heap replaced that lowly garbage pile. Silence fell over the crowd again, save for a few gasps.

Alphys shrieked and darted past him, scrambling toward the aftermath...

"H-how could you just..." She sniffled, scooping up... a DVD case? A very burnt DVD case. Oh.

Well, shoot.

Sans rubbed the back of his neck, shuffling closer. "look, uh, i didn't mean to... "

Her sniffling stopped as she wiped away the smudges. A logo peeked through the ash smears.

Mew Mew Kissy Cutie 2.

And then that sobbing turned to laughter. Oddly manic laughter. "Y-you... You..."

Hoo boy. He was gonna get it now, huh?

Alphys swiveled around. She charged at Sans...

But instead of attacking, she skidded to a stop, splashing water all the while, and gestured with the burnt DVD case.

"YOU'RE AMAZING!"

Or not.

"You just did what I've ALWAYS wanted to do, but could never bring myself to! I'm too much of a collector. T-too big of a fan. Even if Mew Mew Kissy Cutie 2 is objectively the WORST piece of media to come out of the Mew Mew franchise in the history of all eternity! And you just... in o-one blast... Was that real? A-am I dreaming?"

The other recruits just gawked at the sight, though murmurs of laughter cut through the crowd little by little.

Gerson leaned against his hammer, whistling. "Wahaha! Well, I'll be. Looks like ya got more than brains in ya after all."

Sans chuckled, shrugging again. "well, i mean, it is fryday. " He snatched one of the fries from the bucket pointing it at the smoldering heap.

And just like that, Toriel slapped a hand over her mouth, muffling yet another fit of laughter.

Despite some groans and more eyerolls, a handful of other monsters joined in. Even Alphys got some titters.

"W-Well... I guess it was k-kinda funny. But... I dunno how I'll measure up to that."

But Sans nudged her along with a smile and a wink. "hey, don't sell yourself short. like the queen said, she's lookin' for more than just brute strength..."

"I guess, but..." She looked up at Toriel and gulped. "I-I dunno. Maybe this was a bad idea..."

But the queen just smiled and shook her head. "Nonsense, my child. This is not a contest." She paused, looking Alphys up and down. "Ah. By the way, did you forge that armor yourself? It is a lovely color."

"W-well. I just... this is silly, but, um. It's my favorite color 'cause of this c-cartoon...? I mean. It's a g-great show about love and friendship saving the day, and I just thought..."

"How delightful! Perhaps you will have to share it sometime."

"W-wait. Are you sure? It's just a silly show f-for-"

"I insist." Huh. Well, how 'bout that? A firm but gentle tone, a wide smile. And after all that worrying. "Moreover, you crafted your own custom armor. If that is not dedication, then my last name is still Dreemurr."

She paused. "...And for the record, please never call me Dreemurr."

Heh, ouch. Sans rubbed the back of his neck. Good thing Asgore wasn't here to hear that.

Alphys' cheeks reddened at the remark, and she ducked her head. Honestly, hard to blame her, getting praise from a queen was a pretty huge honor, after all.

So Sans offered a small whisper, "see? you got this. 'sides, the guard could use a couple of nerds to make up for all that raw muscle. "

"W-well... okay. I'll, um. Do my best."

And so Alphys stepped forward, into the center of the crowd, and in a flash of sparks, she drew a bright pink crossbow to match her makeshift armor.

Another smile and nod from both Toriel and Gerson was all she needed to fire her first arrows.

But a couple more fries didn't hurt.
Page 21 Transcription
It started with a simple question, "So. You're having girl trouble, right?"

Bullets of sweat coursed down his cheeks. He twitched behind the counter, gulping and forcing a smile. This wasn't just anyone stopping by. It was Undyne. The royal scientist. The hopes and dreams of every monster! The… current head honcho, in light of the queen's absence.

And she just… casually asked him, a lowly frycook, about girls?

After a moment, he tittered and slicked back his freshly dyed hair. Violet, today. The color of the week. Ugh. What a joke. Stupid dress code…

"Heh. Why, you lookin' for a piece of the act-"

"Nope! Don't swing that way." Dang. Shot down before he could even finish, though the strangest part was that she didn't scoff. She didn't sneer. She just… sighed, running a hand through her hair. "Look. I heard Bratty and Catty gossiping about you. They… kinda think you're a freak. Heard about the burgers, too."

Burgerpants winced. Great. Just great! If she knew, then that was it, wasn't it? His life was over. No way he'd ever live it down…

And yet she smiled faintly. "For what it's worth, I doubt you're a lost cause. It just sounds to me like you need to brush up on your social skills. ...and maybe gain some practical experience."

Another gulp. Annnd here came more sweat. "W-what're you trying to say?"

Undyne placed a hand down on the counter. "Tell you what. Meet me at Grillby's after your shift's done. You look like you could use a REAL burger."

"Now hold on a sec! I thought you said you didn't…"

"And I don't. Don't get the wrong idea, dude. I'm not looking to hook up… BUT, I also think you could use some time to just. Chill. Talk to a girl who isn't interested, so you can work on those skills and maybe do better with someone more up your alley." She paused, setting some G down on the counter before turning towards the door. "If you're in, you know where to find me. ...And keep the change."

She didn't even buy anything. ...The heck was that about? Was he even allowed to keep free change? Just to be safe, he looked left and right, making sure that rectangle wasn't looming over his shoulder.

And then he stuffed it in his pockets without a second thought. Eventually, his shift ended. He took the ferry outta Hotland and straight to Snowdin. ...without even changing out of his stupid costume. A bad choice, he soon realized, as he shivered and shuffled past the crowds of fluffy critters clad in sweaters and coats.

And there it was, Grillby's, with its smell of… was that. Actual food he detected? No sequins? No glitter? No constant reminders of how his life went wrong?

"Hey."

No having to serve others? He'd actually get to-

"Uh. Hello?"

His shoulders shot up and his teeth clenched. R-right. Someone was… talking to him. Burgerpants peeked over his shoulder, and.

Undyne was right there. Watching him stare longingly at this bar and its flickering neon sign. How embarrassing.

"Erp. How long have you been standing there?"

She snorted, waving a hand. "Not that long, Relax, dude. And c'mon, you're not gonna get anywhere if you just stand there!"

She strutted right past him, nudging the door open. It took a few seconds, but Burgerpants… awkwardly shuffled behind her.

She led him straight to the bar, plopping down on an empty stool and waving the bartender over. Flaming head. Tiny spectacles. Fancy suit. One look, and Burgerpants already knew. This guy had class. ...something he sorely lacked.

Never mind the eyes all locked on Undyne. The voices that followed…

"Undyyyyne, hey!" came one swirly-eyed rabbit.

"Well, well, if it ain't the royal scientist herself!" a duck called from a few stools away.

"How fascinating… That's a new face. A friend of yours?" said another, sharp-toothed monster.

Then more than ever, it hit Burgerpants like a truck. "...Man, I'm so outta my league."

This prompted another snicker from Undyne. "Dude. You're literally in a grungy bar. This isn't exactly a high class establishment… but man, they make some MEAN cheese fries. Drinks aren't half bad, either." "...I'll take your word for it, I guess."

"Soooo… whatcha gonna have?"

"Uh. Burger, I guess? ...Hold the sequins."

The other monsters roared with laughter.

"Sequins, here?"

"Does this look like a hoity toity establishment to you?"

Undyne stood up. "Guys, guys! Chill. This dude's a frycook up at the MTT resort. Cut him some slack."

Silence followed, as the various patrons nodded. ...Weird how the tone changed so fast.

"So, wait, this kid works for THE MTT?!"

"What's he doin' in a place like this?"

"...Guess that explains the crazy costume."

Undyne held up her hands. "Cool it. I brought him here to destress. Pretty sure he's not looking for a QnA."

That… shut them up. They turned away. Got back to gulping their drinks, munching on their burgers, and… playing poker? The dogs, anyway.

A few minutes passed. Eventually Grillby dished up the food. Burgerpants didn't mean to, but after the first bite or two, he practically inhaled his meal.

"...Geez," Undyne said with a frown. "When's the last time you had a real meal?"

"The day before I signed my SOUL away to the corporate machine."

"You mean Mettaton forces you to eat that crap?!"

"N-no. It's just… uh. The MTT resort food is all the rage up in Hotland, so I figure, hey! Maybe if I eat it long enough, I'll look. Hip?"

"He literally pastes edible sequins onto burger buns. Anyone who seriously thinks that's worth eating is outta their mind or just plain desperate!"

Burgerpants perked up. "Yes! That's what I've been saying this whole time! But NOBODY ever listens."

"Ugh. Tell me about it! I might've built his body, but I STILL don't get why everyone puts the guy on a pedestal. There's a reason I try to keep that metalhead's ego in check…"

To Burgerpants' surprise… all that tension building up just sort of. Fizzled out after that. The fact that at least one person got it. That one person was willing to talk smack behind MTT's back… and that someone was his own creator…

Before he knew it, the words poured out of him. He ranted, he raved, about the constant costume changes. The endless barrage of MTT-themed pop tunes blaring over the speakers, day in and day out. The stupid freakin' rectangular kits that didn't even work!

Through it all, Undyne just… listened. Didn't call him crazy or ungrateful. Sometimes nodded. Sometimes joined in the roasting…

And to think before he could barely formulate a sentence. Maybe… these little hangouts wouldn't be so bad.
Page 22 Transcription
He was getting on in years, but he wasn't senile yet. It was hard to ignore the grumbles and murmurs at the fort. Word of another human. The next

SOUL

. He smiled and nodded at the time. Said he'd keep his eye out. And he did just that.

But not in the way they expected.

Home from a long day of stuffy meetings, Gerson trudged through the door to his abode, off the outskirts of Forgespring. He set his helmet aside and ran a hand through what remained of his greying hair.

"Well, I got some good news for ya. They still don't suspect a thing."

No response. Gerson heaved a heavy sigh, wandering deeper into the cavern. "Kiddo? Ya in here?"

A glint of glasses illuminated by torchlight caught his attention. There, curled up in the corner, nose in a book, was the talk of the whole town.

A soft smile crossed his snout, and Gerson closed the distance between them. "Ah, whatcha readin' there?"

"History." The human's voice was low, monotone. Gerson fought back a grimace at the implications, while the kid turned the page. "Thirty-nine casualties. Twenty-nine injured. And that's after a war that left you all trapped underground."

Shadows danced in the torchlight as the silence stretched on. It was… bound to come up eventually. Even he knew that. Shutting his good eye, he stroked his beard. Ah, what to do. What to say. They might've been pulling their best poker face, but in all his centuries of life, Gerson knew a troubled soul when he saw one.

So he knelt beside them, nudging the book shut. "Look. It's true. The Incident happened. Plenty a monsters died. I lost a lot of good soldiers fightin' the good fight… but y'know what?"

The human hesitated, but let out a soft, "What?"

"One of the heroes who stopped the dustshed was human. Still around, too, and if ya give us a little time, I'm sure we can grant ya clearance to the rest of the Underground."

"Mm…"

"Not convinced, are ya?" He slumped, heaving another sigh. "Yeah. Guess I can't blame ya. It's… a lot to take in."

"...It takes seven, right?"

Gerson recoiled, and his one good eye popped wide open. "Kid, whatever you're thinkin'-"

The human continued. "I'm just asking for facts. Seven human SOULs to break the barrier. I've heard monsters murmuring about overcrowding. If left to live down here, won't you eventually run out of space?"

Hoo boy. This kid sure knew how to ask all the tough questions. Running a hand over his head, Gerson searched for the right words. This was a… delicate situation. "That's what cavern expansions are for. 'S how we got the Forgespring project rollin'."

"But how far can you dig? Won't you eventually run out of resources? And what if there's an earthquake? Or a cave in? And if this mountain ever became active, wouldn't an eruption put you all at risk?"

He raised a clawed finger, then dropped it. Yeesh. Talk about doom and gloom… but with a nugget of truth. Accidents could happen. A genuine eruption could carve a disastrous path through the Underground under normal circumstances. Sure, the doc made great headway in managing Hotland's magma, and Forgespring's tunnels were designed with stability in mind…

But nothing was foolproof. This way of life existed on a tightrope. One wrong nudge, and who knew what'd happen?

They'd lasted this long, but even he could see the unrest simmering beneath the surface, made worse by recent tragedies…

"Wa ha ha… You're a smart kid. I see your concerns, but… well. Every day could be your last. Doesn't matter if it's up there, or down here. One wrong step, and ya might not be walkin' anymore." Great. And now he was getting morbid. "Point is, we get by by focusin' on the here and now. Sure, being trapped ain't the best outcome, but we've survived the past few centuries. I think we can hang in there just a little longer."

"Right. Just a little longer…"

The human closed the book and adjusted their glasses, while Gerson plopped a hand on their shoulder.

"Look. I meant what I said. This ain't your fault. You're just a kid who happened to tumble into a whole world of complications… but I'll do what I can to keep ya safe. After all, I'm captain of the guard! Protecting people comes with the territory."

Despite his encouragement, the human tensed beneath his grip, shoulders hunched and face downturned. And… were those sniffles?

Still, a few seconds later, they cracked a smile. A clearly forced one, tight and crooked, but a smile all the same. "...Thank you."

For now, he'd take it. One step at a time, as they said. Maybe with time, this kid would see that life underground wasn't so bad.
Page 23 Transcription
Something happened.

The whole CORE trembled. Her new, cat-like ears twitched while she stumbled down the rumbling hall. Catching herself on a wall, she waited for the quaking to subside, then spun on a heel. That couldn't be, right…?

Oh, who was she kidding? This was Undyne! Of course she'd bring out the big guns. Of COURSE she'd unleash her ultimate weapon!

...All this, after Mad Mew Mew had let the kid go. Was Undyne angry? Disappointed? And what even happened to Mettaton? A thousand questions tore through her mind like lava gushing from a volcano.

So she jogged, dashed, sprinted down the hall, through the door, past the tacky vending machine, and-

Nearly crashed into a fleeing… Mettaton?

He looked different. Spiky hair. Gaudy star shades. A distinctly more human face and physique…

The two skidded to a halt an arm's length from each other.

Mew Mew pointed, stammering, "Y-YOU! What are you-"

"Look. I don't have time to explain. Right now, I need to get to the control terminal."

"So you're just going to turn your back on your own creator?!"

Mettaton crossed his arms, scowling. "Why, yes. I do believe her absurdly large death machine is sufficiently capable of defending itself. Besides, she's not the one I'm worried about."

"...It's always humans with you, isn't it?"

"Funny. I seem to recall you showing the humans mercy as well. Don't tell me you're a hypocrite, darling."

She bristled. "That's…!"

"No different. Really, join the club! There's always room for more~ But right now, I need to override her security so that we can get Papyrus in here and put a stop to this nonsense before-"

Something happened.

The whole CORE trembled. Her new, cat-like ears twitched while she stumbled down the rumbling hall. Catching herself on a wall, she waited for the quaking to subside, then spun on a heel. That couldn't be, right…?

And… wait. Why did this feel so familiar? Mad Mew Mew's eyes narrowed. Her ears folded back. ...Did the kid die, then? Was that it?

She'd heard it from time to time, back in her dummy body.

"If I just had my POWER, it'd be different!" Undyne would shout, hurtling spears through the air like a shimmering angel of death. "I don't know what happened. It used to be so EASY… I could just close my eyes, and I'd be back. But now…"

At the time, she never knew what to say. So Mew Mew just listened. She let Undyne vent and kept taking the spears. The boulders! The nonstop battering of work in progress weaponry…

A beautiful barrage…

But the clanking of metallic footsteps shattered her nostalgic memory. Mettaton barreled down the hall. She knew it was him, despite how… human he appeared now.

Mad Mew Mew opened her mouth to speak, but he cut her off.

"Yes, I know, it's me! Shock, gasp, plot twist… Now, if you excuse me, I have places to be!"

"...Let me guess. Papyrus?" That… sounded right, for some reason. A frown unfurled across her face as she tried to make sense of it all.

"Ah, so we did discuss this before. ...All the more reason to hurry, then. It's pertinent that Papyrus makes it into the CORE, so we can end this all without casualty."

Mew Mew's gut instinct was still to snap back. To glare. To contest, but…

No. He was right.

Undyne's goals, noble as they were… they'd set her down a dangerous path. They'd damaged her mind and her body. In all likelihood, nothing the kid said or did would sway her, and in the end, only one of them would survive.

If you had asked Mad Mew Mew even a few hours prior, she'd say she'd root for an undeniable success. For Undyne to tear the human's SOUL from their body, march proudly to the capital, and set monsters on the path to freedom…

But… was it right? Despite callous words, the human and their SOUL-bound passenger both showed genuine remorse. They weren't just a nefarious threat. They were a thinking, feeling person. And a kid, no less.

Ears and tail drooping, Mew Mew averted her eyes. She slumped, placing a hand against her neck and then, despite her subconscious screaming at her, she said, "...How can I help?"

He must not have anticipated that, because Mettaton's eyes narrowed to a suspicious squint, and his mouth hung slightly ajar.

Then he shook his head, straightening his posture and cracking a softer than usual smile. "Well, I could use an extra set of hands in the control terminal. No doubt Undyne's set up quite the firewall, and the sooner we douse the pesky thing, the sooner we can put an end to this tiring charade."

Hm. Admittedly, programming wasn't Mew Mew's strongest suit… but she'd already tampered with the CORE's systems before. Looking down at her new, gloved hands, so soon after settling into her ideal body…

"I could… try and access it from the inside. But ONLY until the firewall goes down. After that, I'm staying RIGHT here!" She pointed at herself. "I didn't embrace my perfect form JUST to throw it all away!"

Nodding, Mettaton clasped a hand on her shoulder. "Believe me when I say that I understand. ...And for what it's worth, I'm happy for you."

She bristled at the touch, then scoffed. "Yeah, well, shouldn't we hurry? Talking is dumb!"

Though to her credit, her tone was… softer this time, and even she couldn't hide the barest hint of a smile.
Page 24 Transcription
She knew she had to intervene the moment she saw smoke billowing from the laboratory windows. At first, Toriel had thought it was an experiment gone wrong. She'd barreled inside, not even hesitating to climb aboard those peculiar teleportation pads, and whisked herself to the top floor.

"What is going on?!" she'd called through the smoke.

"N-nothing!" Undyne said between coughs. "Everything's fine! Just… uh. Dummy! Fire extinguisher time!"

Mechanical whirring followed. Goodness! What was that about? Before Toriel could ask, the sound of cackling filled the air, accompanied by a loud, spraying sound.

"Die. Die. DIE, YOU INFERNAL FLAMES! You will NOT ruin Undyne's FLAWLESS cooking lesson!"

This… was a cooking lesson.

What.

Seconds later, an alarm sounded. Smoke detectors, perhaps? Water gushed from the ceiling, drizzling over the entire floor.

"OH NO! MISS TORIEL!!! " Papyrus dashed her way, whipping out an umbrella out of his comically small coat pockets. "I'M SO SORRY! IF WE'D KNOWN YOU WERE COMING, WE WOULD HAVE BOILED MORE NOODLES! AND, NATURALLY, I WOULD HAVE ADDED MY FINEST INGREDIENTS TO THE SAUCE, AND SURELY- "

Only now did she see a pot sitting on an ash-stained stove, filled with… Toriel sniffed the air and promptly gagged. That stench… She wordlessly moved closer, peering into the scorched abyss.

Blackened noodles. Completely inedible. And on the wall… splatters of smashed tomatoes and other assorted produce.

The robotic Dummy hovered over her blasting a still-flaming carrot with its extinguisher. "NO SURVIVORS!"

How fortunate that Papyrus had granted Toriel an umbrella, as the water kept pouring down.

Eventually, Undyne escorted her back downstairs with Papyrus shuffling close behind.

"So. Allow me to get this straight," Toriel said, pinching the bridge of her snout. "You were… teaching Papyrus how to cook spaghetti?"

Undyne ducked her head. "Uh. Yeah. It's… kinda a weekly thing for us." She paused, glancing at Papyrus, then gulped. "Look! Everyone knows the culinary arts are a science, too! I'm TOTALLY not wasting government funds!"

Toriel could have scowled. She could have scolded Undyne for reckless practice… But strangely, laughter bubbled forth from her. The first time in… quite a while.

This was all so… silly. Up above, she could still hear the Dummy's vengeful shouts.

"THAT'S RIGHT! I see you over there, STAINING THE FLOOR! Prepare to meet my MOP OF VENGEANCE!"

...Really, it all made sense. Undyne was always very… bombastic. Her passion brought forth many fantastic inventions, but even Toriel knew her efforts often yielded their fare share of explosive setbacks. At least the two wore safety goggles this time. And at least she had rigged her laboratory with the necessary defenses.

A soft sigh followed, and Toriel straightened her posture. "I appreciate your efforts, Undyne, but cooking requires careful moderation. One of the greatest joys in the kitchen is creating a work of art you can share with the ones you love. But if your meal is charred black, then all that effort is lost."

"...Heh. Yeah. That… explains a few things."

"BUT! UNDYNE'S SUCH A PASSIONATE TEACHER! SURELY, SHE KNOWS… "

Undyne held up a hand. "Nah, Papyrus. It's fine. The Queen's got a couple centuries on both of us. She knows what she's talking about… so maybe…" She tittered. "Look, I don't wanna impose on you, Your Majesty, but… maybe we should save the science for me and let you handle any food-based instruction."

Hm. An interesting proposal. Frankly, it would give her a reason to step away from the throne room. A welcome break from politics and paperwork as well…

A small smile graced Toriel's face. "Only if Papyrus is willing. I would hate to… intrude."

Papyrus brought a hand to his bony chin. "COOKING LESSONS WITH THE GREAT, INCREDIBLE, AND EVER WISDOM-FUL QUEEN? " He beamed. "I, THE GREAT PAPYRUS, HUMBLY ACCEPT! IT IS AN HONOR, MISS TORIEL!!! " Pausing, he looked to Undyne. "BUT YOU'RE WELCOME TO JOIN US, TOO, YOU KNOW! "

"Uh… yeah. I guess? Sometimes." Yet again, Undyne ducked her head. "But uh. Sorry 'bout all this, Toriel. I know this isn't exactly the most professional thing to walk in on…"

"Oh, it is all right. I know your heart was in the right place."
Page 25 Transcription
Undyne always admired robots. Giant mobile suits that kicked alien butt and saved the day! Adorable little guys who collected trash and fell in love. Machines that could think, talk, and feel, AND possessed excessively dangerous weaponry? Fiction held SO many cool concepts and ideas… so naturally, when Undyne started her long journey on the path to scientific brilliance, she always kept robotics in the forefront of her mind.

After all these years, she'd like to think she'd learned a thing or two. Her latest creation stood motionless, with a sleek red paint job, pointy pauldrons for extra intimidation… Interlocking teeth on its torso, containing an energy-blasting core… plus plenty of other rad weapons tucked away inside its compact frame. Some might think the blond hairdo was excessive. She liked to think it was STYLISH! Most training dummies were just cute but harmless looking cloth pincushions, but THIS?

Undyne cracked a toothy grin and cracked her knuckles soon after.

Now it was just a matter of issuing the command prompt and activating the AI. All she had to do was-

The robo-dummy's eyed blinked on.

"Yes…"

It… talked. Uh.

"Yes! YES!"

Okay. She was pretty sure she didn't program over-enthusiastic shouting into that dummy.

A click followed. The dummy dislodged itself from its floor mount and flexed its arms.

"I knew it! I KNEW you'd deliver! You ALWAYS do! ANYONE can make an ORDINARY dummy… but YOU! You NEVER settle for ordinary!" It… pointed at her.

This was… something all right.

And then it clicked. Honestly, Undyne should've connected the dots sooner. She strode closer to the dummy, chin in hand. "Wait. You're a ghost, aren't you?"

"That's right! And this whole time, I've WAITED for the perfect vessel…" Another flex. Hoo boy. "MOST ghosts just want to be soft, stitched pincushions! I, on the other hand… want to be YOUR pincushion! ...Of JUSTICE!" It paused, looking down. "...Plus, I know you like big, over the top weapons. That IMMEDIATELY makes this body superior to ALL known dummies!"

Okay. On one hand… this ghost snuck into her lab and possessed her new robot without consent. On the other hand… this ghost snuck into her lab and possessed her new robot without consent… and had PASSION! VIGOR! ...And, frankly, was an actual, sapient being.

Generic AI had limits. At the end of the day, she could program the most robust set of functions and behaviors, and it'd be limited by its predictability. But this?

This had potential.

And it was OBVIOUS this monster was a fan.

So, screw it! Undyne snickered and flashed this dummy a great big grin. "You know what? I'm in! You've got some serious guts to just swoop in and assert yourself over my robot. And it's been a while since I had a REAL sparring partner…"

Soon, Undyne would realize the dangers of what she unleashed, when the air filled with weaponized knives and mad cackling echoed all around.

But so what? That was half the fun! Spears and knives clashing and colliding. Heart-pounding shouts, flying boulders, and so much sweat!

The lab would never be the same again.
Page 26 Transcription
It was that time again. They could tell from the cheery, upbeat music blasting from downstairs. Cheery music accompanied by Undyne belting out the lyrics to the theme song. So bold in her singing that the entire lab shuddered. It brought a tear to the Mad Dummy's eyes.

They probably could have joined, but a training dummy traveling via teleporter was hardly inconspicuous. One flash would ruin the moment! And NO ONE ruined Undyne's moments of happiness. No one. They were so sparse these days! Something to cherish…

But… hmm. Perhaps something more subtle this time. The Dummy wasn't fully corporeal. A ghost still operated its inner gizmos. So maybe…

Yes. This was fine. Their ghostly body phased out of their training vessel. ...Just for now. Enough for them to turn invisible and sink through the floor. They drifted downstairs, over the tables with assorted beakers and tubes, toward Undyne's large monitor where she sat alongside Alphys in… convenient beanbag chairs. Where did they even GET those? Were they one of those strange wonder capsules Undyne was working on?

That had to be it.

Well, fine. Whatever! The Mad Ghoul silently drifted behind the two as they slurped noodles and watched the brightly-colored catgirl shoot sparkling hearts and strike over the top poses against the demonic forces of evil…

It was so saccharine! So silly. So… captivating.

The grace the heroine twirled about. The way she'd leap dramatically into the air, drop kick evil minions, and plant a kiss on their lips to melt their cold hearts and bend them to her will. Incredible! Inspiring! And such a sleek… impressive form…

The lizard guard, Alphys twitched… strangely. She nudged Undyne's shoulder and pointed at the screen. "O-oh my god… This is my favorite part!"

"YEAH? Sweet! Let's see her kick some edgelord ass!"

The, ah… 'edgelord' in question emerged from the shadows, with red glowing eyes, six devilish horns, and a trident made of knives and FIRE! Intriguing. Very intriguing… The Mad Ghoul floated even closer. Yes… How would this spunky heroine fare against such a raw, imposing presence?

She mounted her bright pink saber cat and charged into the fray, smacking aside approaching demon underlings along the way… with a few more kisses sprinkled in between. Her noble steed roared heart-shaped shockwaves, cleaving a path for its brave-hearted rider! The heroine… Mew Mew, apparently, sprung from the feline's back, diving down before the wicked beast before her.

And then… something strange happened.

"I know the truth! This isn't the REAL you!" Ooh, a dramatic point and flourish of the staff. How showy… "Please! Reach deep inside yourself. Don't let your grief consume you! There's still hope for this world, if you can dig deep down and find the sunlight tucked behind the clouds!"

"NEVER!" the beast roared, charging with that flaming, knife trident fully extended. "YOU WILL NEVER UNDERSTAND! THE LOVE OF MY LIFE IS GONE! ALL I LIVED FOR IS MEANINGLESS!"

"That's not TRUUUUUE!" Despite everything, that Mew Mew girl charged straight at her nefarious foe, despite certain impalement. "I know you! The REAL you! We used to battle side by side! So PLEASE, come back to me! I can help you find joy again, if you just let me in!"

...Was this some sort of enemies to lovers story? That was the term, wasn't it? Undyne had mentioned it from time to time when ranting about… fanfiction on the Undernet.

Which the Mad Ghoul-AKA-Dummy would… occasionally peek at. Purely for curiosity's sake. It wasn't like they actually WROTE stories about… attractive aquatic women. That would be absurd!

Ah, but… Mew Mew grabbed the flaming knife trident mid-swing. She clutched it tight. Looked into her nemesis' eyes. Both Undyne and Alphys leaned closer to the TV. Their fists clenched. Their eyes refused to blink. The tension was… palpable. Even the Mad Ghoul could admit… it was… captivating.

"You don't want this."

"HMPH. AND WHAT WILL YOU DO? MANIPULATE ME WITH ANOTHER KISS?!"

"...No. You deserve the choice. I know my power can hurt others. You're hurting, and if I make you my puppet, that won't let you process your feelings…"

"EMPTY PLATITUDES!" The demonic creature tried yanking its trident free. It would not budge. Mew Mew's piercing gaze seemed to sap its fighting spirit. "I… I DON'T NEED ANYONE! THIS WORLD CAN BURN FOR ALL I CARE!"

"No. You may hurt now, but in time… it gets better. You just have to give it a chance. Don't forget what you lost, but… don't let that loss rob you from a happy future. I'm here for you. All of your friends are, too! And… wouldn't she want you to smile again?"

Something strange happened. The demonic creature froze. Its shadowy body cracked, then shattered to the winds. The knife trident clattered to the ground, breaking into sparkling petals, and instead of an imposing figure, a frail teenager collapsed before Mew Mew, sobbing on their knees.

And Mew Mew simply… knelt beside them, holding them close as a cheery song played in a language the Mad Ghoul couldn't begin to understand yet Alphys started singing to almost out of habit.

Both she and Undyne teared up. How… odd, too, that the Mad Ghoul's eyes stung. It… wasn't like this was a super tender and emotional moment or anything!

Eventually the credits rolled, and Undyne left the room for a moment to grab some tissues and the next DVD.

Once she left, Alphys turned around.

"Y-y'know, if you wanted to watch with us, you could've asked…"

Oh.

Oh NO.

The Mad Ghoul gulped. "You…! How did you KNOW I was-"

"Eheheh… I have a sixth sense for these kind of things. Besides, Undyne told me that a ghost hangs out inside her training dummy."

Sighing, the Mad Ghoul flickered back into view. "...Yes. Well. Don't get the wrong idea! I was just… CURIOUS! These human cartoons are WEIRD."

Alphys… grinned in a way that was… oddly sly for someone so awkward and timid. "You know… I have the full box set if you wanna borrow it some time."

"REALLY?!" The Mad Ghoul paused, then cleared their throat. "I mean. Sure! Why not? It's OBVIOUSLY something important to Undyne! ...And it may help me plan new combat simulations. Yes. That's all it is!"

...And now she was giggling. "It's okay. We're all nerds here! You don't have to act all tsundere about it."

Soon… dairy? ...Right. Undyne used that word sometimes. Clearly, the Mad Ghoul had much to learn.

Still… perhaps these magic cat shows had more depth than they expected.

They'd keep that in mind.
Page 27 Transcription
TW: Suicide

Today was the day he'd transfer guardianship of the human to Queen Toriel. 'Bout time, too! Gerson wasn't dense. He'd been watching the kid long enough to pick up on their… guilt. Their suspicious obsession over history books, the way they'd constantly talk themself down. While he'd done what he could, he knew he couldn't hold out forever. Best to leave this matter in the hands of the experienced.

And who better experienced than the Queen of all Monsters and the human hero? Feigning a smile, Gerson waved a hand and led Toriel and the Mage down the winding, lantern-lit path. "Ain't much further now. I've been keepin' 'em good and cosy in my shop for now. Everyone knows ya can't start fights behind the counter, so…"

"And are they… all right?" the Mage asked. Their face was hard to read thanks to that shadowy hood trick, but the way they dipped their head down spoke volumes. "I can't imagine it was easy smuggling them past your own soldiers."

"Wa ha ha! That's what the riverboat's for! Nobody's gonna bat an eye if the guard captain ferries a conveniently-disguised kiddo around." Even if said disguise was more like a bundle of blankets and scarves. The benefit of authority was few people dared to second guess your intentions.

Maybe it was underhanded, but better that than to send a clearly burdened kid to an early grave.

Seemed Toriel felt the same way, as she heaved a heavy sigh. "I am… grateful for your assistance, Gerson. We have seen too many tragedies. It will be… refreshing to nurture another child."

If the kid agreed. But… so far, so good? Gerson scratched the back of his neck. "Yeah, we're… workin' on that. Trouble is, the kid's got a real complex. Been awful worried about 'em…"

"...Ah." The Mage winced. "Then they already know."

"Hard not to. The plaques, history books, even whispers among other monsters… You get the benefit of bein' one of 'us,' but they're new. When I caught 'em in Snowdin, the poor kid was gettin' so many dirty looks…"

A scowl crossed Toriel's face. "Absurd. They cannot blame every child for the actions of one!"

"Good news is, they played by the rules. No brawlin'. Kid was… safe. But that's about it. And we all know it woulda been worse if they tried crossin' into Waterfall alone." Ah, just a few more mushrooms to go. He tapped at one with his claws, lighting the path up ahead. Just 'round the corner, down the hall, and…

Gerson stopped at the entrance. "Just gimme a sec. They're a real timid sort. Probably better if I ease 'em in."

He stepped into his shop, clearing his throat. "Kid! We got company!"

No response. That was… odd.

Gerson wandered further inside, slipping past the front desk. "...C'mon, kid! This ain't the time for hide 'n seek!"

Still nothing. The books were organized neatly in a pile. Back stock sorted in the shelves and freshly dusted. He wandered around, until something crumpled under his foot. Squinting, he crouched down and… a note?

A torn notebook page. A further glance to the side brought his attention to... Glasses. Just. Sitting there on the ground, misty from… tears, maybe?

...

Heart racing, Gerson stepped back, grabbing the paper and smoothing it out.

It read…

"Goodbye, and I'm sorry."

No!

Gerson barreled outside, rushing past the Mage and Toriel. "KID!"

Up ahead, footprints, heading down. South. Maybe… they just wanted to catch a ride on the boat? Yeah, that's all. Nothing serious. Nothing severe!

Still, he ran fast as he could with his busted up knee. Ran until…

Something purple shimmered over the water's surface. A… human SOUL.

Gerson fell to his knees.

Footsteps followed behind him. A shriek, a gasp…

The mage's voice trembled. "We're… too late." Four SOULs down…

All Gerson could do was pound his fist in the dirt as his teardrops turned it to mud.
Page 28 Transcription
The child had run far, far from home, face carved with a twisted smile. It was… simple karma, really. Day after day, reprimanded and restricted. A living mistake, told time and time again of consequence. Never allowed to be more than an unwanted obligation, forced to conform and conceal… Ten loveless years. Hahaha…

Consequences, huh?

One step, two steps, higher and higher, toward the foreboding peak…

They. Wanted. Consequences, hm?

A cavern's mouth, stalactite teeth. Time to embrace the darkness…

Perhaps those fools would realize this, the greatest consequence of all. Hahahaha…

No. Eyes closed. No tears allowed. Never allowed to cry. Had to maintain an image. Had to be tough, resolute, sophisticated and refined. Seen but never heard. A symbol, an heir at best. Certainly not a child.

A life like that… was it really worth living?

Further, further into the dark. Up ahead, the path ended in a deep chasm. A pitfall to the depths of hell, no doubt…

The child wandered ever closer, gazing deep into the abyss.

One foot caught on a root before the child could even consider whether to jump or dive.

Despite everything, screams rung out. Better than cries. Still unacceptable. Screaming was against the rules.

Eyes closed. Braced for impact. This was it, then? The end. ...too late to turn back.

Solid ground crashed all at once. Another scream. Pain erupting throughout…

But… alive. Hahahaha… still… alive? Of course.

Of… course…

Eyelids heavy, remained on the ground, short of breath. Perhaps death would still arrive. Just had to wait. Moving hurt, anyway…

Time blurred. The earth stood still.

Eventually, though, voices pierced through the silence.

"It sounds like it came from over here…" A high voice. Child? Or a hallucination. Yes. That made sense.

Pitter patter, little steps… Auditory hallucinations… The human was no doubt concussed, then. Ha.

The footsteps stopped. Too close for comfort.

"Oh! You've fallen down, haven't you?"

...Same voice. Closer than ever. Eyes squeezed tighter still. This was a dream. Nightmare. Something…

Grass crinkled. It. Stepped closer.

The human's eyes opened automatically to find…

A. What...was that? Fluffy. Floppy ears. Goat? No. Paws. Goats didn't have paws. But no large incisors. Not a rodent. No wet nose. Not a canid.

"What…"

The… thing moved closer, whatever it was. "Are you okay?"

Still talking. Right. Yes. Because of course that made sense. A talking… fuzzy rabbit-dog-goat in a striped shirt. What could one say to that? If it was real. Perhaps not. But… body still ached. Dreams didn't hurt. Still alive and…

A fuzzy hand. Touching. Why was it touching? ...Couldn't find the will to lash back. The… thing pulled the child upright.

"Here, get up…"

Reluctantly… the child obliged. Ha. What else to do, really? Legs throbbed. The world titled. But… it seemed death was a cruel mistress. Unless death was actually a fluffy creature, the afterlife painful, and the child about to wander deeper into hell's labyrinth.

Walking hurt. Could only lean into the… this…

Eyelids opened and shut some more. Words became muddled. This… thing tried starting conversation along the way. Maybe? Asked… something?

A name… maybe?

Oh.

Yes. Of course. Courtesy. Even in this likely-delirious state, shepherded by a living plush toy. Or death incognito. Or both.

"It's…" The child started, then stopped. No. Not that name. Too tied to the two devils in parent's clothing. Never chose it. Just given. Never had many choices before.

But… there was a name… happiness, joy, a constellation, loved one… so many wonderful things.

No one would ever call this child these wonderful things. But it was… nice.

Okay then.

"...Chara."

This… thing giggled. "Chara, huh? That's a nice name." A few more steps. The world kept tilting. "My name is…"

Blackness.

Silence.

And then… something soft. Warm? No. Bundled. Wrapped. Constricted. Trapped.

The child thrashed in the… blankets? What.

Eyes snapped wide open, scanning, assessing. A toy box at the foot of the… bed. This was a bed. In the corner, a small lamp. A little chest further on. Small shelf. Wardrobe. Nice… furnishings, tidy and neat, and...

Voices. Close but not as close.

"...So that's a human?" That fuzzy child-toy-death-thing was back, then.

"Yes, sweetie. It has been a long time, but that is indeed a real human…" A… woman speaking? An adult. But… gentle. Not cold. Aloof. Judgmental.

Still… best not to trust. The child burrowed under the blankets as best as possible. Body still sore.

The mystery woman continued. "And so young… Oh, Gorey, what should we do?"

"This… changes everything." A new voice. Deep, but… soft. Odd. Men weren't supposed to be soft. Strong, commanding… that is always what the child had heard. "I think that… for now, we should take it slow. I'm not sure how our people will respond to a human, even after all these centuries…"

Justified. Humanity was scum. A plague upon the earth…

"But how come?" said the little furball. "They don't seem so bad! Kinda quiet, but they must've fallen a really long way!"

...They? What.

Why was this creature…? There was only one human hellspawn here. Incorrect grammar. Then again, it was small. Maybe it didn't know. Maybe it didn't have decorum and formality thrust in its face.

"They are just a child, Gorey," said the woman. "And all alone… Oh, the poor dear. I wonder what could have brought them here."

Even the adult…? Hm. Well. It was… not so bad. Grammatically strange, but… hm. Intriguing.

The child's face poked slightly above their makeshift shield. But only slightly.

More footsteps, closing in. Drat. Back under, then.

"I think… for now, we should take it one step at a time," said the soft but deep-voiced…something. The door creaked. The child bristled. "Ah… I think they're awake…?"

"Oh!" Faster footsteps, but heavy. Too heavy to be the little fur-thing. "It is all right, my child. You do not have to hide."

"Mmph." Not… the most eloquent response, but. Right now, the child did not want to budge. They… yes, that was. Still weird, but… better than what was used before. Less rigid. A defiance of conventions…

And they were… away from that life, for better or worse. Hahaha… Perhaps. This could further distance them from that horrible life.

Or perhaps not. They clutched the blankets tighter. "How…" Voice hoarse. Perhaps… they should have brought a water bottle. But they did not expect to live. "How do I know you aren't going to eat me?" Yes. There. Proper sentences. Rebellious or not, this child still had some standards.

But… the little furry thing whose name they actually never heard just… giggled. "Aw, that's silly! Mom would only eat you if you were a snail."

"Asriel!" Oh. There was that all too familiar strictness in that woman's voice… before it softened again. "Please, do not worry." She… touched the blanket. Why? "We do not eat humans, and certainly not children!"

"...But he wasn't lying about the snails," said the soft but very deep-voiced man.

"...So talking hellspawn eat escargot." Ugh. Fine. They peeked above the blankets, only to find…

More fuzzy goat-rabbit-things. Maybe part lion? The big one had a luxurious, gold mane and a bushy beard. A gold crown, large pauldrons, a flowing cape. Royalty, perhaps? But that goofy smile…

And the other, smaller, wore elegant purple robes. She smiled down at Chara… because, yes. They were still keeping that name.

The lady creature covered her mouth with a free hand, though, laughing at their remark. "Well, it is more of a pie… But I know it is an acquired taste. That is why I am baking something else tonight."

"...I am still not convinced you aren't going to eat me. I have read enough fairytales to know when to keep my guard up."

"Huh." The small creature tilted its head. "I didn't know fairies had tails."

Now both of the larger creatures laughed, and the king placed a hand on his… well, presumably his child's head. "Ohoho… I think the human means stories, son. Like legends from your imagination!"

"Golly…"

"...Yes. That. Fables. Folklore. Myths." Chara slowly rose further from their blanket cover. "Though… assuming this is not some form of purgatory or a fever dream… I suppose I may have to reconsider their fictional status…"

"Well, if you'd like," said the king, "you could always share those stories over a cup of tea! ...But only if you have the energy for it."

"Yeah!" The small creature… Asriel, was it? Raised his fist into the air. "I wanna hear all about your human stuff!"

"My human 'stuff.' How eloquent." They fought the urge to roll their eyes. "...But yes. I am a bit thirsty, I suppose."

"Hungry as well?" said the woman.

Chara wanted to deny it, but their stomach spoke for them. Drat. "...I suppose."

The woman nodded. "Then I will finish dinner. Perhaps a warm meal will ease your woes."

"...Mm."

"And you're in luck!" The king added. "I have just finished brewing some chamomile tea."

Asriel skittered closer. "Yeah! And he grew the chamomile himself!" He leaned in closer. "But I helped. Kinda."

"Now, now, dearest…" The woman pulled her child back. "I know you are excited, but let us give this child some space. This is quite a bit to take in, after all."

"Aw… Okay, mom. But when they're feeling better, can I show 'em all my favorite puzzles?"

She patted his head. "Yes, yes, of course. It will be good for you to have another playmate… if they are comfortable."

"...We'll see." Chara sighed. This was… as she said to her son, overwhelming. The pain… hm. Wasn't as bad as before, at least, but these new surroundings, these weird creatures, all this kindness…

And why? It made no sense.

In fact, while the king disappeared into the hall and his son toddled after, Chara turned to the remaining creature.

"I just don't understand. Why are you being… so nice to me?"

A soft smile preceded another laugh, albeit gentler than before. "...They say that eyes are a window into the SOUL. And I can tell just by looking at you, that you are a very troubled child."

Chara winced.

"...But it is all right. Whatever led you here, you are safe now. And perhaps, with time, you will find this place to be… Perhaps like a second home."

Ah… Chara ducked their head. They… probably should have said something, but words failed them. Their eyes stung again, so they squeezed them shut.

"...And just so you know, it is okay to cry. If you wish, of course. But you alone are in charge of your decisions."

That… made no sense. A stranger… just. Telling them to make their own choices?

"Mooooom!" Ah. That Asriel kid came zipping back. "C'mon! They said they were hungry!"

"...Technically, that was my stomach," said Chara. "But… Don't you have anything better to do?"

"Oh! How silly of me." The woman turned around. "Very well, then. I will let you have your space. But if you need anything, we will be just around the corner."

… … …

So long ago, yet the memory remained so vivid. So picturesque. Even worlds apart, it repeated clear as day.

Their eyes stung… but those weren't their eyes. They were Frisk's. And Frisk stopped walking, huffed, and turned around.

(Hey… Everything okay up there?)

(I'm… fine.) Except they weren't fine. Not after everything they just experienced. (Just… reminiscing, I suppose. Don't worry about me.)

Frisk folded their arms, staring back at the doorway. Back toward the barrier. Back toward… him.

But no matter how much Chara reminisced, nor how much they wished… they could never return to those simple childhood days.

For three years after they fell, they tore that loving family's hopes to shreds.

It was too late to turn back.
Page 29 Transcription
Ebb and flow, ebb and flow... the water's movements never ceased. Time passed on and on, ever changing. Never static. But the changes now, more than ever, so crisp, so clear... Yet invisible to all. A pity, perhaps? Or maybe a gift. Pieces torn, shredded, and glued messily together like a collage... and the scraps? Oh, the scraps...

Ah.

But such contemplation would have to wait, as the distant sound of bickering drew even closer.

"Oi! Snowy. Come ON! We can't just sit around here and hope the guards spread the word! If we wanna make a statement, we gotta take it to the top!"

"I know, but... It's so hot out there! And what if my dad sees me?"

"Who CARES if he sees you?! You don't need to worry 'bout the MAN, dude!"

"...I mean, if he looked at my hat, I'D care."

"Yeah, but that's your problem! And besides, if we get this on the air, EVERYONE will be lookin' at us! We'll be superstars."

And lo' and behold, three troublesome teenagers, each wearing matching yellow bandannas skittered into view. The Riverperson turned from the water, bowing their head.

"Tra la la. I am the Riverman. Or am I the Riverwoman...? It doesn't really-"

The brash drake in sunglasses stomped forward. "Yeah, yeah, we GET it! Now, look. My posse and I are lookin' for a one-way trip to Hotland. Gotta have a serious talk with Undyne 'bout the human problem."

The human 'problem,' haha... Interesting. The Riverperson chuckled under their breath. Interesting, that. They had been mistaken on the occasion as a devoted fan of a certain mage. A heroic, human mage... One would think such a significant figure would do more to sway public opinion. But perhaps some things were inescapable. Certain beats acting as vertebrae sustaining the rest of the world...

The river eroded the landscape, reshaping its surface, but beneath that surface, a molten core still remained... And it did suit the fish to act hotheadedly with reckless abandon. Cause and effect, too, had their impact. A single choice changed, and all this... Ah, but where were their manners? Stepping aside, the Ruverperson beckoned the three on board their boat.

And of course, the brash one bolted ahead of his companions. "'Bout time!"

The other shuffled shortly thereafter, and with no reason to delay, the Riverperson send their boat drifting upstream.

"Tra la la... Heat is not the only thing that makes you melt. So many pieces, clumped together... Crying out for help..."

Gulping, the other drake shuffled back. "H-hey! Don't say stuff like that! It's... not COOL."

"Eh, screw 'em!" said his brasher companion. "They're just bein' cryptic for no reason. I hear it's their whole schtick."

"Hey, here's na idea!" the Ice Cap added, "Instead of saying dumb riddles, you should totally pay attention to my hat. It's extra sparkly today!"

The riverperson did not comply, turning their focus to the waters ahead. Snow fave way to crystalline walls. The current pulled them further and further. Bit by bit, the heat rose from frigid cold, to mist and moderate, until the bluish walls gave way to the orange, earthen tones of Hotland proper, and the warmth up ahead was but a small sampling of the climate's sizzling circumstances...

And so, their boat drifted to a stop. "Here we are! But you may want this." They dug into their pocket, withdrawing a small, flame-shaped pin, and passed it to the Ice Cap. "So your hat doesn't melt."

"Oh! Uh. Thanks. Glad to see SOMEONE who appreciates my sense of style!" They took the pin and tucked it under their bandanna. Perhaps to avoid distracting from their headwear?

Before the Riverperson could ask, all three darted off and toward Undyne's laboratory.

Thus solitude resumed. The calm, the quiet... the ebb and flow of that river, kindly drifting all around.

For a haphazard collage, the world did retain its natural splendor, at least. Some might even say the pros outweighed the cons. A royal scientist ready and willing to bring her people hope? A superstar not so blinded by hubris that he still made time for his loved ones? A holographic sky, teleporters all around. A safeguarded, crystalline town, a military fortress... Yes. All delicately crafted, they were.

Yet even still, the Riverperson sighed. A soft, oddly ambivalent sort of sigh- neither angered nor heartbroken. It was what it was. The river never waited for those too weak to swim. The sun, though distant, cared not for how its rays blinded the foolish. Whispers heard by only one might as well not exist. Places once known, now but fantasy.

As long as it did not happen once more, all was well. For now. Time would tell if that changed.

And if it did... well. Time, like the sun, and like the river, cared little for consequence.
Page 30 Transcription
So much had changed. Beautiful flowers adorning once hallow catacombs. Monsters cheerily migling in the halls now filled with good and comforts. A spirit once withdrawn remembered how to smile, putting on a show alongside a dangerous human stranger. Said spirit even disclosed vital information where before they merely sulked... All because the monster ruling the Ruins reached out to its people with a smile and a 'Howdy!' instead of secluding himself and bracing heartache...

All because of one fatal mistake.

Hahaha... And still, Chara fell into old habits, narrating the human's every action with sassy quips and wordplay. They could have spoken more directly, and instead...

"But a more pressing question weighs on your mind. What does he smell like?"

Had they a had of their own, they would have smacked their own face. Really? That was the best they could think of at the time? Oh no, they couldn't simply warn the human of the flower's treachery. ...Perhaps because of a stupid, sentimental part of them had hoped that he had changed. Learned.

At first glance, he had... acted differently. A bright smile and a, "Wanna stay alive? Then see if you can dodge this!" No tricks, no 'friendliness pellets'. It was... admittedly, enough for Chara to encourage the human to seek his company (and more importantly, answers) in the candy chamber.

And yet, by doing so, they had only lured the human into his trap.

A grand plan to free monsters without casualty by reaching the capital. Haha... but the last time that had happened, he had assimilated every monster into himself, became a god, and triumphed over them. And now, reverted to flower form and clearly recalling the world he left behind, he sought to do this again? And to what end? Even pushing the human out of Asgore's comfortable home when they'd only just arrived...

True. He had... offered guidance.

"Don't you get it, human? Everything RESET... Your DETERMINATION saved you!"

"But it still hurt... I didn't think... All the other monsters..."

"Kid, I know what it feels like."

How did he know?

"You start to wonder where you'll go. You get. apprehensive."

When did he wonder? Under what circumstances?

"But you're missing the big picture! After all, you've got the power to turn back time! Just like I did."

...But for how long? When did he discover it? It had only dawned on Chara then how little they knew of Flowey's experiences before. Waking up alone, no doubt, in an altered form after a traumatic death...

It was enough to give them pause, again, and let the human slip further into his metaphorical grasp.

Worse yet, as dust spilled on the floor and the grief of accidental murder stuck the human like a million tsunamis...

"Hey... it doesn't have to be this way. Remember, you have something special. You can make all this pain float away..."

Chara... couldn't dispute that. So they remained silent. They let the human disregard the consqeuences. They knew, of course, that the grief would consume them otherwise and even after the face...

Because...

"For the last time, you're. Not. My. MOM!"

A blow too strong, perhaps only meant to startle. Perhaps only meant to prove their strength.

"Urgh... You are stronger than I thought..."

At the time, Chara was so ready, so willing to brush them aside. To lump them in with the rest of humanity, even after the kindness they'd displayed to monsters prior.

"You're just... hurt right? H-here. Just take one of these stupid candies! It'll be-"

She'd shaken her head. "Listen to me, small one... If you go beyond this door, keep walking as far as you can. Eventually you will find an exit."

Her body had started crumbling. "...ASGORE... Do not let ASGORE take your soul. His plan cannot be allowed to succeed."

And crumbling... as the human's tears leaked, their eyes stung, and Chara felt every shaking breath, every palpitation of their heart.

"...Be good, won't you? My child."

The tears. The wails that followed... hahahaha... The fact that they had disobeyed, gone back, righted those wrongs... Did Flowey recall that, too? He must have.

And if Chara were to speak up this time, when Asgore had thrust the human into assisting in his own suicide, what would that say about them, let alone their sense of morals?

And yet, despite the human's monotone response, Chara still felt that agonizing stinging in their eyes. The way heat rushed to their cheeks. Their trembling hands. They could only nod as Flowey asked, "You want that, don't you?"

And again, "So, do you think you're above consequences?"

That phrasing. It was almost as if he was calling Chara out... yet Chara yet again remained quiet.

They let the human go back.

Was this psychological warfare? Was this a game to Flowey? ...Ha. He probably didn't even know they were there. No doubt he was still projecting.

"But it'll be different this time."

But different how? Just what was his goal? WHY was he playing nice this time? Obviously, he wasn't truly sincere. He'd gaslit. He'd waiting and no doubt watched as those three thugs killed the human. And even still, he provided armor. Even still, he disabled puzzles to expedite the journey. Even still, he... encouraged them to save Asgore.

Psychological warfare indeed. Gaslighting not only through words, but actions. That's all it was. Manipulation.

They needed to warn the human, their partner... somehow.

They needed to protect the ony good human from the world's wickedness before more guilt gnawed holes through their entire being.

Yet still, when asked...

"So if there's anyone there, could you stop being so cryptic?"

It was their chance to open up. To say something more meaningful and acknowledge their own presence...

But words failed.

It was so, so stupid. Selfish, even.

Yes. Their partner forgot. All the time they'd spent together before... at most, a hazy dream, no doubt. Yet here again, they reached out. It... shouldn't have been so hard to respond. Despite everything, it was still them.

"Well, it was worth a try."

They sounded so... disappointed, too,

Hahaha... Chara really was an idiot.

And still, they lapsed into silence, letting the human waltz forward into the next hall, talking to Flowey once more. Letting him wrap his thorny vines tighter and tighter around them...

"But you said you used to be able to RESET things, too. And some of this stuff feels WAY too familiar to be a coincidence."

"Well, it coulda been somebody else. I honestly don't know..."

"All right... I trust you, Flowey."

No. No! Trusting him was the WORST possible idea.

"Well, cheer up, okay? We can always look into this on the way."

Even though, by all accounts, his sugar-coated words created a seemingly foolproof alibi. Even though, if they were to speak their mind now, no doubt their partner would resist, maybe even resent them for it.

...And that thought alone left Chara pathetically paralyzed.

"But we won't get anywhere by standing here."

"Then I guess it's time to hit the road!"

So... they let their partner walk, let their partner leave.

They... needed more time to think. Needed more time to process their own feelings and all that had changed. Perhaps... at the next opportunity, Chara would try to nudge them in the right direction.

But right now, they just needed time.
Page 31 Transcription
Frisk collasped on the floor, head pounding. They fell back against the wall, rubbing one of their eyes. Ugh. This was... so stupid. So freaking stupid. What were they even thinking?

"...Shiiiit." Anyone else woulda probably scolded them for hash language then and there. No eleven year old should be using such raunchy words! How did they ever hope to get adopted with such a foul mouth and an even fouler attitude?

Yeah, sure, whatever. It's not like they got much attention even when they acted all 'squeaky clean.' Maybe if people acutally cared, they wouldn't go out and make such a fool of themselves!

They grumbled more swears to themself. Ugh. Stupid headache. Stupid dare.

Footsteps sounding off like loud explosions closed in. Probably 'cause of the aforementioned headache.

"Frisk..."

Yep. That sure was Lilac.

"Mmph." The batted a hand at the air. "I know what you're gonna say. Something, something, reckless, shouldn't have gone for it. Of course trying to steal booze for those punks was gonan screw me over."

She plopped beside them. "Well. It was... I was just worried, Frisk. They obviously just wanted a scapegoat."

"Mmmmmmph." They turned the other way, crossing their arms.

"And... they're teenagers. They shouldn't even be handling that kind of stuff. You shouldn't either!"

A glare worked its way across their partially-bruised face. "You better not tell anyone."

"But... You're hurt."

"I'm fine." Grumble, grumble... They squeezed their eyes shut and grasped their temple. "'S just a stupid headache."

"And a black eye."

"I've had worse."

That doesn't make it okay!"

"...I get enough lectures as is. Don't have time for this crap." They buried their face in their hands. "Just leave me alone, Lilac."

Quiet followed. Maybe she took the hint?

...No. Floorboard shifted. And... something nudged their leg. Agh. What now?

They blearily lifted their head, and... oh. Water bottle. Huh.

"What's this for?"

"Hydration's kind of important."

Frisk opened their mouth to speak-

"Actual hydration. With water. You won't get any better if you just sit on the floor moping."

"Don't feel like getting up." But they took the bottle.

"You'll probably feel better if you lie down."

"Too much effort." But... Frisk gulped, unscrewing the bottle cap and...

God.

They chugged the whole bottle down in what felt like a millisecond.

Lilac handed them another one.

"...Geez, how many of these did you grab?"

"Enough. I figured you'd wanna keep this a secret."

"...Oh." Well, great. And here they were, chewing her out and making assumptions.

"...But seriously, Frisk. You should get up." She tugged on their sleeve. "You should rest."

"...Fine." They stumbled to their feet, very, very slowly. Another gulp of water, and they... dragged themself across the room, wincing along the way. "Ugh. Next time I see those punks, I swear..."

Lilac grabbed their arm mid-stumble. "Maybe it'd be better if you didn't. Look at what happened today."

"...Surprised you called the cops, though." Frisk paused. "...Surprised they didn't blame me. I'm the one who stole that crap."

"Well, you are younger."

"Ha, Don't remind me." Finally, their bed, nice and close. Frisk flopped face-down, screaming into their pillow. "But I wish you'dve given me a heads up, y'know." Reluctantly, they rolled onto their side, gesturing with the bottle at their black eye. "'Least then I coulda bailed before they heard the sirens."

"...Oh." She grimaced. "Sorry."

"Whatever." They waved the bottle around. "I'll live." They sat up just long enough to take another gulp of water. "...Crap. Shoulda grabbed a snack before I ran for it."

"Hold on. I'll try and grab something from downstairs."

"...'Kay."

As she left the room. Frisk heaved a heavy sigh. They was all so stupid. All of Lilac's concerns were right, of course. It's not like Frisk really needed to prove anything to a bunch of teenage edgelords. But... the last thing they wanted was to appear weak. Cowardly. And besides, it was a dare! You don't just... back down form dares.

Expect. That was a recipe for disaster. Freaking hell, when they thought about it that way, it made them sound even more spineless!

Curse their pride.

A few minutes passed, and all Frisk could do was stare aimlessly at the ceiling, occasionally drink from their water bottle, and rub at their aching ribs and their aching eye.

Until the door screeched- ugh, why did it have to screech- and Lilac returned with a box of graham crackers.

"It's not a lot, but it'll probably help for a little bit, right?"

"I'll take what I can get." They grabbed the box when offered. "...Thanks."

"No problem."

More silence followed. Dragged, even, until she finally asked, "So... why'd you do it anyway?"

"Didn't wanna be a pushover. It's as stupid as it sounds." They chomped on one of the crackers, muttering between bites, "Don't even see what the hype's about. Stuff tastes like piss, and I bet those freaks are gonna end up in AA meetings when they're older."

"But you're not."

"Hell no! Like I said, I'm not drinking that kinda crap any time soon." Speaking of drinks, they took an especially large swig of the water. "Still... Sorry I worried you, Li'. I... guess it was pretty shitty of me, huh?"

She shrugged her shoulders. "You've done worse."

"Is this the part where you list everything out?"

"No. You already know it."

"Ha. ...Makes me wonder why you put up with me, to be honest."

"You wouldn't be the first person to ask that." Now it was her turn to sigh. "But it's fine. One of these days we'll get your badness level in check."

"Pffft. Long as I don't have to dress up like some oldies popstar."

Their quip squeezed a laugh out of her, and in turn, Frisk chuckled right back. It was so stupid. So simple and childish...

But after a day like this, maybe that wasn't so bad.
Page 32 Transcription
I shouldn't remember this... but it wasn't a dream, was it?

Give me one good reason why I should not send you back to that pitiful hole you crawled out of!

You're trying to make this whole thing about YOU. Have you even stopped to consider HOW she's doing?

I was hesitant at first, but... I suppose if Flowey intends to free everyone, it is best to tie up loose ends.

What's the use? My captain already permitted you to leave. My reputation is naught but a childish meme at this point.

...man. that pineapple just had to come back to haunt me, huh? welp. a deal's a deal.


Bad memories, bad dreams... What was lost is still unseen...

First the lights. Now the TV. What's going ON in here?!

Y'know what? Let's watch it. It'll be nice to give this movie an actual audience.

I'm serious! Where IS she? She's not answering my calls. She's not answering my texts! S-she's not at home, and...

SIGH... YOU SHOULDN'T HAVE HAD TO SEE THIS. I'M TERRIBLY SORRY FOR THE INCONVENIENCE. AND... FOR NOT BEING MORE FORTHCOMING.


I'm... no optimist, and frankly, our chances of success are slim to none. But you make me want to believe in the impossible. You always have.

Hey, you said you wanted to talk to Undyne, right? The call was a start... But this might be your only chance to REALLY be honest with her.

Golly, Chara, you're absolutely right! But how could you forget the best part?

No! You shouldn't be here! What were you THINKING? Especially NOW...

BUT IF YOU HAVE THE SOULS NOW, SURELY...


N-no. That... that's not me. I would never do that to Blooky!

Oh, the sky, so dark and dire. His ambitions, a blazing fire... Between the seams, he conspires... But will you make chase, or light this world's pyre?

YOU KNOW, IN HINDSIGHT, THAT EXPLAINS A LOT. BUT WAIT. HOW COME YOU'VE BEEN SO SHY?! IS MY RAW GREATNESS TRULY THAT INTIMIDATING?!?!


Y-y'know... we make a pretty good team. Thanks for sticking up for me back there.

So that's it, then. No matter what I do, you STILL won't listen. Well, in that case... I guess I'll just have to MAKE you understand!

Frisk... this ISN'T your fault! I should have been honest with you from the start. ...But I suppose it's too late for regrets, isn't it?
Page 33 Transcription
Sweat poured down their cheeks. The spear quivered in their grasp. Their chest heaved haggard breaths. But they couldn't stop. More spears incoming. Blue, blue, blue, yellow. Freaking yellow. They clenched their teeth, spinning and smacking those godforsaken weapons back at their master.

Undyne gnashed her teeth, her one eye twitching. And then, right on cue...

"Undyne holds her fist in front of her and shakes her head."

Good ol' Captain Cryptic, narrating every little detail. Frisk tittered despite the circumstances.

(You just never run out of material, huh?)

"Less talking, more strategizing. Unless you want to die again."

(Says the one who keeps running their mouth.) Frisk rolled their eyes. (But fine. Lemme just... try something else...)

But... what else could they do?

Challenging made her spears faster- not exactly ideal. Pleading slowed them to a point, but it wouldn't stop her. She never stopped.

Not the last time. Or the time before.

Frisk shuddered. Their grip on the spear tightened.

Maybe this time, they could just...

"Mercy! Ha! I can't believe YOU want to spare ME!"

There it was again. But... maybe this time, if they could last long enough. If they could just keep at it...

Shoot. More spears! Eyes bulging, they twirled and thrust and blocked and jabbed, pinned in place and unable to do more.

Until she swept her spear, and the green hue surrounding them faded. They lifted one foot. Then the other.

They could... run, maybe? Ha.

What good would that do? She was bigger. Stronger. Fast as well. They'd already tried running before. She kept going on about how they needed to face danger head-on. That would never work.

"Undyne flips her spear impatiently."

(Yeah, yeah. I get it! I gotta do something.) Sheesh. They just had to rub it in, huh? Well, whatever. If doing nothing worked with Toriel, maybe it'd work here, too. If they could just outlast her. Maybe make it 'til she ran outta steam...

Undyne's eye narrowed. "But even if I spared YOU..."

Ack! A whole wall of spears rushed their way, moving in staggered motions. Frisk doubled back, biting their tongue all the while. ...Still better than a spear through the chest.

They took a swig of sea tea when the barrage ended, while Captain Cryptic described Undyne's impromptu boulder suplex in loving detail.

Just... had to wait it out.

"No human has ever made it past ASGORE!"

More spears. More running. One grazed their arm. Another tore their sleeve at the shoulder. Close call.

Just... had to make it a bit further this time. Conserve resources. Everything was fine.

"You suddenly realize that you've done this all before," said their oh-so-wise narrator. "Also, smells like sushi."

Still nothing...

Undyne droned on. "Honestly, killing you now is an act of mercy...!"

Mercy. Right.

Because stabbing pain, the world blackening, everything growing cold until it wasn't cold and they woke up in a sweat, alive and just a short walk from her perched on that stupid mountain because they were stubborn and every other hostile monster had eventually given UP...

And she. Wouldn't give up.

Would she?

They skidded, they tumbled, they nearly fell on their face. Another gulp of sea tea left them light on their feet until she grounded them again and forced them to deflect all over again.

Again and again to no avail, as their pockets grew emptier and their heart went from pounds to throbs and the world itself blurred, save for Undyne and her spears...

"I WILL NEVER TAKE MERCY FROM THE LIKES OF YOU!"

Another barrage. Of course. Because that was all that mattered, wasn't it? Taking their SOUL. Being a so-called hero.

And, heh, what right did they have to complain? They were one kid. Hundreds, maybe even thousands of monsters lived down here, and yet...

They just. Couldn't surrender. They didn't wanna disappear, forgotten.

Alone.

Not even a footnote.

Their eyes burned, drenching their cheeks with tears.

(I can't take this anymore. I just... can't...)

She wanted them to face danger head on? Heh. She wanted them to... toughen up?

Adrenaline propelled them forward. They lunged at Undyne, sprung off the ground, and kicked her square in the face.


She must not've seen it coming, because she reeled back, rubbing her eye and gritting her teeth.

"Ngh...! Well, what do you know? Guess you aren't just a doormat!" A crooked smile spread across her face. "Fuhuhu... All right, punk! Give me your worst."

Ha. With pleasure...

It was funny, actually. All this time, too terrified to fight back. After what happened to Toriel, after what happened to... her... Frisk did everything in their power to resist fighting. Even if it meant getting battered and bruised by bones. Even if it meant narrowly dodging magic axes and then smothering themself in dirt and snow... It didn't matter. Murder, even temporary murder, only served as a reminder that beneath their smiles and chipper quips, they were just a bomb waiting to go off. Poisonous. Twisted. They had to bury that part of themself for the benefit of others, but now?

Finally, letting loose, kicking, punching, screaming, cursing...

It was... catharsis. Going all this time, trying to be the best they could be, only for her to threaten to tear their soul from their body? Even after defending that weird kid, she STILL couldn't see their merits?!

She wanted them to be the real monster here. So they'd oblige until she got a CLUE...

"The spears pause for a moment."

Good. Maybe she was reconsidering...

"NGAHHH! DIE ALREADY, YOU LITTLE BRAT!"

...Or not.

Fine.

Another hit. More spears dodged.

"YOU'RE GETTING IN MY WAY!"

Still no dice. Maybe they just had to hit HARDER...

"I WILL NOT BE DEFEATED!"

Famous. Last. Words.

Another wave of spears nearly knocked Frisk to their knees. They chuckled under raspy breaths. No items left. Just them. Just her. This had to work.

Just one last hit, and maybe she'd finally STOP!

The kick dented her armor. She staggered and groaned.

"Ngahhh..."

Her voice... cracked. Strained. This was... No.

Not this time.

"You were stronger... than I thought."

Shit. No! This wasn't gonna be...


"So then... this is where... it ends..." Her whole body spasmed, and then...

Her eye. Popped open, now blackened. Her pupil turned white.

"No... NO! I won't die! Alphys... Asgore... Papyrus... Everyone is counting on me to protect them!"

Any other time, Frisk might've snapped back. They might've said... she's hurting Papyrus by doing this. Or... any of the others Frisk had befriended. ...Not that it'd worked before.

But they just stood there, silent and speechless. Was she... actually okay?

This was the part where she should've backed down. Frisk gulped, stepping forward.

"Look. Hasn't this gone on long enough? I don't wanna..."

"NGAHHH!" She swept her spear, turning them green again. Locking them in place.

"Human! In the name of everyone's hopes and dreams... I WILL DEFEAT YOU!"

So. That was it, huh? Still nothing. And now they were out of items, locked in place and unable to flee.

"Undyne looks determined."

Yeah. Determined to a fault... and yet, here she was, shaking off every hit they'd thrown at her.

What was Frisk supposed to do now?

They stood in place for several agonizing minutes. She stared back.

Eventually, Frisk tried speaking up again. "I don't want to do this anymore. What'll it take for you to understand?"

But she rolled her eye. "Come on, is that all you've got?!"

Something changed. Her body rippled, nearly pulled apart, just to pull back together.

But the spears kept coming, fast and frenetic. Frisk could only feebly swat them back as Undyne pressed on like nothing was wrong.

Frisk... just kept standing there, as the wind howled. As pollen drifted on the air. As Undyne's body rippled further, split then reconnected.

Through it all, she still smiled.

"S-see how strong we are when we believe in ourselves...?"

Would it have mattered if Frisk still had items? Would healing her have made a difference? Would she have even let them get close enough?

Or was this what she deserved?

The spears slowed.

"Undyne's body is losing its shape..."

She still pressed on, even as her attacks lost their spark.

Even as Frisk stood silent, forced to watch a slow demise.

At least with Toriel... it was quick. Painless? Maybe. Hard to say.

This... had to hurt. So why did she...?

"H...heh... Had enough yet...?"

Frisk's eyes squeezed shut. They nodded.

But the swish of incoming spears alerted them to her next onslaught.

There really was no way out. They'd sealed her fate.

Only her head remained stable. The rest of her body stretched, wavered, swayed, and distorted, like particles of dust floating loosely in her shape.

"...I won't... give up..."

The spears, so slow now. So pitifully slow. Just a single, straight line...

Frisk fell to their knees, and still...

"Ha... ha... Alphys..." Undyne's voice, now a hoarse, pathetic whisper... "This is what I was afraid of." Tears trickled from her eye. Her face started rippling, too. "This is why I never told you..."

Her eye... it. Popped open? Maybe. Too distorted to tell. And yet, she shouted with a sudden burst of ferocity, "No... No! Not yet! I won't die!"

Still, her body pulled further and further apart. An agonized cry, like nails on a chalkboard followed.

Frisk's entire body grew ice cold.

Their heart stopped.

"I WON'T DIE!" Her body clumped back together, fists clenched and eye open wide...

And then... it dripped.

"I WON'T DIE!"

And dripped... voice dropping in pitch.

"I WON'T DIE!"

And... dripped...

"I WON'T-"

Her body crumbled to dust before Frisk's eyes, scattering in the breeze.

Frisk wailed. They pounded the ground.

But nobody came.

They knelt in silence for several minutes. But then... what else could they do? She wouldn't listen. She... she pushed them to fight. She. Made them do this.

It was... the only way.

Wasn't it?
Page 34 Transcription
"So that's it. You're just up 'n leavin'?"

"Yes. I cannot stay here any longer. Not after what I've done..."

Gerson folded his arms and lifted his chin. "Y'mean throwin' a little tantrum and declaring war on an entire species?"

Asgore grimaced. "...Not only that, but. Killing a child. Another Chara."

"Mhm." Heaving a sigh, Gerson turned the other way. "Tried tellin' ya it was a bad idea. Tori tried tellin' ya, too."

His words pierced Asgore's heart like a knife... yet he could not dispute them. "I know. I was reckless. But you have to understand..."

"I do. Losin' two kids in a day... I can't even imagine what that felt like. It ain't like the war. People always die in wars." He gave a brief glance, his expression softer than before. "But do you really think running's gonna fix this?"

"I'm... not worthy of the crown. Not after this. I couldn't even use the child's SOUL to cross the barrier and find another way."

"That so?"

Hanging his head, Asgore slumped. Despite the vast difference in height, Gerson seemed to tower over him. "I... It's as I told Tori. The humans killed Asriel. It has only been a short while. If I were to appear while the memories are fresh, I doubt we could truly know peace."

"Ah. Sound reasoning. You're finally lookin' at the big picture."

"If only I had listened sooner." Alas. The curse of hindsight, he supposed. "I'm too impulsive. I get so caught up in the moment that it's so hard to step back. I let my heart overshadow my mind."

"Eh. That ain't the worst thing, long as ya got someone to rein ya in. Someone like Tori."

A bitter, broken laugh squeezed out of him. "Tori... refused to understand. She sees me as a coward. And maybe I am." Tipping his chin up, Asgore watched the glittering stones that spanned across the cavern ceiling. "I know I can't undo that child's death. Perhaps abandoning their SOUL makes their death meaningless... But I know other monsters will. Want more proactive measures taken. If another human falls... someone has to be there, and it should be the fool who fanned the flames."

"So you're gonna dump all your problems on Toriel's lap."

"No. I think... if anyone can calm the people, it's her. She's always had a way with words. With wisdom. Now more than ever, the kingdom needs a ruler who can rule with a level head."

Ah. Tears... he brought a hand to the hood of his cloak, pulling it over his eyes. "Besides, I doubt she wants anything to do with me now."

Gerson shook his head. "Maybe she does, maybe she doesn't. Hard to say... but I know how you get when you put your mind to somethin'. Ain't nothing gonna stop ya, huh?"

"No. My final act as king... a self-imposed exile. I'm sure some people will miss me, but in time, I'll probably just be a vague memory of a bygone era."

Or perhaps he'd go down in infamy, the fool king who dragged his people into a hateful abyss... He wouldn't even dispute such claims.

But... Well. If that wasn't good enough... Asgore turned the other way. "Besides... someone has to tend to the flowers." Little seedlings sprouted where Tori lay Chara to rest.

...No, not Tori. He had no right to call her that now. Just... Toriel. The queen.

The tears crawled down his cheeks once more. Only then did it hit him. Centuries together, both beneath the sky and beneath the mountain... all for naught. Just weeks ago, he'd clung to the hope that Chara would recover. That their family would see a happy tomorrow.

Now that family only existed in photographs.

The dirt shifted behind him. "Fluffybuns, c'mon. You sure you wanna do this to yourself?"

"...All I want, I can no longer claim. It's dust, just like my son, and no amount of wishing will ever reshape what was lost." One step, two more steps. "Just... promise me you'll keep an eye on... the queen, once I'm gone."

A light touch on the sleeve brought Asgore's focus down to Gerson, perhaps for the last time.

"You don't even hafta ask."

That soft, wry smile almost gave Asgore second thoughts.

...But no. He'd come this far. It was time to rip off the bandage.

And so, he forced his focus elsewhere, to the long cavern corridor ahead.

"Then... I wish you the best... old friend."
Page 35 Transcription
"Like, O..."
"M..."
"G!!!"
"Did you see?!"
Both Bratty and Catty practically shouted in unison, their eyes alight and big, wide smiles glued to their faces. They stared at Alphys expectantly, hands clasped and tails swaying. Maybe they'd been spending too much time around the canines on the guard. Alphys tittered, scratching her cheek.
"W-well, that depends on what you saw..."
"Oh! Oh!" Catty pumped one paw in the air. "Let me tell her!"
Bratty chuckled. "Okay, okay, but, like. Let me set the mood." She steepled her fingers, leaning in close. "It all started when we turned on the TV. Undyne, like, had this big, bold announcement."
Catty cut in, "And then, this TOTAL HOTTIE-"
Bratty silenced her with a glance. "Like, hold on! No spoilers! This deserves buildup."
"Aww, okay..." Catty's ears drooped, but she stepped back and let Bratty continue.
"So, like I was saying... She cut to this stage, right? Curtains closed. Suspenseful music playing. She doesn't say what it's about. It's just, like, totally mysterious and then..."
Alphys brought a hand to her mouth. Of course. She was there in the audience. Not that they needed to know. She'd hate to be a buzzkill. Even if Metta... well, Mettaton now, kept gushing excitedly about the new body.
So she nodded along, right as Catty jumped up and shouted, "A TOTAL HOTTIE SHOWED UP!!!"
"SO hot!" said Bratty. "Like, that rectangle shape... Those SHADES..."
"Don't forget the cape! And, like... that charisma. That VOICE! Here's a guy I actually WANT to see on TV! And he's a REAL robot!"
"Undyne REALLY made a knockout this time!"
"Hehe... Yeah! No wonder you like her so much!"
Alphys skittered back, nearly falling on her butt in the process. "H-hey! T-this isn't about..."
Bratty knelt down, placing a hand on her shoulder. "I know, I know. We're just teasing."
"But still, you should REALLY ask her out for reals sometime!" Catty added. "Like, what if we make it a double date?"
Squinting, Alphys straightened her posture and... actually managed a smirk. "Wow. You haven't even met him, and you're already making plans?"
"See, that's why it's so important we plan now," said Bratty. "We're, like, his first REAL fans. Now we just gotta get our foot in the door. Start going to live shows..."
"Yeah! We gotta show our support!"
Huh. If Bratty and Catty were taking things so seriously, what'd that say about other monsters? Mettaton always wanted more attention, but romantic interest this early? They didn't even know him personally yet. Or just how dorky he was deep down.
...Not that that was a bad thing! Gosh, no. He was sweet. And silly. And so passionate! If people finally gained an interest in knowing him for real, then... well. Maybe some flirting and fangirling wasn't the worst thing. It wasn't like Bratty and Catty were total sleazes. A bit boy crazy, but... hot guys were a totally valid interest, just like hot girls.
But, hmm. What to do? Should she have revealed her personal connections? She technically was an in. She could give Mettaton a good word, set them up with a more personal meeting, but... would that be fair to the other fledgling fans? Without even meaning to, Alphys started pacing back and forth, tail swaying with each step.
...well, until Bratty and Catty stepped in her path.
"Uh, Alphys, you doing okay?" said Bratty. "Like, I know this is a LOT to take in, but we can totally score you tickets, too!"
"...A-actually." Alphys paused. This was... a bit risky, but, "What if I told you I could score YOU tickets?"
"For real?!" Catty squeaked. "Like, I know you've got connections with Undyne, but-"
Alphys waved her hand. "Not just Undyne. I, uh... know Mettaton, too."
Bratty gasped, then belted out a great big laugh. "Girl! Why didn't you say so in the first place?!"
"I, uh... didn't wanna steal your thunder? And, uh. He's still kinda adjusting to this whole star thing."
"I guess that checks out," said Bratty. "I mean, he DID perform with Blooky and Shyren. Maybe deep down, he's a soft and sensitive type."
"Ooh! Totally! Like, aren't tons of artists super emotional? And misunderstood. For all we know, he's got a SUPER dark past!"
"I-I mean, if you really wanna know more..."
Bratty shook her head. "No spoilers! We wanna follow his career the RIGHT way!"
"...So I guess that's a no on those VIP tickets?"
Both Bratty and Catty shared a look, then grinned simultaneously.
"Well, we didn't say THAT..."
Page 36 Transcription
JERRYRULEZ1337

posted a message.

METTATON is like. SO overrated. He doesn't even come with public wifi! I thought Undyne wanted to HELP monsters! Ugh! Why does everyone think he's so hot anyway? He doesn't even have a mouth.

You know who DOES have a mouth? ME. You know who's NOT all sharp edges? ME! Ugh. Everyone tries to ditch me. And they keep going all PDA with their physical issues. I don't NEED to know that you have the hots for a freaking TV on wheels! Everyone knows that physical attraction's shallow, demonsterizing garbage anyway! It's not my fault they CHOOSE to be attracted to an overhyped hunk of junk!

You know what the networks need? More variety. I TRIED pitching the Jerry on the Edge programming block, where I'd dish out scalding hot takes! But you know what Undyne said? NO. And then I THOUGHT I could get that frycook on my side. He HATES MTT, but you know what HE said?

He said he doesn't get "paid enough" to listen to me complain! Can you BELIEVE it? If he actually did his JOB and made me a freakin' burger with PICKLES, maybe I wouldn't COMPLAIN so much!

Ka-SIGH. And those alley chicks? They just STARED at me and wouldn't even give me their numbers. And that was AFTER I got them TWICE as many burgers as that stupid frycook and his stupid pants! What is their PROBLEM? I TRIED to be patient with them. I TRIED to ask them how their days were going and even told them how hot they are. But they just ditched me. From their own store!

EVERYONE ditches the J-man. This world is a burning cesspool of shallow freaks who don't even DESERVE to see the surface.

Maybe I'LL take the last human SOUL and be the REAL hero. Yeah! That'd teach them!

I bet the surface has WAY better wifi, anyway.

Anyway, Mettaton stinks and I'm boycotting his movies 5ever.

"Huh? Did they ditch me...? SOME friends!" - Jerry, Last Tuesday

SNOWDIN TOWN
Page 37 Transcription
It was... strange. These goat-rabbit-things were so... accepting. Several days had passed, and they allowed Chara to remain within their abode. That little one, Asriel, practically bounced into the room every day, eager to show off his "cool toys..." mostly stuffed animals, including one "Commander Snuffles" with a bulbous snout. He'd rush up to the... guest bed? Or maybe that was his bed? Begging to take Chara on tours of this strange place... evidently called "Home."

The injury from Chara's fall made such things... impractical, and the mother monster, Toriel, insisted Chara stay bedridden. She coddled them, delivering warm... breakfast. Glasses of water- sadly, not filled to the brim. How impractical. It was... nice, perhaps. But why? All this doting... and for what? Were they really just going to accept a random, broken child so readily?

Enough time had passed that Chara finally crawled out of bed of their own accord. Coincidentally, the larger monster- Asgore- asked to speak with them in private. He'd gestured to the door with a bright smile and a jolly laugh. ...Was this it, then? Was he finally going to discard Chara?

They winced, but feigned a tight-lipped smile. Asriel and Toriel were out grocery shopping. It was just the two of them...

But, well, what did they have to lose beyond what they already almost threw away? They followed Asgore outside, and...

He guided them toward a large tree amidst an ocean of fallen leaves. There he sat and patted the ground. How... odd.

Chara hesitated a moment, then followed. They plopped... a few feet away, drawing their knees close to their chest.

"...How do you even grow trees underground?"

"Ohoho... You'd be surprised," Asgore said, brushing a hand against the trunk. "We may not get much sunlight, but a little magic and a sprinkling of love can go a long way. We've had hundreds of years to adapt to living underground. It's... not so bad, once you get used to it."

Hm. Strange. Chara's fingers rapped at their knees. "You say that as if you've no choice in the matter." Though... that would explain the distinct lack of monsters on the surface.

Asgore heaved a soft sigh. "Yes. It... was quite a long time ago, but there was a time when humans and monsters waged war with one another. The humans feared we'd steal their SOULs, and we lost... many friends. Loved ones. Soldiers and civilians alike..."

Chara recoiled at his description, and yet... it hardly came as a surprise. Humans waged war even amongst themselves. They treated one another with prejudice and resentment, and that was on the best of days. Laughter slithered from their lips. Their shoulders shook as they tried to hold it in.

But it wasn't funny.

"Of course. You must despise me, then." Rationally, they knew, of course, that was likely false. His family had provided shelter, company, food, and drink for days. And... given his attire, specifically the crown, it wasn't hard to connect the dots, and Asriel's constant gushing about his dad being a "Super Cool King Guy" practically beat Chara over the head.

A king of a people subjugated and... evidently, trapped, yet here he sat with a soft, sympathetic smile, and placed a hand on their-

Chara skidded back, ducking their head and hunching their shoulders.

"...O-oh." Asgore pouted like a kicked puppy, withdrawing his hand. "I'm sorry. I... did not intend to hurt you, young one. I just wanted to, ah... reassure you. You're your own human, and I'd be a fool to hold you responsible for the mistakes of your ancestors."

"...Ah." Chara hesitated, but... slid just a little closer. But only slightly. "I... can't understand. Your wife said similar things, but. You don't know me. For all you know, I could be just as twisted. Just as vile. A demon in human's skin."

"Perhaps, but call it foolishness, but I'd like to see the glass as half full. You clearly have suffered a great deal- not unlike the rest of us. And... well, even if we are still strangers, I'd like to help you."

"Sure you do." They scoffed. What a silly idea. "And what do you have to gain from it?"

Averting his eyes, Asgore stroked his admittedly luxurious beard. "It's not about personal gain, though I do admit, you could bring my people hope."

"...Even though humanity banished you underground?"

He returned his focus to Chara, locking eyes with them. "Because humanity banished us underground. For years, we've feared humanity's retaliation. We burrowed as far into the earth as possible in a desperate bid to survive. Many children have only heard stories of humanity's crimes... but that was so long ago."

"Well, I'll warn you now- humanity has hardly changed. We've a horrid history of enslavement, conquest, murder, and destruction. Even the simple act of... gardening, for someone... born under my circumstances is. Frowned upon, to say the least. We are expected to look a certain way, behave a certain way, keep our heads down and merely... accept our lot in life."

"Then perhaps you'll like it here!" He let out a hearty laugh, gesturing toward the font of his home, adorned with a sprinkling of various flowers. "If a king can take pleasure in flowers, then why not an innocent child? We monsters try not to judge one another based on harmless hobbies. You can express yourself however you'd like, so long as you're not hurting anyone."

"Ha. Be yourself? That's rather cliche."

"But it's true! Happiness shouldn't require you to conceal your truest self. I'm sure that plenty of monsters will accept you, if given a little time."

How... naive. He barely even knew Chara, yet here he was, speaking so highly. If he knew the ugliness inside them, he'd cast them aside without a second thought. Avoiding eye contact, Chara wrapped their fingers around one of the discarded leaves, crushing it in their grasp...

"You shouldn't get too attached."

"Easier said than done, I'm afraid! Call me a fool or a bleeding heart, but I just can't turn a blind eye to a child in need."

"...Your wife said the same thing. It's so... painfully sentimental."

"That's just the monster way!" Chuckling, Asgore rose to his feet, looming almost as tall as the tree. "But I understand if you need time. I won't force you to like us, but I do hope you'll at least give us a chance."

Ugh. Despite his tremendous size, despite the devilish horns, despite the broad chest and massive arms that could doubtlessly crush them to dust... Asgore looked down at them with pitiful, puppy dog eyes. It was hard to brush this off as sugarcoated duplicity. The monster king, like his wife and his child, just... kept tolerating Chara. Begging them to stay, to open up, to... be happy.

A tall order.

But... it was an improvement, they supposed, from the heartache and hostility they endured on a daily basis. Even if that warmth, the kindness, was daunting in its unfamiliarity.

Regardless, they still lived. Enough time had passed to reaffirm that this was not, in fact, a dream. For now... well. Perhaps it was all right to play along. For curiosity's sake. Nothing more.

So they leaned into the tree trunk and left the leafy ground behind. "...I can't make any promises."

"That's all right!" Asgore said with a smile. "Just take it one step at a time."
Page 38 Transcription
This was...

So many voices. Murmurs. Cheers. A sea of eyes, watching, judging, waiting and anticipating... Why did Chara even agree to this?

They stood atop a balcony overlooking the city of Home, though thankfully far back for now. Asriel tapped their shoulder a few times. Chara refused to meet his equally prying eyes. A fuzzy hand hovered over their head, likely Toriel's, but she withdrew it at the last second. Their prior tension at physical contact likely lingered in her mind, unlike her child.

Up ahead, waving to the crowd, was Asgore, clad in his long, flowing cape and glistening gold armor. Chara winced. Yet again, they had to ask themself, why did they even agree to this?

"Aw, it'll be okay!" Asriel said with a foolishly cheery grin. "EVERYBODY trusts my dad! And he trusts you. All you gotta do is go up there, and-"

Toriel nudged her child aside. "Now, now, dear, I know you are excited, but this is a big step for all of us. Perhaps Chara is just experiencing a little stage fright."

"Oh. Golly, I didn't think of it like that..."

Chara sighed, though they kept it soft to avoid unwanted attention. It all happened so fast. Over an... admittedly refreshing breakfast of apple cinnamon muffins, Asgore had proposed introducing them to the rest of the kingdom. Chara had wanted to decline at the time. Best to blend into the background than to become the talk of the town, and yet...

These strange monsters had provided them with shelter, food, and... pleasant enough company. Despite their unflinching naivety, this family had treated Chara with more decency in just a few weeks than any adults had through their entire life. It still made little sense. Their trust. Their compassion. Still, enough time had passed for their suspicions to deteriorate, and they'd resigned themself to an awkward acceptance.

"...You're the prince, correct?" they said, giving Asriel a brief glance.

He wasted no time in responding with a cheery, "Yup!"

"Well. Then I've no doubt you are accustomed to the spotlight. It is... understandable that you would not comprehend my position."

"...You sure like to use fancy words," Asriel said with a small pout. "But, um. I guess I kinda understand. Sometimes the other kids treat me different, too."

"Ah. The perks of royalty..." Chara averted their gaze, folding their arms. It wasn't particularly their concern, but the shift from Asriel's typically energized demeanor gave them pause. "Still. You're their prince. A symbol of their future. Humanity nearly brought your kind to extinction." They shook their head. "So you'll have to forgive my cynicism."

Toriel made a sound, not quite a grunt but not quite a word, but stopped when Asgore turned around and nodded to Chara.

"It's almost time."

Chara gulped, but buried their distress between a tight, forced smile. They had to smile. No one would appreciate their true, dour self.

Both Toriel and Asriel flanked their sides, but thankfully kept a short enough distance so to not leave Chara claustrophobic. Each of them met Chara with more genuine smiles as Asgore addressed the crowd.

"My people, today marks a momentous day! Though I'm sure some of you have heard the murmurs that a human walks among us, today I assure you, that this is more than just a rumor..."

The crowd's murmurs broke into full on gasps, and even some yells until Asgore raised a hand to silence them. "But fear not. I have seen the human. I have even walked beside them. They are young, perhaps a bit broken, but a kind SOUL at heart. Unlike the humans who treated us to fear and disdain, this human instead has shown patience and understanding. They have not once raised a hand nor a weapon to my family."

...This seemed to satisfy the crowd enough to suppress the prior uproar. Chara took slow, deep, and deliberate breaths. Their fake smile twitched. Why couldn't he just get to the point?

"Now. Before I introduce this child, it is important to consider the implications of their arrival." Bringing a hand to his chest, Asgore stole a brief glance at Chara before continuing. "The emblem upon my chest, the symbol of our people's hopes... It is more than just an icon. It is the symbol of a prophecy- that one who has seen the surface will one day join us and shepherd in a new era of freedom. And now, one from the surface indeed lives among us! An angel in human form, destined to unite humans and monsters alike!"

An... angel. Chara bit their tongue to suppress a fit of laughter. Them? An angel? Hahaha... What a laugh. What a farce! They were no such thing.

And yet, Asgore's words brought cheers. They brought applause. It was too late to turn back. Now there were expectations.

Even still, Toriel knelt beside them. "If you are not ready, we understand. You do not have to do this."

But they brushed past her, ignoring their heart's palpitations and the sweat trickling down their cheeks. "Yes, I do."

Asgore once again peered over his shoulder, as if asking if they were ready. Chara nodded despite their better judgment.

"And so, it's my great pleasure to introduce you to this angel, and my hope that you will accept them the way that they have so swiftly accepted us. Monsters young and old, I present to you... Chara!"

This was it, then. No turning back. No escaping the immeasurable responsibility thrust upon them. A symbol. An 'angel.' An expectation to usher in freedom despite their youth and inexperience...

But...

Why protest? At least... they weren't a burden. At least they could bring about happiness for once. At least... they'd be useful.

So they stepped forward, inching toward the balcony's edge. So many eyes, fixed upon them. So many clasped hands, snapping claws, fluttering wings, and eager grins.

"...Greetings," they said, bowing their head. "It is... an honor to live among you. I am thankful for your kindness." Even though they were all strangers. Even though Chara's personal interactions with monsters remained limited to the royal family. Even though their grip on the railing tightened to a point that their fingers ached while their heart still throbbed.

As if detecting their suppressed distress, both Toriel and Asriel joined Asgore in surrounding Chara.

Toriel spoke next, "Please understand, of course, that Chara is still very young. While we are sure you all have many questions, we ask that you give them time to adjust."

A gentle laugh escaped Asgore. "Toriel is right, of course. We will do our part to introduce Chara to you all at their own pace, a little at a time. Until then, know that we are ecstatic to begin this new journey... as a family."

There it was again, that bleeding heart. His hand hovered over Chara's head, but did not touch. He withdrew it soon after, perhaps recalling their conversation by the tree.

Still... was it all right to simply stay with this family? Perhaps even... join it?

Asgore's words left Chara stunned silent. The most they could do was retain that forced smile.

But even their silence seemed to rouse more cheers.

They were the future of humans and monsters, after all, and to some, that was enough.
Page 39 Transcription
Mettaton rolled back and forth- though slow enough so not to risk tearing up Papyrus' carpeting. The downside of a spiked wheel was that every movement required careful deliberation. If nothing else, it looked stylish! His cape flapped idly as he made his movements, both hands clasped behind his back. In all seriousness, he probably looked silly.

"IS EVERYTHING OKAY? "

Mettaton stopped, tittering. "I JUST THOUGHT YOU'D ENJOY A PERSONAL LOOK AT MY LOCOMOTION, YOU BEING SUCH A DEDICATED FAN!" Haha. A transparent lie, but would it be enough to fool Papyrus?

Evidently not, as he raised an eyebrow and said, "METTATON, YOU'RE PACING. PACING GENERALLY IS A SIGN OF DEEP CONTEMPLATION, IMPATIENCE, STRESS, OR SOME COMBO OF THE ABOVE!!! "

Heaving a heavy sigh, Mettaton slumped. Well, as much as his rectangular body could afford without losing all balance, anyway. "...I SUPPOSE WE CAN CHECK A FEW BOXES."

Papyrus scooted forward, patting a spot beside him on the couch. "DO YOU WANT TO TALK ABOUT IT? "

Mettaton raised a finger, half tempted to blow it off a quick excuse, like how it's just stupid celebrity drama, or how he's been through worse, or any number of ways to shut this discussion down here and now, but... what good would it do? Sans had gotten on his case before about how much he internalized around others. This wasn't a live show. There were no crowds. No starry-eyed obsessors. Just one fan who also happened to be a dear friend.

What was he so afraid of?

They'd known each other for years, and Mettaton still recalled another time they sat down on that very couch, the day the experiments... took a most unfortunate turn. This was nothing new. Not... really, anyway.

If he could trust anyone with this, it was Papyrus.

So, straightening his posture and placing his hands on his... well, not quite hips, but... edges? He rolled closer. "WELL, DARLING, SINCE THE OFFER'S ON THE TABLE... I SUPPOSE I CAN LET YOU IN ON A FEW TRADE SECRETS."

That must have diffused at least some of the tension, because Papyrus' eye sockets turned all big and googly, and he clasped his hands together. "GASP!!! YOU REALLY MEAN THAT?! "

...His audible pronunciation of things like "GASP" and "SIGH" were always so cute. Mettaton chuckled, lowering himself onto the couch despite how... cumbersome it was to do so with just a metal rod in place of legs. "NOW, NOW. I WOULDN'T BRING YOUR HOPES UP, JUST TO DASH THEM AT THE LAST SECOND! OF COURSE I MEAN IT."

"NYEH HEH HEH!!! WELL! I, THE GREAT PAPYRUS, AM ALL EARS! METAPHORICALLY. UNLESS YOU WANT ME TO GET A PAIR OF ATTACHABLE EARS TO APPEAR MORE SINCERE. "

Attachable... Oh my. Mettaton's mind immediately leapt to one of Alphys' Mew Mew Kissy Cutie headbands, and a burst of laughter exploded from within his robotic shell. "I APPRECIATE THE THOUGHT, DARLING, BUT METAPHORICAL EARS ARE PERFECTLY SINCERE."

"OH! WELL, AS LONG AS IT MEETS YOUR STANDARDS! THAT'S THE IMPORTANT PART!!! "

"OH, PAPYRUS. FORGET STANDARDS. LET'S JUST... TALK FOR A WHILE."

"RIGHT. " He fidgeted with one of his sleeves. "SO. WHAT'S WRONG? "

How to put this... Wording was crucial. He'd hate to shatter Papyrus' idealized image of Mettaton the Star... but what about Mettaton the Person? Where did the lines blur for him? Mettaton's fingers rapped at the cushions. "PAPYRUS... YOU ENJOY MY WORK. THAT GOES WITHOUT SAYING, BUT..." How to put this... "I DON'T SUPPOSE YOU'VE NOTICED A SHIFT SINCE I BEGAN MY CAREER?"

"YOU MEAN THE ABUNDANCE OF ACTION-PACKED BLOCKBUSTERS WITH... RATHER POINTED MESSAGES ABOUT HUMANITY? "

Ah. So he knew. Mettaton... bobbed in the closest approximation of a nod. "YES. EVER SINCE UNDYNE RELEASED THOSE TAPES, THERE'S BEEN A GREATER DEMAND FOR PULP PROPAGANDA." Raising one of his arms, his hand flashed, and an arm cannon manifested in its place. "THE PEOPLE WANT TO FEEL SAFE. THEY CLAMOUR FOR FREEDOM. THEY WANT A SYMBOL THEY CAN DEPEND UPON. THIS BODY... IS IT EVEN MINE ANYMORE?"

A frown unfurled across Papyrus' face, and he brought a mittened hand to his chin. "WELL. I THINK IT IS. NO MATTER WHAT EVERYONE WANTS OR THINKS, YOU'RE YOUR OWN SUPERSTAR! YOU SHOULD MAKE THE MOVIES YOU WANT TO MAKE!!! "

"HA... IF ONLY IT WERE THAT SIMPLE. THE THING IS, FAME HAS ITS PERKS. I WAS A NOBODY, BUT NOW I'M A STAR! EVERYONE KNOWS ME. ALMOST EVERYONE 'LOVES' ME... I'VE GOT MERCHANDISE, BRAND NAME FOODS AND DRINKS. AN ENTIRE CITY BUILT IN MY IMAGE... BUT IT'S AN IMAGE THAT'S BEEN WARPED TO MATCH AUDIENCE EXPECTATIONS. THIS BODY..." His cannon reverted back to an ordinary hand, curling into a fist. "IT'S NOT THAT I'M UNGRATEFUL. I DO FEEL MORE LIKE MYSELF HERE THAN I DID BEFORE. AND UNDYNE NEVER SAID I HAD TO BE A HUMAN ANNIHILATOR- SHE SIMPLY PROVIDED WEAPONS FOR THE WORST CASE SCENARIO, AND YET..."

"NOW THEY TAKE IT LITERALLY? "

"YES. I'M NOT JUST A PRETTY FACE WITH CHARISMA AND WIT. I'M A HUMAN ANNIHILATION MACHINE WHO JUST SO HAPPENS TO HAVE AN ACTING PEDIGREE." Mettaton brought both his hands to his face, grumbling. "AND... THIS BODY WAS NEVER MEANT TO BE PERMANENT, ANYWAY. IT'S JUST A STEPPING STONE TO MY TRUE SELF... BUT NOW I'M NOT SO SURE THEY'D ACCEPT THAT."

"WELL, I WOULD. "

Of course he'd say that. It was Papyrus. His unwavering optimism was to be expected, and yet... this still gave Mettaton pause. "...HOW CAN YOU SAY THAT WITHOUT KNOWING-"

He chuckled, raising an index finger. "I WORK WITH UNDYNE! OF COURSE I KNOW THE BASICS. THERE'S A REASON SHE'S BEEN DEVELOPING SYNTHETIC SKIN. ...BEYOND THE, ERM. PERSONAL APPLICATIONS. " That last remark brought a grimace to his face, while Mettaton shuddered. "BUT ANYWAY! YOU CLEARLY WANT SOMETHING LESS GEOMETRIC. SOMETHING TALL, SEXY, AND WITH BEAUTIFUL BISHONEN EYES!!! " Papyrus fluttered his eyelids for dramatic effect. A good way to diffuse the brief tension.

"WELL, YES. BUT ALSO... MY DESIRED FORM ISN'T JUST A DEPARTURE FROM MY STUDLY RECTANGULAR FORM." And here came the difficult part. "I... WANT TO BE MORE HUMAN. AND THEREIN LIES THE PROBLEM, PAPYRUS."

"ONLY IF YOU MAKE IT ONE. " He shook his head, and then... dug out a pencil? And a clipboard? How did he even fit those in his tiny pockets? "IF YOUR FANS TRULY LOVE YOU, THEY'LL SUPPORT YOU NO MATTER WHAT FORM YOU TAKE! IT'S IMPORTANT THAT YOU'RE HAPPY IN YOUR OWN BODY! AND I, THE GREAT PAPYRUS, WILL GLADLY CONTRIBUTE TO THE REALIZATION OF YOUR TRUEST SELF!!! "

Mettaton froze, though in hindsight this shouldn't have surprised him. If anyone would leap dramatically to his defense, it was Papyrus. Somehow, despite the rising cynicism, despite the dark clouds lingering over the entire kingdom, he still shone as radiant as the sun. It boggled the mind, really.

"...I WOULDN'T WANT TO TROUBLE YOU. AFTER ALL, I'M SURE YOU AND UNDYNE HAVE A BUSY SCH-"

He couldn't even finish before Papyrus boldly placed a hand over his... Well, not mouth, but the general area where a mouth would be, if he had one. "NOPE! YOU WON'T SWAY ME OTHERWISE, METTATON! WE ARE GOING TO DESIGN YOUR ULTIMATE BODY! AND IT IS GOING TO BE FUN AND POSSIBLY A GOOD BONDING EXERCISE, AND EVEN IF IT'S NOT, IT WILL HOPEFULLY KICK YOUR ANXIETIES THROUGH THE BARRIER AND INTO THE STRATOSPHERE!!! "

He even got up and kicked the air for emphasis. Such enthusiasm!

Chuckling, Mettaton feigned a gasp. "WHAT A TWIST! MY ANXIETY, THE KEY TO BREAKING THE BARRIER?! PERHAPS A SECRET WEAPON UNDYNE BESTOWED UPON ME WITH HER BULLHEADEDNESS?!"

"WELL! THERE'S ONLY ONE WAY TO FIND OUT!!! SO. DESIGNING START?! "

This was all incredibly silly. But... well, given the circumstances, a bit of lighthearted banter certainly beat wallowing in his own stress. And Papyrus' own desire to help, coupled with his credentials... Perhaps some good would come of this. Time would tell.

But the least they could do was try, and so after a moment, Mettaton replied, "DESIGNING START."
Page 40 Transcription
Where was Sans? Papyrus sighed, flopping on the couch with a great big pout. Was he hiding in that secret basement lab again? Did he finally get back to doing Sans Things instead of doing... decidedly not-Sans-things? Like going to that smelly, greasy bar. That wasn't a Sans thing! At least, it wasn't before. So why now?

It'd been a few years, and he still wouldn't talk about things. Things like why they just... poofed to this very cold town or why it was just the two of them or why he left his very important position of head nerd! That was a VERY important position! Probably. Important enough to run in the family. And now it didn't? Was Sans really, really done?

"Hey. Wanna play some video games?" Oh. Right. Undyne was here, and she brought games!

Papyrus perked up a little bit. "MAYBE. BUT ONLY IF I GET TO BE THE COOL, SPIKY TURTLE THIS TIME!!! "

Undyne snorted. "You sure you don't wanna go for one of the better fighters? There's a REALLY cool ninja frog."

"TURTLE. DRAGON!!! NOTHING IS BETTER THAN SPIKES AND FLAMES, UNDYNE!!! "

"Fuhuhu... Okay, when you put it that way, I guess he's PRETTY cool. Definitely better than the dweeby humans in overalls!"

"I RESPECT THE GREEN ONE!!! HE DOES HIS BEST! "

"I GUESS? I mean, he's kinda a dor..." Papyrus huffed, and Undyne trailed off. "I mean, YEAH! Sure! Coolest dork on the block!" Shaking her head, she passed him a controller. "Anyway, SOME monsters might tell you to play without items. I say we play with ALL the items! BRING ON THE CHAOS!"

"YES!!! EVERYTHING. GIANT HAMMERS OF SUPREME JUSTICE!!! COOL LASER SWORDS. BIGGFYING MUSHROOMS!!! "

The door creaked open. "wow. sounds like you guys are havin' a real party here. "

Dropping the controller, Papyrus dived from the couch. "SANS!!! WHERE WERE YOU?! UNDYNE WAS STARTING TO THINK YOU GOT EATEN BY... ERM. GARBAGE MONSTERS? A VERY HUNGRY DOG THING? "

She threw up her hands. "C'mon! I was just messing with him!"

Sans shrugged. "good to keep him on his toes. but nah, i'm good. " He tucked his hands in his hoodie pockets and strolled over to the couch. "in fact, your big bro just got a new job. "

"Wait, what?!" Undyne raised an eyebrow and brought a hand to her hip. "You mean you DIDN'T go back to the lab?"

"undyne, we went over this. i'm done with the whole science thing. "

...This still didn't feel right. It had to be one of Sans' jokes, right? The nerd quest was his life's purpose! ...besides telling bad jokes and eating weird food. And napping. Papyrus watched the two, fidgeting in place.

But Undyne wasn't having it. She marched closer to him. "HEY! You told ME to never give up! What's your excuse?!"

But Sans just... shrugged it off again. "things change. besides, i meant what i said to you. you got a lotta potential, undyne. give it a few years, and you could be fillin' up that vacancy in hotland. " He dug through his pocket, and... "as for me, i'm goin' in a new direction. " The flier Sans pulled out made Papyrus nearly stumble, while his eyes went googly.

"THE ROYAL GUARD?! "

"yup. just aced the tryouts. pretty cool, right? "

Undyne grumbled. "This has to be a prank."

"nah. couldn't keep bumming off of the old man's inheritance and residual earnings from my last job. figured it was high time i buckled down and made something of myself. "

"So you just randomly decided to pull a 180 and be a soldier?" Undyne said it better than Papyrus could. This was WEIRD. It made no sense! What was Sans thinking?

"i don't see it as a 180. both the guard and the science division work to make the kingdom a better place. just think of it as... fieldwork. " He patted his shirt. "'sides, a guy like me oughta keep in shape. "

"You're a skeleton."

"what. you never heard of being big boned? "

"OH MY GOD. " Papyrus stomped his foot, pouting again. "SANS! THAT CAN'T BE THE ONLY REASON. I THOUGHT YOU LOVED NERD THINGS! WHY DO... ANTI-NERD THINGS? "

"i dunno. one of the other new recruits was pretty nerdy. even made her own armor. " He shook his head. "anyway, i got my reasons, but don't think too hard on it, bro. this is my choice. no bribes. no pressure. no punchline. just... felt like this was the right move for me, and i ain't turning back. "

There was a certain firmness to his voice that felt... weird. Almost sad? Even though he wore his typical wide smile. Even though he looked Papyrus dead-on. This still felt funny and strange and wrong and...

What was Papyrus supposed to think about this? Sure, the Royal Guard was cool. Very high on the list of Epic Things. That Sans was accepted, he should've been ecstatic. But even though Papyrus was small, he was smart enough to read between the lines.

This was... it. Sans was giving up on his dreams.

But what could Papyrus even say? Sans was... stubborn, in his own, weird way. Plus he was way older. Probably smarter. He knew lots of Adult Things Papyrus didn't. But for all the questions flooding Papyrus' skull, for all the words he desperately wished to say...

He shrank back, eyes fixed to the floor. "I GUESS... IF THAT MAKES YOU HAPPY... "

Sans was quiet at first. Then, with his typical calm tone, he said, "'course i'm happy. when am i not? "

"Oh, I can think of a few times, buster! So, c'mon! Tell us what's REALLY going on."

"UNDYNE... IT'S FINE. IF SANS SAYS HE'S HAPPY, THEN LET'S LET HIM BE HAPPY. AND... ROYAL GUARDS ARE. COOL. VERY COOL! SO IF SANS WANTS TO BE COOL, THEN... THEN... " Papyrus wasn't even sure where he was going with this. He shuffled in place, glancing to the TV, then to Undyne, then to the ground. "I GUESS SOMEONE ELSE WILL HAVE TO BE EXTRA NERDY!!! ...BUT IN A COOL WAY. "

"yeah, and she's standing right here, heh. "

"NO, NO, NO!!! I MEAN... MAYBE... I CAN ALSO EMBARK ON A JOURNEY TO NERDTOPIA!!! BUT. COOLER! "

"...what? "

"...Yeah, I'm gonna second that. What?"

"HEY! I'M JUST SAYING. I BET I COULD BE THE ULTIMATE COOL NERD IF I WANTED TO BE! WHICH I MIGHT WANT TO BE. MAYBE!!! UNDYNE SAID SOMETHING ABOUT ROBOTS, AND ROBOTS ARE ALSO VERY RAD! MAYBE I WANT TO MAKE RAD ROBOTS!!! "

He was really just blowing hot air, but... honestly, it wasn't a bad idea? Maybe? Papyrus hadn't given a ton of thought towards what he wanted to do with his life. Mr. Santa made plants sound cool. And he liked puzzles. And Undyne was a nerd in training who was subsequently hip and awesome...

Both Sans and Undyne shared a look, and Sans shut his eyes.

"heh. i mean, it's your call, bro. you got lotsa time to figure things out. no need to rush it. "

"BUT YOU RUSHED IT! AND YOU NEVER RUSH THINGS. SO... I BET I CAN RUSH RUSHING IT BETTER THAN YOU!!! "

Undyne glanced between the two of them, snickering. "...You guys are ridiculous."

Even Papyrus could not dispute that. But so what? The more Sans denied it, the brighter Papyrus' inner flame burned! If a lazybones like Sans couldn't muster up the will to keep nerding, Papyrus would just have to outdo him! Somehow.

He'd work out the specifics later.
Page 41 Transcription
"...And you are certain you have to go down the chimney?"

"Of course! I want this to be authentic. That means I have to do everything that this Santa fellow does, and I have to do it right!"

How fortunate that Asriel had taken Chara out to play in the woods. Ever since they'd settled in and monsters began their expedition beyond the Ruins, the children took a particular liking to the snow. Well... mostly Asriel. He'd eagerly darted about, scooping it up in his paws and giggling with such bliss that it nearly brought a tear to Asgore's eye.

Chara, at the time, had asked, "How is this even possible? We live underground. Why are there trees? Where does the snow even come from?" Such curiosity. Such an inquisitive mind... Alas, even Asgore didn't know the answers, fidgeting and tittering as he'd searched for the right words.

Toriel, bless her heart, had picked up the slack, "Perhaps snow from the mountain top makes its way through the cracks and crevices. I do not know about the trees, but it is good that we have fertile land so far beneath the soil."

"Even if that 'fertile land' is too frigid for any meaningful crops besides Christmas trees?"

And at that exact moment, they had sparked an all-too-pressing question from little Asriel. "Hey, wait. What's a Christmas?"

Asgore, having lived centuries by this point, had at least the slightest inkling. Prior to the war, humans would partake in winter holidays, both pagan and religious alike. The adornment of homes with wreaths and holly. The burning of logs. Festive feasts and church gatherings... All so quaint, and so long ago...

But cultures shifted and cultures evolved, even among monsters. While the more ambitious monsters had gathered the scraps of human technology from deeper into the caverns, that only revealed small bits and pieces of their cultural advances. A soggy calendar showing imagery of snowmen, flying deer pulling a sleigh, but no greater context...

Yet, even still, Asriel had looked to him and his mother first, head tilted and eyes wide. "Well? D'you know what they're talking about?"

Toriel had knelt beside him, ruffling his fur. "Well, dear, before we were banished underground, we did experience some human festivities, but the Christmas we witnessed and the Christmas Chara knows are eras apart."

Chara had folded their arms. "Hmph. Well, you are not missing much. Christmas has become a commercial darling and a vehicle to promote capitalism. Every year, without fail, it is about buying, spending, and watching hours upon hours of trite entertainment that places far too much value on material possessions. They celebrate this 'symbol' of giving called Santa Claus, who allegedly brings gift to all the 'good' little children, yet year after year, without fail, even the most incessant, verminous children prance around the school grounds gloating about their brand new toys or video games or bicycles or whatever material commodities their negligent parents throw beneath the trees."

At that time, Asriel had shrunken back, tapping his fingers together and ducking his head. Toriel's eyes had narrowed, and for a moment, Asgore nearly thought she would scold Chara for their cynicism... but she did not.

And Asriel had gulped and said, "But you said this Santa guy brought all the presents. And what's all this about trees?"

"...Santa is a symbol. A legend, if you're being generous. But it's all so ludicrous! A fat man who lives in the north with a legion of flying reindeer who, somehow, traverses the entire world in a single night to give presents to every child? It's obviously..." They had trailed off when Asriel's eyes lit up and a bright smile had lined his snout.

"Magic reindeer?! You mean there are monsters on the surface?"

"I..." Chara had hesitated then. "Suppose you monsters do raise a few questions about the logistics of the stories."

"Yeah! If they're monsters, then I bet they can do all kinds of cool stuff! Maybe they're just SUPER strong, and that's how they can get all those presents out there!" He'd pumped a fist in the air, grinning. His enthusiasm prompted a hearty chuckle from Asgore.

"Golly. What a wonderful idea! If this Santa fellow is real, then I bet his heart's the size of this whole mountain!"

"...If he's real. But even then, why do you look so elated? As far as I know, he only brings gifts to human children. And most human kids don't deserve it."

"Chara..." Toriel had moved from Asriel's side to theirs. "I do not mean to pry, but did Santa..."

"If this Santa was real, and if this Santa was so 'good,' he would do more than drop material gifts. He would actually HELP the children. Wield his might to better the world rather than leaving poor, neglected, and battered children to wallow in their misery. A toy cannot fix everything." They'd paused, waving their hand. "...And for the record, I speak in broad terms. This says nothing about me."

Both Asgore and Toriel had grimaced then and there, while Asriel stood silent, fidgeting again and poking at the snow. What was there to say? Even if Chara had played it off as a broad, general statement, the bitterness in their words dripped to the ground, forming puddles at their feet. This just wouldn't do.

So Asgore had moved forward, raising his chin and puffing out his chest. "Well. Santa may not have come before, but I bet he will now. After all, you're here! And I'm sure once he realizes there are so many children who have never experienced Christmas, he'll do everything in his power to light these dark caverns!"

But despite his efforts, Chara had scoffed. "Don't make promises you can't keep. It would be better if Asriel had never even heard of Christmas..."

And so there he was, alone with Toriel in the freshly built Snowed Inn as she measured his body and chuckled under her breath.

"Gorey, dearest, I mean this with love, but... I do not think you will fit down the chimneys." A light poke on the belly brought a blush to his cheeks.

"Now, now! Based on Chara's descriptions, I think I fit the part rather well! ...Minus the fact that I have horns, fur, and fangs. But maybe the humans got the details wrong! Maybe Asriel was right and Santa really is a monster. Hoho... I think if we can pull this off, we can finally give them the Christmas they deserve."

"Yes... It is a nice idea. They seem so... distant sometimes. Whatever life they lived before, it must have been difficult."

"And that's why they need this, Tori! Even if this Santa fellow is just a story, symbols and stories can lift the spirits of even the most broken SOULs." He raised his arms as she stretched to her tip toes. Now to measure the sleeves... "And maybe if we're lucky, we can introduce the rest of the Underground to 'Santa.' Make a whole tradition out of it!"

"Well, I did notice some monsters offering presents to that poor Gyftrot... Perhaps we could marry the two ideas into something new? Chara may take comfort in something less... human, I suppose."

"Ah, Gyftrot again? Well, that won't do... But I suppose it could work! We just need to find a way to seamlessly combine the familiar symbols with our own cultural flavor. Keep the trees, maybe find some similar decorations... But, ah-" He stopped when Toriel grabbed his other arm. "One thing at a time! We still have to finish my costume, after all!"

"Yes, dear. And we should consider gifts that will make Chara feel as though they truly belong in this family..."

"And don't forget the pie! I think a warm treat will do wonders after a long day in the snow."

The two of them smiled at one another, then shared a bout of laughter. Despite how spontaneous it all was, the young human's arrival certainly eased the woes of leadership, expansion, and the long journey ahead.

And at times like these, every precious moment counted.
Page 42 Transcription
Dohj's life was over.

This was an undeniable fact.

She recalled it all too well. One day at the fort, Gerson gathered everyone around the table in the meeting room, and...

"Welp, I've had a good run, but as of now, I'm steppin' down as leader of the guard."

At the time, it was hardly surprising, of course. Gerson had served monsters for centuries, dating far back to the days of the Human and Monster War. He was one of the very few monsters to have bathed in the sun's elegant rays. He swung his mighty hammer upon the wicked whelp that massacred dozens in the Waterfall Incident. He had even outlived the Mage, his fellow hero and comrade, yet retained his leadership position despite his once proud strides diminishing to limps and despite the wrinkles overtaking his distinguished face.

Thus, at the time, Dohj, like many others, bowed in understanding. "It has been an honor serving you, my Captain. Even as you leave these fabled halls, we shall hold your legacy close to our hearts and uphold the values you imparted to us."

Both Lesser and Greater dog whimpered and whined. Dohj silenced them with a scowl. How disgraceful...

Doggo, meanwhile, popped a half-scorched dog biscuit in his mouth and squinted. "Okay, but what's that mean for the rest of us? You DO have a replacement picked out, right?"

"No. I'm just leavin' ya to fight it out!" Several guards shrieked, gasped, and gasped... but Gerson, true to his wily nature, burst into laughter. "Wahaha... 'Course I got replacements picked out! Tori and I thought long and hard about it."

To his side, Her Majesty bowed. Dohj almost protested- she'd no need to bow to them, but she held her tongue. No sense in arguing with the crown, naturally!

"That is correct. And before we say anything more, I would like you all to know that this was no easy task. You have all dedicated so much to this kingdom. Even those who have only just joined the ranks have brought vigor and boundless spirit to these corridors..."

That... didn't bode well. If they'd already made their decision, then surely they had already pulled aside the new Captain. And Dohj, despite her lineage and despite years of blood, sweat, tears, and self-imposed expectations, had never surpassed the rank of corporal. Worse yet, she certainly hadn't heard any word of her promotion, so unless this was another one of Gerson's pranks, then...

Despite her bloodline, despite hailing from a long legacy of faithful servants to the crown, it...

Wasn't her, was it?

She inhaled deeply, straightening her posture and keeping a firm, tight expression. No sense in losing heart just yet! Queen Toriel and Gerson knew the needs of the kingdom far better than anyone. Surely, they had chosen the worthiest picks of the litter...

Though that still raised the question of who...

Both Gerson and Toriel looked to one another.

"I believe it is time, do you not?"

"Aw, I was hopin' to build a little more suspense!" A stern look from Toriel made him throw up his hands. "Okay, okay. Credit where credit is due. You've all seen these two catapult themselves through the ranks over these past few years. One of 'em started off so shy and insecure, but she's made a name for herself with her sharp wits and tactical mind! Doesn't hurt that she's a wiz with electrical magic..."

"It is true that she is not the largest, nor most imposing member of our troops, but what she lacks in size, she more than makes up for in loyalty and ingenuity. Thus, it is our pleasure to introduce your new Captain... Alphys, please come forward!"

"R-right!" Finally, from the depths of the crowd, an all too familiar reptile skittered forward, her pink armor now having chipped enough to reveal silver flecks beneath.

...Not a terrible choice, all things considered. While at the time, Dohj had doubted her resolve, one could not deny her tactical prowess and engineering finesse. Even now, she clutched her handcrafted crossbow tight.

"Er... It's. An honor! When I first signed up for the guard, I never imagined I'd make it here. I know I'm not big or intimidating, but I promise that I'll do everything in my power to k-keep this ship floating! ...Metaphorically. I know this is a fortress, and..."

Toriel placed a hand on her shoulder. "It is all right, dear. I think it is a fine metaphor."

From the back of the crowd, one of the rookie guards shouted, "GO, Alphys! That's, like, SO amazing!"

Even Dohj couldn't hide the trace of a smile, despite that unprompted outburst. It... wasn't so bad, if it was her. Bittersweet, perhaps, but she and Alphys had worked well in the past. Her only hindrance was the lack of maturity and more limited experience, but that was nothing a little guidance couldn't help. And perhaps, with time, she would be able to put in a good word for Dohj in turn. Yes... it wasn't a complete loss, if she thought of it that way.

However, something... strange followed.

"But that's not all!" Gerson said with a grin. "See, Tori and I had a nice, long talk, and we realized puttin' all the responsibility on just one monster's just a one way ticket to stress city. Not that Alphys ain't up for the job, but there was one other monster in consideration. Someone you all know, someone you all love... And it helps that he's served this kingdom in the lab and on the field..."

At that moment, Dohj grimaced. Her heart stopped. Surely he didn't mean...

But then. He had... excelled in. Some regards. His ability to simply... appear, anywhere, at any time, allowed him to patrol large swaths of the underground without breaking a sweat. He was charismatic, always cracking juvenile jokes that made his peers roll over laughing. She... couldn't deny his intellect, nor his pedigree...

Even still, her eye twitched. Her stomach churned.

Seemingly unaware, Toriel beamed. "And it certainly helps that he has a good... Sans of humor."

Someone... played a rimshot on a cymbal.

"wow, tori. way to put me on the spot. "

At that precise moment, a wave of tension smothered Dohj from head to tail. Footsteps behind her signaled the parting crowd. All around her, fellow soldiers grinned and offered high fives.

"Duuude, Sans! That's, like, SO radical, man!"

"(...Sans, can we get more biscuits with good behavior?)"

"Oh! Great thinking, honey!"

So. This was it, then.

As Sans joined Alphys, Gerson, and Toriel at the table, Dohj could only force an uncomfortably strained smile.

"so... yeah. how 'bout that? one day you're grubbin' down on fries, shootin' garbage in the dump, and the next thing y'know, you're... here, heh. standin' at the big old table, side by side with the new captain... " He inhaled, then exhaled, flashing a thumbs up to Alphys. "honestly, never thought i'd make it this far. but hey, if it means i can keep smiles on everyone's faces, then hey. i think got a few more jokes to spare. "

Of course he'd make it about jokes. Of course...

Alphys stepped in. "B-but it's not just about jokes. I know Sans might seem like a goofball, but you can't deny that he's made life on the force more... fun. He's good with the public. He's way more charismatic than I am, and if it came down to it... I'd trust him with my life."

"eh, don't sell yourself short. i got the people skills, sure, but you ain't half bad at writing speeches. your patrol routes saved me a whole lotta wasted steps, and your innovations here at the fort sure help ME sleep at night. "

Toriel nodded. "And that is why we have chosen to appoint Sans as vice captain. We believe that their combined skills compliment each other wonderfully and will allow the guard to reach bold new heights!"

"...Understood, Your Majesty." Even Dohj's words came out strained, despite her attempts to keep a level tone. It just... made no sense, in her mind. Yes, Sans had skills, but he just... Didn't conduct himself with the grace and maturity required of such a high position of leadership! And he'd just... casually strolled into the guard on a whim, albeit... one with decent intentions.

But what would her family think? All these years preparing her for greatness, only to be usurped by a neophyte who... yes, had served decently over the years and, yes, had. Some skills. But... his lack of maturity, his maverick nature, his lack of proper decorum and his infantile sense of humor did NOT merit such regard, nor such a promotion.

But...

"but that ain't all. see, we've been talking it over, and we think it's time for a few more shake-ups. for starters, we need someone who can pick up the slack here at the fort. someone who doesn't have a little bro chillin' in snowdin and can commit to this place full time. "

"Yeah." Alphys scratched the back of her head, smiling sheepishly. "We figure Sans can take over as chief in Snowdin Town, that way he's right there if any humans pass through the Ruins." Dohj fought back another grimace at that particular detail. "But... well. This fortress is really big, and Sans and I are gonna have our hands full just handling overall guard leadership. So... we figure it's time to assign a designated steward for this fortress. You know. Just so we have someone reliable to fall back on, if things ever get outta hand, or we're pulled to Hotland, or the Capital. ...You know."

"plus, i think it's high time someone got her own promotion. " Sans slowly turned his head, and to Dohj's dismay... looked her straight in the eye. "so. how's sergeant dohj sound to you? "

...Any other day, she would have been elated. With any other monster, she would have nearly jumped for joy. But here, in the shadows of two much larger promotions, in front of the entire guard, promoted by SANS of all monsters...

It was borderline insulting.

Even still, she steadied her breathing and forced a stern, blank expression. "That would be Sergeant Bassiere von Dohj III... sir."

"so you'll take the job? gotta warn ya now, it might work ya... down to the bone. "

AGH! Did he HAVE to make her own promotion into a punchline? The roars of laughter that followed left Dohj fuming in place. Were it not for Gerson and Queen Toriel's presence, she might have snapped then and there...

Instead, she forced a bow. "...It would be. My pleasure." At the very least, it meant escaping Snowdin's cold and her incompetent peers in favor of a more esteemed base of command.

That... would hopefully douse the flames, once her parents discovered that she had been passed over. That she was still straggling behind...

...They'd pull her aside, tell her to relax, and to be proud of how far she's come. They'd just... disregard their own lineage and service like they always had in favor of "relaxing" or "finding a man."

It wasn't her fault that she had high standards and that half the men she surrounded herself on a daily basis preferred rolling around in the dirt to genuine ambition.

And it wasn't like she wanted to settle down, either! The guard still needed her, now more than ever...

But as she stood outside her parents' door, she could only dread what would come next. And so, despite her recent promotion, this was no victory in her eyes.
Page 43 Transcription
Papyrus kicked the door wide open. On its own, that wasn't so strange. He was always loud, excitable, eccentric... But he'd also been gone all night. Wasn't hard to connect the dots, of course. The TV was still airing the news with big, flashy headlines. "LOCAL SCIENTIST SEEKS PARTNER IN BOLD NEW EXPERIMENT." The signs were all there.

Years of study. Endless hours combing through book after book, lining his wall with extensive notes and diagrams. Smoke detectors screaming whenever his chemicals exploded in his face. Sans had to admit, Pap's passion brought him back to his own youth. Before...

Before...

Tremors. Flashing lights. Sirens blaring. Wires sparking. A shaky hand, a flash, and then...

"SANS!!! "

Annnnd back to reality. Sans pried his eyes off the TV just in time to spot Papyrus leaning over the back of the couch with a huff and a scowl.

"heh. 'sup, bro? "

"SUP?! IS THAT ALL YOU HAVE TO SAY AFTER I, THE GREAT PAPYRUS, BOLDLY VANISHED INTO THE NIGHT?! "

Sans chuckled. "c'mon. i'm not a helicopter sibling. you coulda called, but hey. for all i know, you were doin' some kinda top secret field work. "

"IN A MANNER OF SPEAKING! " He tipped his chin up and puffed out his chest. "I, THE GREAT PAPYRUS, PERFORMED WHAT THE COOL KIDS CALL... A STAKE OUT. BY UNDYNE'S LABORATORY. I HAD TO BE THE FIRST TO APPLY FOR THE EVER IMPORTANT POSITION OF LAB PARTNER! "

"why? was there a line or somethin'? "

Heh. Now there was a thought. A whole line up of nerds beggin' to get involved in... whatever Undyne's next big, probably explosive endeavor would be. She said she'd break the barrier, but with what? And how? A lotta things remained up in the air, and Undyne was still pretty young. Was she really ready for a responsibility like that?

...Was Papyrus?

Sans withheld these thoughts for now, as Papyrus raised an index figure and said, "WELL, NO. PERHAPS MY AWE INSPIRING PRESENCE TERRIFIED THE COMPETITION! BUT THE IMPORTANT THING IS THAT UNDYNE SAW MY CONVICTIONS. SHE OPENED THE DOOR TO FIND ME, HER BEST FRIEND OF MANY YEARS, ON MY KNEES, POURING MY HEART OUT! "

"and then she said, 'dude, it's two o' clock in the morning?' "

"HOW DID YOU KNOW?! "

"it's written all over your face. plus, undyne was my partner for a while. it ain't hard to guess how things went down. "

"OHO! " Papyrus grinned, crossing his arms. "THEN YOU MUST KNOW ALL ABOUT MY GLORIOUS ASCENSION TO THE POSITION OF LAB SCIENTIST'S AIDE! "

"i mean, i coulda guessed, but it's still good to hear confirmation. " Good for Papyrus, at least, but...

Sans looked away momentarily. This was stupid. Whatever went down all those years ago had nothing to do with the present. Undyne was many things- ambitious, bull-headed, over eager, and over the top... but that fire of hers made a lot of monsters happy. Snowdin definitely wouldn't be the same without the holosky, MTT wouldn't have gotten his start without that rectangular body she made, and Tori...

Heh. The days she smiled grew rarer week by week, but when he strolled into the throne room yesterday...

The gentle, earnest smile as she spoke of Undyne's intentions...

Man. How could he say no to something like that? He'd told Undyne time and time again to keep trying. Sure, Sans gave up, but it'd be pretty crummy of him to tell either one of them to throw in the towel when they hadn't even started. And somebody had to try, right? They had resources. They had human SOULs to study. In theory, it'd be okay. As long as they didn't take it too far...

Sans ran a hand over his skull, facing his brother anew. "real proud of ya, bro. this is a huge step for ya, huh? movin' right up to the royal science division... " And at such a young age. The same age Sans was during his short-lived stint as royal scientist...

But if he looked at it more as a work study, it wasn't so bad. And Undyne had been watching over Papyrus for years at this point.

Papyrus, in the mean time, tittered and rubbed at his neck. "WELL, OF COURSE! I'M THE GREAT PAPYRUS! I WOULD NEVER SETTLE FOR LESS! " Pausing, he slid onto the couch. "BUT... THANK YOU. YOUR SUPPORT REALLY DOES MEAN A LOT TO ME, SANS. "

"hey. you worked hard to get this far. didn't even have to pick up science, but... here ya are. i just hope you're still doin' this because YOU want to, y'know? "

"NYEH HEH HEH! OF COURSE I WANT TO, SANS. EVEN IF I DIDN'T START THIS PURELY OUT OF MY OWN INTEREST, I'VE HAD MORE THAN ENOUGH TIME TO APPRECIATE THE MANY APPLICATIONS OF SCIENCE! "

Still, he looked down, his mittened fingers rapping at his knees. "IT'S... NICE TO MAKE THE WORLD A BETTER PLACE. NEVER MIND THE SHEER DIVERSITY IN FIELDS OF STUDIES. THE APPLICATIONS IN BOTH COOKING AND PUZZLERY! I'M STILL ASTONISHED YOU GAVE IT UP... "

Sans shut his eyes. At least at this point, he'd perfected his poker face enough to resist a wince or a grimace. "eh. times change. that's all there is to it. don't worry 'bout me, bro. "

"BUT, SANS- "

"you were up all night. don't you think you've earned a few z's? "

"NONSENSE! I- "

"c'mon. how're we supposed to celebrate if ya pass out on me? besides, you'll wanna bring your a-game to the lab. don't want any slip ups... "

Papyrus heaved a heavy sigh. "FINE. I WILL... TAKE A SHORT SIESTA. BUT JUST A SHORT ONE! I CAN'T LOSE VALUABLE TIME!!! "

"heh. works for me. "
Page 44 Transcription
Pain.

Bullets piercing their- no, Asriel's flesh. His lips curling into a stupid smile as he stood there, passively taking shot after shot, clutching their body close.

They'd cried, "You PROMISED you would see this through to the end! Do NOT let my death be in vain!"

But he refused.

"FIGHT!"

He turned around, more bullets gauging holes in his swollen, monstrous flesh.

"...Is that it, then?! You're just going to DIE?"

Slow, limping steps, back toward the mountain.

"I NEVER should have trusted you..."

Their shouts, in the end, amounted to nothing. Though Asriel had returned to the throne room, their- his vision blurred. His legs gave out beneath him. The whole world wobbled.

And as everything dimmed, they saw the king and queen. Heard their muffled cries...

Bitterly, all Chara could muster was, "You IDIOT... You've ruined everything..."

And then... silence.

Unfathomable pain, surging from within. Like knives exploding outward...

Nothing more...

Nothing, until...

Warmth. Something warm. Red. Familiar. Drifting, gravitating... almost there. Had to hold on.

Eyes drifted open, somehow. A groan, movement. Sunlight above... How?

Something... soft beneath. Arms moved, patting the earth, but not by choice. Something else moved the arms. Why?

The body shakily rose from the... golden flowers? They'd recognize that scent anywhere. But how? What did this mean? What... happened?

Chara wasn't moving. But they could see, hear, smell everything. Birds chirped from afar. Stone pillars surrounded them. A lonely path stretched out ahead, albeit... fuzzy. Was this body nearsighted?

"Ugh... My legs."

The... person looked down, and- ah, jeans. Shoes. An arm... without fur, claws, feathers...

A human.

Ha... Hahahaha... Really? Was this some cruel JOKE? Chara had died again with Asriel, yet here they were, back at the start of the Ruins, a bed of golden flowers beneath them inside the body of some random, foolish child.

How painfully ironic. After everything, they couldn't even enjoy the quiet embrace of death, let alone a peaceful afterlife... if they weren't destined to rot in hell. Or perhaps this was their special hell, thrust into a body they couldn't control, forced to watch this stranger painfully drag their feet forward.

"Well. I came this far. Might as well see what else is out there."

Hmph. Terrific. And what was Chara supposed to do? Fight for control? And then what? They had no way of knowing the state of the world before them, how much time had passed, if any... Let alone any consequences following Asriel's death. All they could do was sit and stew in silence. ...Or speak to the human, but why? What was the point?

They were probably just as wretched as the rest. Certainly equally as vile as Chara themselves. Well, regardless, the human passed through an all too familiar doorway. How fortunate that they were still able to move their legs without someone else to prop them up. How lucky they were to have cushioning at the bottom of their steep fall.

And the flowers Chara had held so dear, even... What a...

The human froze. Their eyes drew wide. Chara couldn't blame them, for just ahead, a golden flower... stared back.

It... smiled.

Chara had spent three years among monsters, and in that time, not once had they seen a monster resembling the golden flowers of the surface.

"What the hell?!" the human said, their voice shrill and their eyes still glued open.

But the flower just giggled and replied, "Howdy! I'm FLOWEY. FLOWEY the FLOWER!"

"...I'm hallucinating. Hahaha... did I get a concussion? That's gotta be it..."

Hmph. So clueless. ...Then again, Chara had similar reactions when they'd first met Asriel. Still.

This flower, Flowey, grinned wider than before. "Hmm... You're new to the Underground, aren'tcha? Golly, you must be so confused."

The human pinched their arm. "...Guess, I'm not dreaming." As if their aching legs hadn't given that away.

But Flowey pressed on, "Someone ought to teach you how things work around here! I guess little old me will have to do."

"...Uh. Right." The human rubbed the back of their neck. Was reality finally setting in?

"Ready? Here we go!"

The surrounding area darkened. A bright red hue enveloped the human's body. A heart-shape shimmered over their chest... red.

Just like...

Haha... Now wasn't that something? The human poked at this heart-like apparition. Clearly, they'd never engaged in the delicate art of monster to human communication, nor seen their SOUL lit up in plain sight. Then again, it had all been so new to Chara at the time, but...

Ugh. No. No sympathizing with this whelp!

Flowey, unaware of their presence, carried on with his spiel. "See that heart? That is your SOUL, the very culmination of your being!"

...Ah. That phrasing. Yes. Toriel had...

No. No time for sentiment, either. So far, the flower seemed... somewhat trustworthy, but just barely.

"Your SOUL starts off weak, but can grow strong if you gain a lot of LV." ...What.

No, that wasn't-

The human's face crumpled in a way that was no doubt a look of confusion. It almost tempted Chara into speaking up. Almost.

"What's LV stand for? Why, LOVE of course!"

Level of Violence. How tempting it was to say that, but... for what reason? What incentive did Chara have to even help? They scarcely knew why they had reawakened in the first place. What the point of it all was.

But, oh, how the human laughed. The concept probably sounded so ludicrous to them. A talking flower talking about "love."

The Flower leaned closer, giggling right back. "You want some LOVE, don't you? Don't worry. I'll share some with you!" He winked, and an arc of oblong, white shapes burst to life around him. Bullets, no doubt.

Such a plain pattern, and yet unlike anything Chara had seen in all their interactions with monsterkind.

"Down here... LOVE is shared through little, white... 'friendliness pellets.'"

The human's brow arched- Chara could even feel minute movements such as that, adding to the unsettling air. Well, if nothing else, they could see through a transparent ploy.

But to what end? What was his endgame? Their SOUL, perhaps?

"Are you ready?" The bullets spun faster and faster. "Move around! Get as many as you can!"

The entire barrage launched at once, cruising closer, and... the human sidestepped them, crossing their arms.

At least they had some sense.

But it seemed this weed took little pleasure in their dodging. A dry smirk crossed his face, and his voice took on a sharper edge. "Hey, buddy, you missed them. Let's try again, okay?"

Another round of those bullets sailed through the air. The human's face tightened into a scowl, and they raised their foot, no doubt to run...

But a sharp pain in the leg halted their progress. A barrage of pain seized their body.

Like the bullets fired by the humans, striking one after the other, knocking Chara- no, this human- to their knees.

And that wretched weed cackled. His face twisted and distorted. A broad, toothy grin. Grotesque, beady eyes...

"You idiot. In this world, it's kill or BE killed. Why would ANYONE pass up an opportunity like this?!"

A ring of bullets, far larger than the last, surrounded the human on all sides. No escape. Every muscle in their body throbbed. Their arms shakily pushed them up on their knees, but too little, too late. The bullets rushed in.

"Die."

Was this it, then? A revival, just to die anew? Haha... How cruel fate could be.

But when the bullets struck, instead of pain, a wave of warmth overtook the human's body. A fireball smacked the weed away, and... a familiar voice called out.

"What a terrible creature, torturing such a poor, innocent youth..."

Toriel.

Why was Toriel here? Why was...

The human' eyes stung. Watered, even. Damn it!

"W-what the HELL!?" They skittered back, clenching their fist and raising a shaky stick like a weapon.

But Toriel smiled. "Ah, do not be afraid, my child. I am TORIEL, caretaker of the RUINS. I pass through this place every day to see if anyone has fallen down."

...Since when? What had changed? And what did this mean for Asgore?

The human remained silent, though they lowered their stick.

Toriel continued, "You are the first human to come here in a long time. Come! I will guide you through the catacombs."

When the human did not budge, she said, "This way," and then continued forward, toward another slightly hazy door.

But the human did not follow. They stood there for several seconds, as if petrified.

None of this added up. Why was Chara here? How much time had passed? How were they even bound to this human? And... what were they supposed to do?

Every sensation this body felt, they felt too. Which meant that if this human died, or suffered grievous harm, Chara would have to shoulder it all.

Which meant that this human's well-being was pertinent... to some degree. Humans were not to be trusted around monsters. But then, were monsters to be trusted anymore? Asriel had betrayed them. He had forsook their one chance at freedom and died for naught...

The human, strangely, turned the other way. Rather than following Toriel, they moved back, down the long, grey corridor, until they reached the sun-soaked flowerbed.

Well. The question became, how to handle this predicament? When Chara shared a body with Asriel, they could communicate. So perhaps... they could do the same, in theory. But that would mean speaking with this wretched child.

But... they did know more about the Underground. And it would mitigate potential agony.

As a test, they broke their silence and muttered, "Golden flowers. They must have broken your fall."

Right on cue, the human leaped back. "Okay. The flower was one thing. The cow lady was pushing it. But now I'm hearing voices in my head?!"

...That confirmed it, then. The human could hear them after all.

But for better or for worse? Chara still wasn't sure. For now, all they could do was roll with the punches.
Page 45 Transcription
A strange sort of atmosphere overtook the Underground. You couldn't go two steps in Snowdin without hearing whispers from the furry folk. Come to think of it, though, there weren't a lot of big stars, were there? A few modest theatre troupes here and there. Some dry news reports. Community pageants commemorating the winter holidays, the tragic tale of the royal family, and other more historic and traditional events...

But this was different.

This star... was no mere monster.

He was sleek! Shiny. Bold, charismatic. A real rectangular stud, some said, giggling and blushing. That alone solidified Papyrus' suspicions.

Because unlike the others, he'd gotten a sneak peek.

Once while visiting the lab, he'd caught Undyne standing in front of a whiteboard with illustrations of a large, rectangular figure. Wide, spiky pauldrons. Triangular shades. A majestic cape!!!

So, naturally, he scurried over, eyes wide as he shouted, "WOWIE, UNDYNE! IS THAT A NEW ROBOT DESIGN?! "

Undyne snorted, flashing a toothy grin. "Yeah, something like that. A friend of a friend's looking for a new body. Can't get everything they... I mean, HE wants right now, but we talked it out, and we're working on a temp form for now."

Sniffling, Papyrus brought a mittened hand to the board- though he was careful not to touch the ink. "I-IT'S SO... BEAUTIFUL!!! " The sharp edges. The brilliant golds and hotblooded reds! Spikes on the wheel just like its mighty shoulders...

"Whoa, whoa." Undyne grabbed his shoulder, tugging him back. "It's just a drawing, dude."

"WELL! DRAWING OR NOT, I'M SURE WHOEVER COMMISSIONED THIS BODY WILL BE THRILLED! I KNOW I WOULD BE. WELL, IF I WASN'T ALREADY ONE SIZZLING, HOT SKELE-STUD. "

What was once a snort became a roar of laughter, and she dropped her pen. "S-skele-stud... Fuhuhu... You tell 'em!"

"ALL RIGHT! BUT FIRST I NEED TO KNOW WHO 'THEY' ARE. UNLESS WE'RE SPEAKING IN METAPHORS... "

"Kinda yes, kinda no. Just... keep up that confidence. Don't let anyone bring ya down! BELIEVE IN YOURSELF!" She struck the edge of the whiteboard, sending it in a spin, which in turn smacked her in the back. Despite this, she shrugged it off. "Anyway, keep an eye out, I guess. He's got big dreams- stardom, stuff like that. So who knows? Maybe you'll be seeing him sooner than you think."

A... Robotic ACTOR?! Papyrus clenched his hands tight, his grin stretching as wide as monsterly possible, given his lack of soft tissues. "FINALLY, SOME REAL ENTERTAINMENT!!! "

And so, naturally, with all the hubbub around town, Papyrus couldn't stand still! He had to get to the bottom of this! So he rushed back to his house, intent on grabbing the remote and flipping through every channel sequentially until he found THE one.

Instead, he crashed into Sans, bounced back, and landed squarely on his pelvis.

"whoa. what's the rush about, bro? "

"SANS!!! I CAN'T JUST SIT HERE! " In fact, Papyrus sprung back on his feet within seconds. "I NEED TO SEE THE TELEVISION! IT'S A MATTER OF LIFE OR DEATH! "

"dang. that serious, huh? " Sans dug a hand into his vest pocket. "too bad. i got these tickets for a show down in hotland, but if you're too busy... "

A show? In Hotland? ...The plot thickened. Thickened like a syrup that had hardened into something obnoxiously tricky to clean from dirty dishes. So, Papyrus leaned in, chin in hand. "WOULD THIS SHOW HAVE ANYTHING TO DO WITH AN UP AND COMING, ROBOTIC THESPIAN? "

"dang. didn't know you could read minds. " Chuckling, he pulled out the tickets, adorned with a familiar set of triangular shades.

Papyrus gasped. "FORGET THE TV, THEN! A LIVE, THEATRICAL EXPERIENCE IS FAR GREATER THAN WATCHING BEHIND A SCREEN! "

"cool, 'cause i know a shortcut. " Before Papyrus could even answer, Sans grabbed him by the wrist, and the entire world... swooshed into a haze of blurry shapes.

And then it screeched to a halt, dropping them in a long, purple corridor, with little cobwebs up in the corner. A line of monsters stretched down the hall, from tiny Vulkins to fluttering Whimsuns.

Two bouncers stood at the head of the procession- one large, armored octopus wielding all manner of weapons and... that grumpy dog woman. Doge, perhaps? She scowled as Sans led Papyrus past the other monsters.

"hey. got two VIP tickets. mind lettin' us through? "

The octopus lady coiled one of her tentacles around those tickets, pulling them close to her eyes. "Hmm... well, it sure ain't toilet paper this time." Chuckling, she passed them back to Sans. "All right, chief. You two have a good time!"

The dog woman merely grunted in acknowledgement as they passed through, weaving between seats until a familiar, reptilian head poked up, followed by a waving, scaly hand.

"O-oh, Sans! Up here!"

"GASP!!! WE GET TO SIT BY CAPTAIN ALPHYS HERSELF?! "

Grinning, Alphys crossed her arms. "Hey, who do you think got you those tickets? Come on up."

Papyrus fidgeted in place for a few seconds, hands balled up and knees bent. Then, like a spring released from tight compression, he bounced forth. A live show seated by two high ranking guards! Front row seats to a real robot's performance! Boy, oh boy...

Light laughter from his left brought Papyrus' attention to another familiar face. Why, Queen Toriel herself!

"Oh, Papyrus. I did not know you were so interested in live theater!"

"NYEH HEH HEH!!! I, THE GREAT PAPYRUS, AM A SKELETON OF MANY INTERESTS! AND IT JUST SO HAPPENS THAT... " He lowered his voice slightly. "COOL ROBOTS ARE AT THE TOP OF THE LIST. "

"Oh! Yes. Undyne did mention something about that, didn't she?" She tapped her chin for a moment before smiling. "Hehe... Well! I am sure it will be delightful, robot or otherwise."

More monsters gathered in droves behind them. How fortunate, gracious even, that Alphys offered the two skeletons front row seats! He would have to thank her later, when his mind wasn't racing a million miles a second with an endless barrage of questions. When would the curtains open? What sort of cool tricks could this robotic star do? Just what was he like?

A drumroll sounded off. The curtains parted slightly, and Undyne stepped forward.

"Hey, guys! Are you ready for a MINDBLOWING show?!"

An explosion of cheers sounded off through the theater. Naturally, Papyrus joined in.

"Fuhuhu... well, GOOD! 'Cause today, you're the FIRST who get to see my latest creation. He's big. He's tough. He's part superweapon and ALL superstar! Let's hear it for METTATON!"

And just like that, the curtains flew wide open. A torrent of confetti rained over the stage and the stands, while the spotlight flashed on. There, standing center stage, towered a shining, metallic figure balanced on a single, spiky wheel.

His shades shimmered in the spotlight, and he raised one arm high into the air, pointing toward the sky.

And then, with a deep, booming voice, he addressed the crowd. "BEAUTIES AND GENTLEBEAUTIES... MONSTERS YOUNG AND OLD... YOU'VE TRAVELED FAR FOR MY GRAND PREMIERE. OR PERHAPS YOU'RE A LOCAL, EAGER TO WITNESS THE NEXT BIG 'THING!' WHATEVER THE CASE, I'VE GOT JUST ONE QUESTION FOR YOU..."

He rolled closer to the stage's edge, and Papyrus scooted forward in his seat.

"ARE YOU READY TO ROCK?!"

The unanimous cheers spoke volumes. Despite this star's newcomer status, this robot's immediate charisma shone loud and clear. And to think, Papyrus was here, at the start of this star's journey into the hearts and minds of monsterkind...

This was one day he'd never forget.
Page 46 Transcription
In the weeks following Asgore's speech, the atmosphere surrounding Chara had... changed. It started off small. They'd wander the Ruins' halls, in search of quiet places to clear their head and get some space from the smothering affection of the Dreemurrs. But, in their attempts to slip by, little... bug creatures would flutter up to them, whispering.

"H-hey. Is it true that you're the angel?"

Chara would look away, masking a grimace. The high standards placed upon them loomed over them like the very mountain they stood beneath. What did they even say in circumstances like this? 'No, I'm an atrocious waste of flesh and your leaders have an awful sense of judgment?' That would not please anyone. Not Chara, not the monsters who, despite everything, greeted them with smiles, nods and bows, waves, and an unsettling tenderness that they just couldn't comprehend...

So, when prompted with questions like this, they'd bow their head and say, "...I hope so." They'd force a smile despite the anxiety gnawing them inside out. "If there is anything you need... I will inform the king and queen. It is the least I can do."

Haha... It was funny.

Little Froggits would hop up to them, delivering tiny crackers with... crushed insects on them, as tribute. Strange as it was, Chara would take the offerings and nibble away. The extra protein hardly bothered them. Food was food. It was still... generous.

Sometimes, they'd stroll with Asriel, tumbling through cracked floors. The cushioning of the leaves may have softened the blow, but they'd grumble and wince as they climbed back on their feet, ignoring Asriel's offer of a helping hand.

They'd pull out a small notepad, pacing up and down the room as they sketched the pattern down.

Asriel would tilt his head and scratch the back of his neck. "You know, I could always just lead the way. I've gone down this hall tons of times!"

"And I will not always be by your side. Sometimes I need space. Ergo, I shall take note of these puzzles for my own practical usage."

But, of course, not every monster was kind. Some snickers further down had drawn their focus to a strange, red cyclops monster.

"Man! What a NERD. There's no way YOU'RE the angel."

Asriel, pouting, had turned on a heel. "Hey! Leave 'em alone! They're still-"

But Chara had brushed past them, smiling wide and voice sugary sweet. "I am terribly sorry that you are so insecure that you project your own self-loathing on those around you. You should place more value in your own individual merits, rather than lashing out at someone you scarcely know."

And, just like that, the once bold bully had seized up, eye twitching and legs wobbling. It had stammered a few times, muttering, "I-it's not like I got lost. No way!"

And Chara, exasperated as they'd been at the time, turned the notepad to the one-eyed stranger.

All three of them made a quick exit from the puzzle room at the time.

How funny, it was, that here, they were like a celebrity, whereas on the surface, they were shunned. Resented and neglected by the demons that spawned them, deemed a 'problem child' by the adults in the education system due to 'antisocial tendencies' brought on by their closed off reactions to years of schoolyard hostility.

Resentment bubbled in their veins... and they had to bury it down. They had to put on a chipper mask, perform saintly acts. Be the perfect little symbol. No mistakes. That wasn't very angel-like.

And sometimes... that pent up stress, that caged beast within them... broke out at unexpected times.

All it took was one foolish question.

"So... what was your home like?"

Laughter erupted from within. "My home? More like my prison. I was NOTHING but an unwanted burden. A living consequence! A demon in human's flesh..."

"But... that's not true!" Asriel foolishly stepped closer, cracking a shaky smile. "You're super nice, Chara! A demon wouldn't go outta their way to listen and help everybody."

"You think I'm nice?" Their shoulders quivered as more laughter slithered out of them. "Hahaha... Oh, certainly, I remain civil to their faces. But, oh, how tempting it is to terrify those Whimsuns. It's obvious that consoling does little to strengthen their resolve." They scoffed and brought a hand to their hip. "Wouldn't it be fun? We could hide behind a pillar. Yes... finally, embrace the demon within..."

Asriel gulped, tapping his fingers together. "Chara, c'mon. You can't really mean that, right?"

"Of course I mean it. I just have the restraint not to act upon it. Everyone around me has such high hopes. If they saw my true colors, oh, how they'd despise me..."

"Well, I wouldn't."

"...What." That made no sense. Mere moments ago, he had raised blatant concern. Was he a hypocrite, then?

But Asriel, ever the idiot, smiled more earnestly. "Hey, look. It's not like I'm perfect, either! Sometimes, I try to steal pieces of pie when my parents aren't looking. And sometimes I think about pulling weird pranks, too. We could try it if you think it'll make you feel better!"

Silence was Chara's sole response.

"And... you know, maybe you shouldn't take that whole angel thing so literally. I don't think that's fair for everyone to expect perfection outta you when you're still new! Sure, they're excited, but you're still just a kid. So am I, and I've got BIG..." He looked down. "Well, maybe not shoes to fill, but... you know what I'm getting at."

It still made no sense just how patient he was, and yet... hm. There he was again, showing small signs of vulnerability. Relatability, even. Chara turned the other way, bringing a hand to their face.

"Toriel likely won't be pleased if we start terrorizing the other children. If I do it alone, you will be absolved of all blame."

"And if you do it alone, it might ruin the whole 'angel' thing. At least if we're together, I can say that it was my idea! Doesn't matter if I get grounded 'cause of it."

"...You're so weird."

"Hey!"

"...And painfully sentimental, but. Well, if you are that eager to prove yourself, very well. Just don't blame me if it all goes awry."

"Yeah, yeah. I get it. Now, c'mon! Let's get out there and have some real fun!"
Page 47 Transcription
This was it... The final showdown with the King of the Monsters.

Frisk still remembered Alphys' warning.

"I lied to you. A human SOUL isn't enough to cross the barrier alone. It takes at least a human SOUL and... a monster SOUL."

At the time, Frisk had frozen in place. Their face had paled. They had to look away to mask their feelings. She couldn't have meant...

"If you want to go home... You'll have to take his SOUL. You'll have to kill Asgore. I'm sorry."

She'd walked away, leaving Frisk to stew in this tragic truth. A long, agonizing elevator ride had followed.

"...Cap, d'you think there's some other way?"

Silence.

Frisk had struck the elevator wall. "C'mon! You obviously know more about monsters than I do. So what's the deal? She can't be right... can she?"

Still nothing.

Their trek through New Home had only added to the uncertainty. Friendly notes to visitors. A layout uncomfortably familiar to Toriel's home, only painted in shades of grey. A cold fireplace. A long since abandoned reading chair. Crumpled pie recipes. An empty room for children who would never sleep there again...

And every step of the way, monsters would stop them to tell the tragic tale of the Royal Family.

Though Sans had offered reassuring words when he'd cast his judgment, this did little to alleviate their woes. A few playful reloads to stall for time had granted them a few chuckles and a strange key, but...

The walk to the throne room, basking in sunlight and decorated with golden flowers... The jolly humming up above. All of this did little to alleviate their fears for the coming confrontation.

And when Asgore turned around, revealing floppy ears, a horned head, a bright smile...

That faded as soon as he lay eyes on them.

Well, suffice it to say, Frisk remained planted in place for several minutes.

"Just think of it like... a trip to the dentist," he'd tried to tell them. As if drills would paint a comforting image.

"Are you ready? If you are not, I understand. I am not ready either."

Frisk so badly wanted to speak up. To say something, anything to break the tension... But what could they say? It was... funny.

Toriel had warned Frisk of Asgore. Made him out to be this bloodthirsty monster. While Papyrus and Gerson spoke of his soft, sensitive side, it clashed with the brutality Undyne described. In a roundabout way, it would've been so much easier, had Asgore been the vicious tyrant they'd initially envisioned, but...

"If by any chance you have unfinished business... Please do what you must."

The reluctance in his voice. His slumped posture. All signs pointed to a burdened, broken man.

It would be so easy to run away. To let this man live out his days without claiming another life, but... then what? Frisk had found a way with every other monster thus far. Wasn't it... worth a try?

But when the canisters appeared, each housing a soul of a different color, that kindhearted image yet again clashed with the cold reality.

Captain Cryptic finally spoke, "A strange light fills the room. Twilight is shining through the barrier. It seems your journey is finally over..."

Frisk drew a deep breath.

"You're filled with DETERMINATION."

And Asgore, deaf to Cap's voice, simply offered a sorrowful smile. "Human, it was nice to meet you." He hung his head. "Goodbye."

With a swift sweep of the arm, he drew a blood red trident and smashed it into the ground...

A bright flash followed, stunning Frisk momentarily... When the light dimmed, Asgore faced them, face downcast, his trident clutched in both hands.

Frisk had hoped to stall, to spare. But with that swift move, that option had shattered before their eyes.

As they performed a CHECK, Cap made no witty remark.

A wave of fireballs assaulted them. A narrow dive across the floor saved them from certain incineration.

"Look... I don't want to fight. You don't want to fight. Isn't there some other way?" They spoke just a hair above a whisper.

No response.

He swept his hands. Two waves of fireballs hurtled their way.

Frisk bit their lip to suppress a scream.

"I mean it. I don't want to hurt you!"

Still nothing.

Burning helixes flooded the chamber... a familiar formation, but wilder. More decisive.

Frisk dashed and lunged. Still, flames singed their skin. They drank a starfait, but continued.

"Stop it! NOTHING is gonna make me kill you!"

His eyes widened for a brief moment. A strained gasp followed.

"Recollection flashes in his eyes... ASGORE's ATTACK dropped! ASGORE's DEFENSE dropped!"

...Maybe they were onto something. Before they could dwell on it, his eyes flashed between orange and blue. A warning? His trident changed colors as he swung it wildly and forced Frisk into a constant stop and go.

Their heart hammered in their chest. Sweat trailed down their cheeks.

Still, they opened their mouth to speak, but-

"Seems talking won't do any more good."

...But what else was Frisk supposed to do?

C-shaped flame formations flooded the arena, shrinking down as they drew closer and forcing Frisk into constant motion.

Maybe... if they missed attacks?

They tried several times. Asgore didn't even blink. So it wasn't like Toriel...

Frisk tried standing still. The fiery bombardment that followed left them writhing on the floor until their vision went black, and Asgore's voice...

Yes, Asgore's voice. He was the one encouraging them all along...

Well, encouraging 'Chara.'

So Frisk pressed on.

When Frisk mentioned how he killed them, he only nodded in sorrow. They spoke long enough to lower his guard again, but nothing else changed.

"You have to FIGHT," Cap warned them.

But... no. They...

The image of Undyne's body, dripping bit by bit. Her agonized screams of, "I WON'T DIE!"

Toriel falling to her knees after one hateful hit.

A blow to the face sending Lilac careening off a cliff...

Frisk took their head in their hands, fighting back a wail.

They couldn't! Wouldn't.

In their agony, they failed to account for an orange trident swipe.

Death claimed them once more.

But just like before, they rose anew. They shook off the phantom burns and brandished the frying pan in their hand. A show of intimidation. No intention to actually harm...

And still, they spoke. Still, Asgore nodded, even though nothing changed.

But... floppy ears. Horns. White fur. Fire-based attacks. The layout of the house...

After a particularly gnarly burst of flames sent them to their knees again, they dug out the slice of pie Toriel had given them all the way back in the Ruins. Maybe...

"...Ah. Of course," said Cap. "You ate the Butterscotch Pie. Your HP was maxed out."

Asgore's grip on his trident tightened. His nostrils flared.

"The smell reminded ASGORE of something... ASGORE's ATTACK down! ASGORE's DEFENSE down!"

But he still stood firmly in place.

Was there really no other way?

"...You start to realize that there is no way out, short of death."

But... no. Frisk wouldn't die. Not here. Not when it'd only add to the mountain of grief looming over Asgore's back. Not when they'd made so many friends who grew to care for them, who would miss them...

Not when... They still had places to go.

Heh. So was that it? Either they'd keep dying until Asgore hopefully caved, or they... fought back.

Their hands quivered. They could always just stand here, indecisive, locked in an endless staredown. Something told them that even that wouldn't be enough to sway Asgore...

And so, reluctantly, they brandished that pan and struck back.

Bit by bit, between fiery eruptions and trident strikes, Frisk smashed that pan against the monster king. Even then, he didn't flinch. Refused to meet their eyes. He stood there, taking blow after blow, so different from the way Undyne described him...

Until, finally, he fell to his knees.

"Ah... So that is how it is."

He clutched his chest, his breaths raspy. A prolonged silence followed before he spoke again.

"I remember the day after my son died. The entire Underground was devoid of hope. The future had once again been taken from us by the humans." He heaved a heavy sigh. "In a fit of anger, I declared war. I said that I would destroy any human that came here. I would use their SOULs to become godlike... and free us from this terrible prison. Then, I would destroy humanity... And let monsters rule the surface, in peace."

But by the sound of his voice... heck, even by his earlier actions, it seemed like he wasn't too keen on this anymore. Heh. Frisk could relate.

They still remembered Lilac's words.

"I'm TRYING to be a good friend, but you're just so STUBBORN!"

Moments before they... lashed out.

Frisk chuckled under their breath. Haha... How ironic. Both of them getting carried away. Making reckless choices they'd inevitably regret.

Asgore continued, "Soon, the people's hopes returned. My wife, however, became disgusted with my actions. She left this place, never to be seen again."

So Toriel was his wife after all. ...Not that it was hard to connect the dots. But to think the loss of their own kids tore this couple apart. Asgore was truly alone then, wasn't he? No matter how much his people admired him, to lose one's family in the blink of an eye...

Frisk couldn't even imagine it. They'd never had a family. Well... besides Lilac. And just like Toriel left Asgore's life, she left Frisk's. Funny how that all turned out.

"Truthfully... I do not want power. I do not want to hurt anyone. I just wanted everyone to have hope... But... I cannot take this any longer. I just want to see my wife. I just want to see my child. This war has gone on long enough."

Was that it? Had Frisk finally broken through? A small gasp escaped them. Maybe...

"You have the power... Take my SOUL, and leave this cursed place."

There, shattered at his feet... Heh. Just an arm's reach away.

Frisk could fight. They could end his misery.

But they refused.

He stared for several moments. His hands trembled. His eyes slowly drew wide... and then he grimaced.

"After everything I have done to hurt you... You would rather stay here and suffer... Than live happily on the surface...?"

Frisk shrugged. "Hey. Not like I have anything to go back to. Not anymore... I guess that's one thing we have in common."

More silence followed, until the beginnings of a smile spread across the king's face.

"Human... I promise you... For as long as you remain here... My wife and I will take care of you the best we can. We can sit in the living room, telling stories... Eating butterscotch pie. We could be like..."

Tears welled in his eyes. "Like a family..."

Family... Something Frisk had always dreamed of, yet never claimed in earnest. They'd rejected Toriel's offering. But here, drenched in sweat, facing the man who had murdered them multiple times...

Funnily, that offer didn't seem all that bad. Maybe because of the common ground. At the very least, they could be friends...

But a circle of familiar bullets surrounded Asgore. Struck his body. Reduced him to dust. Shattered his SOUL.

And with it, the dream of a happy ending.
Page 48 Transcription
This was... something. When Frisk flirted with Papyrus, they sure didn't expect him to take it so seriously. After all, he was...

Okay. He was tall. He SOUNDED at least like an older teen. Wanted to be a Royal Guard, so unless skeletons hit an early puberty, there was no way he was an edgy tween. All the more reason for Frisk NOT to flirt seriously. It was just for fun. The reactions! The shenanigans.

Even so...

"WHAT?! F-FLIRTING?! SO YOU FINALLY REVEAL YOUR ULTIMATE FEELINGS! "

Was he for real?

Papyrus pointed his finger, puffing out his chest. "W-WELL! I'M A SKELETON WITH VERY HIGH STANDARDS! "

Man. How to respond to something like this?

The voice in their head whispered, "I can make spaghetti?"

"Nah." Frisk snickered. Maybe it was best to nip this one in the bud. They spread out their arms and said, "I have zero redeeming qualities."

Maybe it'd clear the air? Prevent any awkward misunderstandings for later. Plus, it'd be funny to see his-

Oh no. A dramatic gasp. Wide, googly eyes...

"OH NO!!! THAT HUMILITY... IT REMINDS ME OF MYSELF!!! YOU'RE MEETING ALL MY STANDARDS!!! "

And just like that, Frisk owed Papyrus a date. Or maybe he owed them a date? ...What even qualified as a date for such a loud, over the top goofball? Heh. Maybe this wouldn't be so bad. ...If they got outta this battle alive, anyway.

But despite some bruises and a trip to that dingy little shed, Frisk got back on their feet, leaped over bone after bone, and in the end...

Papyrus sent them on a wild goose chase around town to find the ideal dating spot, only to stop right back at his house. At first, it barely even felt like a date. Just poking around the house. Chasing that weird, white dog. Watching Papyrus lament about his favorite show not airing a great episode, and...

Books within books. There was probably some deeper, philosophical meaning to it, but Frisk lacked the patience and the care to delve deeper after the third or fourth joke book inside of an astrophysics book.

Honestly, the swirling mess of colors from under Sans' door caught their eye just as much, but in the end, they wound up smack dab in the middle of Papyrus'... weirdly orderly room.

A cool car bed, a table topped with action figures for 'theoretical battle scenarios,' and the strange dichotomy of an advanced puzzle book next to 'Peek-a-Boo with Fluffy Bunny' sure painted an... eccentric picture, but that was probably par the course for Papyrus at this point.

His logic was... certainly something. Case in point? His reaction to the admittedly cool skull and crossbones flag on his wall.

"NOW, I KNOW WHAT YOU'RE THINKING. WHY WOULD A HUMAN FLAG... HAVE A COOL SKELETON ON IT? WELL... I HAVE A THEORY. I THINK HUMANS... MUST HAVE DESCENDED FROM SKELETONS!!! NYEH HEH HEH!!! "

That was... something. Frisk raised a finger, half tempted to correct him, but the bright, goofy smile. The jovial laughter. Frisk had no real experience with dating, but why be a buzzkill? At least now. They could always talk theory later. And besides...

"You start to contemplate the ties between the more humanoid monsters and humanity itself. A mystery for the ages..."

Heh. Too true. Well, they shrugged their shoulders and said, "Who knows? You might be onto something."

A bit more prodding around, and they returned to the center of the room. Papyrus fidgeted in place, eyes shifty.

"SO, UM... IF YOU'VE SEEN EVERYTHING... DO YOU WANT TO START THE DATE? "

"You mean this wasn't the date?"

"WELL. NO. IT WAS MORE OF A PRE-DATE WARMUP SESSION!!! GET THOSE ROMANTIC MUSCLES PUMPING FOR THE MAIN EVENT!!! "

He paused.

"THAT SOUNDED COOLER IN MY HEAD. "

Frisk... had two options here. Confirm that, yes, this was a lame metaphor and possibly crush his spirit, or chew the scenery and roll with the punches. Maybe there were other in-betweeny sub-options, but screw it. They made it this far.

So they threw their hands on their cheeks, stumbling back. "Oh, Papyrus! You're such a master wordsmith! Everything you say OOZES pure, concentrated coolness."

"R-REALLY?! " He beamed, then paused, then coughed. Somehow. "I MEAN, HUMAN! YOU STILL HAVEN'T ANSWERED MY QUESTION!!! "

"You suddenly realize you should get on with it."

Frisk fought the urge to sigh. That'd probably reflect poorly on Papyrus. Instead, they straightened their stance, slapped their hands on their hips and said, "It's called subtext, Papyrus. 'Course I wanna start!"

He tittered, but flashed another big, skeletal grin. "OKAY!!! DATING START! "

And then... everything went dark. Dramatic mood lighting, maybe?

Eh, wasn't the strangest thing they'd encountered during their time here.

"HERE WE ARE!! ON OUR DATE!! " He looked to the side. "I'VE NEVER ACTUALLY DONE THIS BEFORE. BUT DON'T WORRY! YOU CAN'T SPELL 'PREPARED' WITHOUT SEVERAL LETTERS FROM MY NAME!!! "

He reached behind his back and... whipped out a book. So, what was this? An impromptu, nerdy book club?

"I SNAGGED AN OFFICIAL DATING RULEBOOK FROM THE LIBRARY! WE'RE READY TO HAVE A GREAT TIME! " He pulled the book close to his face, squinting. "LET'S SEE... STEP ONE... PRESS THE [C] KEY ON YOUR KEYBOARD FOR "DATING HUD. "

Their... what?

"Look down."

Frisk did, and... okay. Computer keyboard, propped up by some bones. Was it wireless or something? Was THIS what that crazy lighting trick was about?

Ugh, whatever. Frisk pressed the button, and-

Holy shitcakes, what?!

Holographic projections pierced the surrounding darkness, sliding in and crowding the duo. A cute little icon for the time of day, and the day of the week. A bar that said 'REEL IT IN!' Some ever-spinning dog radar. A... population chart? Frisk leaned in, squinting further. An egg? What?

And what did crime rates have to do with any of this?!

This was...

It was...

Man, how did they even put this into words? Their eyes darted from one meter to the next and then the next. They had to hand it to Papyrus, though. He... certainly knew how to make an impression.

Probably oblivious to their bewilderment, he carried on. "WOWIE!!! I FEEL SO INFORMED! I THINK WE'RE READY FOR STEP TWO!!! STEP TWO... ASK THEM ON A DATE. " He cleared his... not throat. He was a skeleton. And, come to think of it, how did any of that work? How did magic, talking skeletons vocalize at all?

Ugh. Best not to go down that rabbit hole.

Smirking, he said, "HUMAN! I, THE GREAT PAPYRUS... WILL GO ON A DATE WITH YOU!!! "

A little textbox popped up, with a simple yes and no.

Briefly, very briefly, Frisk considered tapping no, just to get a rise outta him. But... nah. He went to all this trouble. Why take the wind from his sails?

Waggling their eyebrows, they tapped 'Yes.'

Immediately, Papyrus' eyes... sparkled. Literally. He threw his hands up to his... blushing... yes, he was actually blushing... cheeks.

Wow. All right then.

"R-REALLY?! WOWIE!!! I GUESS THAT MEANS IT'S TIME FOR PART THREE!!! " He brought the book back to his face. "STEP THREE... PUT ON NICE CLOTHES TO SHOW YOU CARE. "

Pausing, he squinted and slapped a hand on his hip. "WAIT A SECOND. 'WEAR CLOTHING...' THAT BANDANNA AROUND YOUR HEAD... " He gasped, thrusting his finger toward Frisk in a dramatic, pointing gesture. "YOU'RE WEARING CLOTHING RIGHT NOW!!! NOT ONLY THAT, BUT EARLIER TODAY, YOU WERE ALSO WEARING CLOTHING! " Once again, he grasped his cheeks, that blush burning bright. "NO... COULD IT BE??? YOU'VE WANTED TO DATE ME FROM THE VERY BEGINNING!?? "

Oh, hey. Another yes, no prompt. But which to pick...? Did they slap no for ironic purposes? Dramatic plot twist, maybe? Or did they continue down this wacky rabbithole...

Eh, screw it. They'd come this far. Frisk slapped yes again, and Papyrus staggered back, doing that weird googly eye thing of his that raised about a million questions and answered none.

"NO!! YOU PLANNED IT ALL!!! YOU'RE WAY BETTER AT DATING THAN I AM!!! " The other meters slipped away, replaced with a single, blue bar that red 'DATING POWER,' shooting up before Frisk's very eyes.

"N-NOOO!!! YOUR DATING POWER...! "

And it was at that moment that Frisk knew, beyond a shadow of a doubt, that no date would ever compare. It was one thing to sit down to a nice dinner. Maybe sneak into a PG-13 rated movie and, gasp, hold hands. But literal and nonsensical video game projections? A goofy skeleton taking everything super literally?

A skeleton who would, in no time flat, ditch his 'battle body' for basketball shoulder pads of all things...

Yeah. Whenever Frisk seriously started dating, they'd have a tough act to beat.
Page 49 Transcription
Alphys paced back and forth, tail swishing with each step. It was silly to get this worked up. She'd worked alongside Sans for years and at least seen his brother in passing and on occasion. Mettaton's premiere, for one. But this was... different. It wasn't a casual coincidence.

She stopped for a moment, eyes flitting to her desk and to the Mew Mew figurine resting on the corner. Was it too casual? Her troops expected her niche interests, but this was Papyrus. A real wildcard beyond his wacky, eccentric demeanor. And... well. The books on the shelves sat just slightly at an angle thanks to the stack of hardbacks piled near the opposing corner.

Shoot! The least she could do was tidy up! Presentation mattered at times like these! Sure, he'd only just joined Undyne as Royal Scientist's aide, but that catapulted him up to the top! Soon he'd be attending meetings, right up there with her, Sans, Undyne, and the queen. Which was why Undyne and Sans suggested a one-on-one meeting in the first place. But, aaagh... why did it have to be solo?

If Sans, Undyne, or even MTT were here, they could carry the conversations and she could sit back, nod her head, and interject when absolutely necessary. No pressure. No stress. Just business as usual! But... right. Books! Tidying. Of course!

She zipped across the room, only to stumble mid-sprint. Luckily, she threw her arms out just in time to maintain balance. This was fine! She just had to reach out, shift the books ever so slightly, and...

Knocking.

Alphys yelped, dropping one of her books. Fortunately, she had boots on. Unfortunately, this meant she'd run out of time to tidy. Shoot!

Well, fine. She'd just... slip the fallen book back into place, then scurry back to her desk. Straightening the book pile there, she cleared her throat and said, "Come in!"

The door flew wide open. Alphys clamped her jaw shut tight, suppressing another squeak, while a semi-familiar skeleton in a lab coat and goggles burst into the fray.

"GREETINGS, CAPTAIN! I, THE GREAT PAPYRUS, HAVE FINALLY ARRIVED! AND I BROUGHT AN EVER CRUCIAL SURPRISE!!!! " He reached into his pocket, and whipped out... a dog biscuit? W-with a cute, pink bow. And sprinkles.

Um.

What was she supposed to say to that? Tapping her fingers together beneath her desk, she tittered for a moment. "Oh. H-how thoughtful of you!"

She just had to smile. Keep it together. He meant well. Besides... maybe it didn't taste so bad?

Eheh... well. He seemed pleased enough, judging by the way his eyes... literally sparkled and a huge grin crossed his face.

"YOU REALLY LIKE IT?! " He paused. "I MEAN, OF COURSE YOU LIKE IT! YOU'RE CLEARLY A CAPTAIN OF GREAT TASTE AND CHARACTER! AND AS CAPTAIN, I'M SURE YOU KNOW ALL THE INS AND OUTS OF FRIEND-SHAPED GREETINGS! "

F-Friend-shaped greetings... Okay, that got a giggle out of her. "Er. I wouldn't go that far..."

"GASP!!! SUCH HUMILITY! TRULY, THE GUARD IS BLESSED BY YOUR GREATNESS! "

"Oh. Um. Thanks...?" She tapped her fingers on the desk. "So. Royal Scientist's aide. That's a big step forward for you, huh? And you're only..."

He puffed out his chest and brought his hands to his hips. "FIFTEEN! BUT DON'T LET MY YOUTH DECEIVE YOU! I, THE GREAT PAPYRUS, AM A GENIUS OF MANY TALENTS! IN FACT, IN LIGHT OF OUR FUTURE COLLABORATIONS, I HAD A FEW IDEAS TO BOLSTER THE FORT'S SECURITY! "

He reached into those comically tiny pockets again, and... pulled out a clipboard.

Okay then. This was fine. Weird, but... actually fine.

She turned to get out of her chair, but... oh. He was already at the other end of her desk. Then again, he did have longer legs than her.

Already, he'd set the clipboard down, so she got on her knees, scooted her chair just a teensy bit closer, and looked over the notes.

"SO, WHAT DO YOU THINK? "

The notes contained several sketches of small computer terminals, connected to a series of lines that... seemed to represent a network of some kind?

Beneath the picture was a caption that read, "ALTERNATIVE POWER PARTITION. "

"...Huh. What's all this about?"

"WELL, I FIGURED... THE FORT'S POWER SYSTEMS ARE THE HEART OF ITS STABILITY! SO, SHOULD SOME NEFARIOUS SOUL INFILTRATE THIS FORT ONE DAY, IN ITS CURRENT STATE... COULDN'T THEY JUST CUT THE POWER SOMEHOW IN ONE FELL SWOOP? AND THEN YOUR SOLDIERS WOULD BE CAST INTO DARKNESS! UTTER PANDEMONIUM WOULD ENSUE! "

That... sounded like something out of an anime. Or maybe a spy movie. Still, Alphys scratched her chin in thought. "Now that you mention it, a lot of our security measures are linked to a central control terminal. If we follow your hypothetical... they could mess with way more than just the lights."

Papyrus raised a finger, chuckling. "PRECISELY! BUT IF WE SPREAD THE CONTROLS THROUGHOUT MULTIPLE TERMINALS AND THEN TURN SAID TERMINALS INTO A PUZZLE, THAT ADDS AN EXTRA LAYER OF SECURITY TO THE ALREADY EXISTING SECURITY! WE COULD EVEN SET UP SOME SORT OF TEST BASED ON INCREDIBLY NERDY AND NICHE INTERESTS!!! ONLY THE MIGHTIEST OF EGGHEADS COULD TRIUMPH! "

"That seems a bit over the top, but... You know, maybe that wouldn't be so bad. I guess it's better to overprepare than get caught with our pants down." She paused. "M-metaphorically, I mean!"

"BUT EVEN IN THE LITERAL SENSE, I WHOLEHEARTEDLY AGREE! "

"Hehe... Well. Why don't we go over this more in detail? You tell me what we'll need, and I'll run it by the rest of the guard to see if we can make it happen."

"JUST LIKE THAT...? "

A soft, genuine smile crossed Alphy's face. "Yeah. I mean, it's not a bad idea. And as Captain, it's my duty to make sure we're equipped for even the most outlandish situations."

And besides... if they were gonna be working together from now on, it paid to get on his wavelength. Maybe he had other kooky ideas in store.
Page 50 Transcription
Dohj collapsed on her bed, her fur drenched in sweat. After such a long, arduous battle atop the fort, she needed at least a brief reprieve. It pained her to do so, the human and the treasonous Papyrus had escaped. Logic dictated that she make chase, but... for now, other guards carried the torch in her stead. Privates Bratty and Catty had already left the fort even prior to their battle. 03 and 04 promised to fan out to Hotland, on the off chance the duo fled via riverboat.

And Captain Alphys...

In a rare twist of fate, opted to depart the fortress in lieu of a direct pursuit. Dohj had fought the urge to intervene. It was not her place to bark orders at her captain, and yet...

She shifted onto her side, removing that tacky eyepatch, if only for a moment.

But was Alphys truly prepared to take such direct action against a human? Dohj was no fool. She'd known for some time of the captain's apprehension. When it came to wits and tactics, she excelled. General day to day leadership, Dohj had no qualms, but not once in her tenure had she faced truly threatening adversaries. The occasional crook or public disturbance, but a human...

Dohj's eyes wandered to the wall above her cot, adorned with a banner bearing the Delta Rune. A long time ago, another human's return may have drawn a wave of hope over the kingdom, line the moon to the tides. One who has seen the surface... and a child who, even by Dohj's own admission, had not directly harmed monsters.

She sneered, shaking her head. No. Laws existed for a reason, and regardless of their passivity, they had left the designated safe zone in Snowdin and knowingly infiltrated a military fortress, resisted arrest, and were now on the run alongside their skeletal accomplice. If they opposed Alphys as well, then they were as good as traitors to the crown.

Still... had Dohj the energy, she would have pursued Alphys, if only to offer backup. A more coordinated pursuit, perhaps multiple guards blocking the route to Hotland... That would surely put them in their place.

But too little, too late. And perhaps Alphys preferred it this way. Dohj dug out her phone, half-tempted to message her, but...

A single, agonizing image flooded her feed.

It was an image of her at her most embarrassing moment, begging for pets, to play, to go on... urk, walksies.

With a tacky glitter effect overlaying it and mocking captions in... comic sans.

Her eye twitched. Her grip on her phone threatened to shatter the screen.

And with most of the guard far from her quarters, Dohj let out a blood curdling howl.

As soon as the captain returned, she'd have a word with her about workplace harassment. And perhaps, with luck, Sans would see genuine punishment for a change.
Page 51 Transcription
This was it. Day one of Papyrus' tenure as Royal Scientist's Aide. As he approached the laboratory door, he fidgeted with his sleeves. Straightened his goggles, too. First impressions were crucial! Even if he'd known Undyne for most of his life, and even if they'd informally performed wacky scientific antics together on occasion. But this was different!

This time, he was joining her as a professional partner, tasked with researching a humane means to break the barrier once and for all. So, naturally, he needed to keep his collar straight, his pockets tucked in, and-

"Uh, Papyrus?"

Oh. Undyne had already opened the door.

Instantly, Papyrus snapped to attention, even saluting her. "GREETINGS AND SALUTATIONS! I, THE GREAT PAPYRUS, AM HEREBY AT YOUR BECK AND CALL! LET US COMMENCE WITH THE GLORIOUS SCIENCING!!! "

Undyne... snickered, shaking her head and stepping aside. "Dude, you don't have to act all stuffy and professional around me."

"BUT UNDYNE! YOU CAN'T SPELL PROFESSIONALISM WITHOUT SEVERAL LETTERS FROM MY NAME! AND SEEING HOW THIS IS MY FIRST 'REAL' JOB, I WANT TO ENSURE THAT I- "

She clasped a hand over his mouth. "Hey, professional quality WORK is one thing. But c'mon. At this rate, you're just gonna make it weird."

Papyrus slouched, pouting behind her gloved hand. But... perhaps she had a point. Undyne was never the most formal monster. On his rare visits to the lab before, she approached her scientific tactics with reckless abandon. Pure passion with little regard for protocol! ...So perhaps Papyrus could have stood to loosen up as well.

All right, then. Straightening his posture once more, he cleared his metaphorical throat, and once she removed her hand, he said, "ALL RIGHT! I, THE GREAT PAPYRUS, ACCEPT YOUR CONDITIONS! SO. ER... WHEN DO WE COMMENCE WITH THE SCIENCING? "

"Heh. Just can't wait, can ya?" She pointed a thumb over her shoulder before stepping inside. Naturally, Papyrus followed.

The lab itself was nothing new, even if the large conglomeration of computer terminals stopped him in his tracks every time he dropped by. More off-putting was how... clean it all smelled. A glance across the room revealed several vials and tubes of colored chemicals sat... perfectly still. Not bubbling. Not cracked.

Stranger still, Undyne guided Papyrus straight to... a doorway. The elevator?

"UNDYNE, WHAT'S ALL THIS ABOUT? IT'S NOT LIKE YOU TO LEAVE YOUR WORKSPACE SO TIDY!!! "

Shrugging, she tapped at the keypad. "That's 'cause the kind of work we're doing's top secret. Gotta keep the specimens in a more secure environment."

Now that she mentioned it... Hmm. Papyrus paused a few feet from the door, folding his arms and tapping his foot. "SO, WHAT EXACTLY ARE WE WORKING WITH? "

"I COULD tell you, but that'd spoil the surprise." The door slid open. Undyne stepped inside, waving for him to follow.

A short ride ensued, with cheery, Mettaton-themed music reverberating from within. Papyrus bobbed his head along to the beat, prompting more laughter to Undyne and a firm pat on the back.

"Man, you are such a DORK."

"H-HEY! YOU SHOULD BE FLATTERED! AFTER ALL, YOU MADE HIM! "

"Yeah, yeah. But I don't want his ego getting outta control."

Moments later, the elevator stopped, and the door opened to a very... dark hallway, its walls and floor a deep, almost murky teal.

How eerie.

As if reading his mind, Undyne looked over her shoulder and said, "Don't blame me. These floors are way older than the rest of the lab."

"NO JUDGMENT! JUST INTRIGUE. VERY SAFE, WHOLESOME, NOT AT ALL CONCERNED INTRIGUE!!! "

"Pfff. It's not like anything's gonna jump out and getcha."

She led them down the hall until they reached a central hub, complete with a vending machine, a few stray potted plants, and three separate doorways. More interesting, however, were the five cylindrical jars, each housing a shining, floating heart of a different color. Human SOULs...

Undyne reached into her pocket, pulling out another, smaller container. Round. Interlocking. Queen Toriel's brooch?

"...ARE YOU SURE THAT'S OKAY? "

Undyne averted her eyes, stuffing her free hand in her other pocket. "Yeah. Long as we don't absorb the SOULs, we can study 'em all we want. It's our best chance at finding an alternative for a seventh human SOUL..."

After tucking the brooch back into her labcoat, Undyne gave Papyrus a look far sterner and more solemn than he'd ever seen from her. "It's not too late to back out. What we're doing- it's uncharted territory. No telling what'll happen. Plus, we're using the SOULs of dead humans."

But despite the chilling atmosphere, Papyrus shook his head. "WHAT IS SCIENCE WITHOUT TAKING A FEW RISKS? I DON'T CARE IF IT'S RISKY. ENOUGH MONSTERS HAVE SUFFERED, AND I WANT TO DO MY PART IN FREEING EVERYONE! NO ONE ELSE SHOULD HAVE TO SUFFER. OR DIE. ...OR BOTH. "

At first, Undyne went quiet. She gazed down at the SOUL canisters, fingers rapping on one of the lids. But then, after a few more moments, her lips curled back into a grin.

"Heh. Well, then what're we standing around here for? We've got a barrier to break!"
Page 52 Transcription
The time had finally come. Dim lights. The glow of candlelight. A plate lovingly topped with the finest discount cheese puffs. It had even sprayed on its favorite 'Nice Guy' cologne. Yeah. This was gonna be a total win for the J-man. No ifs, ands, or buts about it.

Running a hand over the bumps on its head, Jerry sauntered down to the table. It grabbed its cheap, plastic martini glass filled with sickly yellow soda... and clinked against the glass.

Ah... Perfection. Jerry took a sip, smacking its lips as it gulped the sugar-sweet nectar of the wifi gods.

"So, like... did anyone tell you that you're THE hottest babe in the Underground?"

It waggled its eyebrows. Its date waggled back. Aw yeah. Sparks were totally flying.

"Heh, heh. So. I was thinking..." It nudged a cheese puff closer. So did its date. "You, me. We're the only ones who understand each other." It ran a hand over its partner's smooth, shiny skin. "Like. Who NEEDS stuck-up babes, right? And who NEEDS sweaty beefcakes? Or stupid spiders who try to grind ya into cupcake powder because you sneezed on a pastry ONE time..."

Jerry climbed onto the table, taking another puff and rubbing it all over its partner's face. "Yeah. I know. We should stop talking and kiss already."

So Jerry puckered. It leaned in...

And pressed its lips to the cheese-puff stained glass displaying its own reflection.

A sad, lonely creature, too self-absorbed to take criticism, who everyone was far too eager to ditch.

But your reflection could never ditch you, and mirrors couldn't run.

And so Jerry clung to its delusion. No one else would understand.
Page 53 Transcription
Undyne approached Toriel one morning.

"Your Majesty, there's something you gotta see."

Her voice lacked the usual enthusiasm and bravado. Each word trembled, as if she was on the verge of shouting, yet kept an inner blaze from spreading into wildfires. It was... odd, but at the time, Toriel turned to her with a soft, gentle frown.

"Of course, but are you all right? Has the research been going well?"

Undyne looked away, shoulders hunched and fists clenched. She exhaled very slowly, then nodded. "It's fine. I just... made a discovery. Gonna present it to the kingdom soon, but I wanted to make sure you'd come. If anyone deserves to know, it's you."

How ominous.

Nonetheless, Toriel nodded and placed a reassuring hand on her shoulder. "I would not miss it for the world."

And so, later that day, monsters from far and wide assembled at the heart of the capital city. Cameras focused on the stage before them, while Undyne took her place at a podium with an immense projector screen spanning behind her. Naturally, Toriel sat in the front row, joined by Gerson to her right and Sans and Alphys to her left. Papyrus fidgeted just a short distance behind his mentor, stopping only when Toriel offered him a smile and a wave.

Undyne pressed her palms to the podium, eyes shut, and cleared her throat.

"All right." Her voice still lacked its usual spark. "Listen up! I've been doing some digging in the royal archives. Kinda hoped I could find some sort of lead that'd help in our studies of the human SOUL... but I found something I never could've dreamed of."

She turned to Papyrus. "Go ahead. Put in the first tape."

"O-OH. RIGHT! OF COURSE. THE TAPES YOU FOUND. THE VERY... HISTORIC TAPES. " His hesitance seemed woefully out of place, right down to the shaky tone of voice. Just what was the meaning of this?

He moved to the VCR linked to the projector, and placed a video tape inside.

Undyne continued, "These tapes don't have much in the way of video. But the sound alone oughta tell you all you need to hear... And their contents cast our past relations with humans in a whole new light."

...Not much in the way of video? Toriel squinted. Why did that... sound so familiar?

The projector blinked on... to a black screen, while speakers burst to life with a...

Familiar... voice.

"Howdy, Chara! Smile for the camera!"

Toriel choked out a gasp, clutching the brooch on her chest.

Asriel. Her little... sweet, Asriel...

Murmurs spread like a wave throughout the crowd.

"Ha, this time I got YOU! I left the cap on... ON PURPOSE! Now you're smiling for noooo reason! Hee hee hee!"

Her child... one hundred years gone, yet his voice bright and cheery, as if he'd never left... But why? What purpose did this...?

Another voice cut through her thoughts. "Asriel. Do you remember our recent kitchen escapades?"

...Chara as well. Toriel squeezed her eyes shut, trying to steady her breathing.

"What? Oh, yeah, I remember. When we tried to make butterscotch pie for Dad, right? The recipe asked for cups of butter... But we accidentally put in buttercups instead."

"A grave miscalculation."

"Yeah! Those flowers got him really sick. I felt so bad. We made mom really upset."

...Ah.

Toriel remembered it well. Asgore, despite years of gardening expertise, had failed to account for the toxic blooms nestled within the crust. Despite his massive frame, he'd collapsed within hours. Lay bedridden for days...

But what did this have to do with Undyne's research?

Asriel pressed on, "I should've laughed it off like you did." He paused. "Um, anyway, where are you going with this?"

Chara whispered something to him, though it was difficult to parse their words.

"Huh? Turn off the camera...?"

The footage ended there.

Papyrus wandered back to the VCR, pressing rewind while Undyne addressed Toriel and the rest of the audience.

"This might seem like a weird tangent. Why the heck am I broadcasting audio of the royal children? What does a baking mishap have to do with anything? Well, ignoring the fact that they POISONED the king... this little 'incident' was just the beginning of the end."

Papyrus ducked his head, removing the tape from the player. "UNDYNE, ARE YOU SURE ABOUT THIS...? "

Sans' eyes darkened. "dunno about you, tori, but i don't like the looks of this. "

It... was worrying, but for now, Toriel would trust in her scientists. There must have been a reason for this.

Undyne glanced to her partner. "C'mon. They deserve to know the truth."

"ALL RIGHT. IF YOU INSIST... "

Papyrus placed another tape in the player, and soon another pictureless scene played out before them.

"I... I don't like this idea, Chara."

"Really? And you would rather languish in this prison? Are you honestly going to put personal feelings before the lives of your entire kingdom? You ARE their future king, you know."

"W...what? N-no, I'm not..." His voice trembled, as if he was on the verge of tears.

What WAS this? It sounded as though the two had planned... something, but what? Toriel had never...

Chara sighed. "Asriel. We've gone over this before."

"...Big kids don't cry." Asriel sniffled. "Yeah, you're right."

"You don't sound so convinced. If I didn't know better, I'd think you doubted me."

"No! I'd never doubt you, Chara... Never!"

"Good, because you've no reason to. With my SOUL, no prison can hold us."

With... their SOUL? Toriel flinched. No. Surely they didn't... It couldn't be! Chara... they had simply fallen ill. That was all there was to it.

"Y...yeah! We'll be strong! We'll free everyone." A strange mix of conviction and unease resonated from Asriel's words, almost as though he had attempted to reassure himself as much as Chara.

And then...

"I'll go get the flowers."

The. Flowers.

Toriel's stomach churned at the mere possibility. Despite her fur coat, her entire body grew cold. Surely Asriel didn't mean...

The video ended. More gossip surrounded Toriel.

"Flowers? What flowers?"

"How were they gonna free us?"

"I thought Chara died of illness!"

Toriel remained silent. She dared not consider the implications...

But Undyne, it seemed, had her own plans, as she raised her voice once more. "Chara died. We all know that, but for the longest time, we thought they just got sick. Human illnesses are a whole different beast. We definitely didn't have the resources to care for 'em back then." She smashed her fist on the podium, cracking it. "But I think you all can connect the dots! First, they talk about poisonous flowers. Next thing you know, they're talking about freeing everybody. Chara just CASUALLY mentioned their SOUL, almost as if they were ready to give it up. Then you got Asriel fetching some flowers..."

Papyrus opened his mouth to speak, but shut it in seconds.

Oh, how Toriel wished to end this here and now. This was... it was too much. Too personal! What was Undyne THINKING, broadcasting this to the entire kingdom? A look over the shoulder reminded Toriel of the ever present cameras. No doubt this was a live broadcast...

And yet, she could not will herself to intervene. This was... new. Perhaps even a hint to what became of Chara, and in turn, Asriel...

So many questions left unanswered. A tale painted in rosy tints, with the specifics lost to time...

Off to the side, Alphys bit her fingertips. "I-I don't like where this is going..."

"no kiddin'. all she's doin' is reopening old wounds... " Sans looked to Toriel once more. "but just say the word, and we'll cut her off. "

Toriel just barely managed a hoarse, "No. We have come this far. I... must know where she is going with this."

If only for closure's sake.

Fortunately, or perhaps unfortunately, Papyrus removed the tape, replacing it with another. And so, once more, the black void of the covered camera greeted her...

As did her own voice.

"Chara... Can you hear me? We want you to wake up..."

And then another ghost from the past chimed in. "Chara! You have to stay determined! You can't give up... You are the future of humans and monsters..."

Asgore, of all the cowardly, negligent, fool-hardy voices... He'd placed Chara on a pedestal from the very beginning. Even on their deathbed...

Hindsight was a funny thing. What seemed like simple reassurances may well have fueled Chara's desire to do... To...

No. It was all coincidental! Surely they would not have gone so far...

A door shut. Footsteps followed.

Asriel whispered, "Psst... Chara... Please... wake up..." Once more, his voice quivered. "I don't like this plan anymore."

Plan.

It was... planned...

Despite everything... the loving home, the care and companionship, despite always leaving an ear open in case they needed to vent their frustrations, Chara still...

"I... I..." Asriel's voice wavered more than ever, and then, "...no, I said... I said I'd never doubt you. Six, right? We just have to get six. And we'll do it together, right?"

Nearly one hundred years ago, Toriel watched her child, swollen and grotesque and unsettlingly warped, shamble into the throne room, clutching Chara's body in his arms.

Bullets jutted from his flesh. Flower seeds had stuck to his legs, mingled with his cracking form.

He... had smiled...

"MoM... daD... I sAw... tHe... sUn..."

He had collapsed. His body shattered into dust, seeds intermingling with his remains.

On that day, the kingdom's hopes had shattered along with Asriel's SOUL...

It was easy enough to construct a story of what had happened. Chara had died. Asriel had taken their SOUL. Prior to their demise, they had yearned to see the flowers in their village...

The seeds? No doubt from those very flowers. The bullets? Presumably from horrified humans. The lack of additional human SOULs? Proof he had not killed. His fatal wounds? Proof he had not fought back...

It was a simple tale of a child, robbed from the world from an illness the monsters could not treat and a prince eager to fulfill their final wish...

But that was all it was, wasn't it? A fairytale. A... fabrication...

The tape stopped. Undyne took a deep breath before speaking. "Chara's death was more than a cruel twist of fate. It was premeditated suicide. As you can see, they pressured Prince Asriel into a plan he wanted no part of! They BULLIED him into playing along, and in the end, he died for it!"

All around Toriel, a fury of shouts broke out.

"I can't believe this!"

"How could they DO that to their own family?!"

"I thought they were one of us!"

That mild churning bubbled into nausea. How fortunate that Toriel had not eaten prior to... this...

"That's right!" Undyne pounded the podium again. "After the royal family took 'em in, they poisoned the king, then used that same poisoning tactic to take their OWN life, making it LOOK like it was just a weird illness. I bet you anything they FORCED Asriel to keep quiet, just like they tried pushing him to kill. In a way, THEY'RE the reason the royal family fell apart! THEY'RE the reason everyone lost hope! THEY'RE-"

"UNDYNE! " Papyrus grabbed her by the sleeve. "PLEASE. I KNOW YOU'RE UPSET, BUT THINK OF MISS TORIEL! SHE DIDN'T ASK FOR THIS... "

Undyne jerked her arm free. "I AM thinking of Toriel! Why do you think I showed her this in the first place? She deserved to know the TRUTH about what killed her kids! And so does everyone else."

Ha... hahaha...

And for what? To cast doubts on her own children? To cast doubt on Toriel's parenting? To pour salt in wounds nearly one hundred years old?

And now...

More voices burst from the crowd. "Yeah! This just PROVES how treacherous humans really are!"

"If the royal family's own child betrayed them, what does that mean for the rest of humanity?!"

Alphys tried cutting in. "W-wait! We still don't know the full stor-"

Another monster cut her off. "Don't forget the Waterfall Incident!"

A metallic cough rang out from further back. "YES. THE VERY INCIDENT WHERE THE MAGE STOOD VALIANTLY ALONGSIDE MONSTERS."

"Yeah. To end ANOTHER human's massacre! And that one was just a CHILD..."

"Maybe the king was right to declare war..."

Oh. So that was how it was...

Toriel could feel the prying eyes of monsters around her, staring expectantly. No doubt waiting for her to step onstage and address the uproar.

She brushed her fingers over the brooch that housed a SOUL of the one and only child who remained by her side...

Until they, too, left this world...

Ha...

Decades of struggling to douse the flames of hate. Decades of trying to remind her people of the good will Chara brought.

And yet, from on the stage, Undyne called, "Toriel. Look, I know this is a lot to take in, but I wanna make ONE thing clear. Nobody here blames you. You couldn't have seen this coming. Even I didn't."

Gerson shook his head. "'Til ya saw the tapes. Least you coulda done was show her in private..."

"No. I stand by what I said. This is something EVERYONE deserved to see! After all, Toriel said to 'remember Chara,' right? Well. Now there's PLENTY to remember..."

Toriel shot up from her seat, laughter bursting from within her. "I see! So THAT is how it is... You would use my own words here? NOW?" She turned to the crowd. "And what would you have me do? Betray my principles? Continue this wretched cycle of despair until it consumes us all?"

From behind, Undyne called, "Hey! C'mon. That's not..."

"But it is, is it not? I can see it on your faces. You are outraged. You want retribution. You are making judgments toward a child you never knew."

"Does it MATTER if we knew them or not?! Their actions speak for themselves! And besides... if they were this secretive, can YOU say you really knew them?"

That was...

Toriel clutched her staff tight, tearing her eyes off the ocean of eyes before her. How... Why would...

More voices. More judgmental cries.

"You should be angry, too! They took your son!"

"They BETRAYED you!"

"That little demon RUINED your life!"

...

Toriel had heard enough.

She refused to address Undyne, and she refused to address the crowd. Instead, she simply said, "Sans. Please escort me to my throne."

"tori, what're you- "

"That is not a request."

Sans rubbed the back of his neck. "...gotcha. " He extended a hand. Toriel took it.

Undyne cried, "Toriel, wait! Let's talk about this!"

But Toriel simply uttered another hollow laugh before Sans whisked her away.

There was nothing more to say.
Page 54 Transcription
Asgore was gone.

Haha...

That coward. He came so far, made his grand war declaration, murdered a CHILD...

Just to leave that SOUL hovering in her throne room.

Just to smash his trident into the floor and abandon it along with his crown.

Just to walk away from his kingdom, his people, his responsibilities...

Centuries together, as friends, lovers, soulmates... She still remembered, so long ago, curling up in his big, strong arms beneath the shade of a tree, watching the sun dip beneath the horizon... She could still recall nuzzling noses with him. Sharing freshly baked pies after a long, exasperating day of political meetings. So many memories. Once cherished. Once pristine.

Oh, if those memories were tangible, she would set them ablaze. Alone in the throne room, she sought the next best thing. She seized his trident, daring to pull it from the floor.

It refused to budge.

Toriel fell to her knees, pounding the floor.

How cruel. He'd leave her behind, yet force her to look upon a reminder of his selfish cowardice?

If her heart were a flower, it would have withered away at that very instant.

But deep down, Toriel knew she couldn't seethe in anguish forever. In time, she contacted Dr. Gaster, and he provided a simple container for the child's SOUL. A glass case and a contraption beneath the floor to conceal it safely, both from her fellow monsters and from her eyes.

One less reminder of the day she lost everything.

But despite the physical proof hiding from plain sight, the fact remained that they had obtained the first of seven SOULs. No doubt the people wanted answers. Where was the king? Why did he leave? How would they proceed without him?

Toriel paced around the throne room, contemplating what to do.

Fortunately, she wasn't alone in her head.

A short distance away, Gerson broke the silence. "Well, if ya ask me, ya oughta put your foot down. This whole war was an awful idea from the start. Better to nip it in the bud than leave the people expectin' an encore."

"YES. YOU ARE. THE QUEEN. ERGO. YOU HAVE THE FINAL SAY. AND. MORE IMPORTANTLY! YOU ARE NOT ALONE."

"...That is true." Asgore was gone... but that did not mean she had to endure the heartache in solitude. Toriel steadied her breathing, and smoothed her frazzled fur. "And I want to be clear. I am not going to continue what Asgore started. However... I fear for how the people may respond."

"Well, ain't that what the royal guard's for?" Gerson... winked, Toriel assumed. With one eye perpetually shut, it was sometimes difficult to tell. "I fought in the war, after all. If I say it's a no-go, they'll have no choice but ta listen."

Dr. Gaster stroked his chin. "MATTERS OF WAR ARE. OUTSIDE MY REALM OF EXPERTISE. HOWEVER. I BELIEVE YOU HAVE ADEQUATE TOOLS TO SUBDUE THE FLAMES. A SHARP MIND. THAT IS. ONE THING YOUR..."

Toriel's eyes narrowed.

"AH. EX-HUSBAND, THEN. BUT. HE ALWAYS LED WITH HIS HEART. NOT HIS MIND."

It was true, of course. Even his war declaration- that was an act of reckless emotion, not of pragmatism.

It was infuriating! She had lost just as much as him that night, yet he would so swiftly condemn the very race Chara originated from? Did the three years they spent as a family mean NOTHING to him?

She inhaled through her nose, shutting her eyes and suppressing the urge to shout. It was... over, and yet... perhaps...

"I... know how to address the matter. But I may need your assistance in the long term."

"Wa ha ha... Like ya had to ask! Just say the word, Tori, and we'll be there."

The next day, a crowd had gathered in the heart of the capital city. Toriel, Gerson, and Dr. Gaster all stood on stage, ready to address the eager crowd.

"Queen Toriel! Where is the king?"

"Is it true that he took a human's SOUL?"

"How soon can we expect the other six?!"

She raised a hand, silencing them. Then, after clearing her throat, she spoke in a steady tone. "It is true. Asgore has abandoned his throne and his people. It is also true that he acquired a human's SOUL. However..."

She looked to Gerson and Gaster. The two of them nodded.

So she continued, "We shall not wage war on humanity."

An uproar of shouts broke out.

"WHAT?!"

"But he promised...!"

"What about your children?!"

Toriel scowled, raising her hand once more. "I am aware. But Asgore's act was one born of anguish. He was not in his right mind. Furthermore, it is the belief of myself as well as the Royal Guard that a war with humanity will inevitably lead to undue casualties. Even if we assume that the power of seven SOULs would bestow god-like power, we would have to use said power to eradicate the entire species if we were to truly prevail."

A few monsters opened their mouths, no doubt ready to retort, but Toriel cut them off. "But I do not believe it is fair to judge an entire species. Is that not what humanity did to us when they waged the war that led to our banishment? And yet, in these past three years, we saw proof that humanity can live peacefully among monsters. Even if humans killed my poor, sweet Asriel... it is entirely possible that they reacted purely based on his sibling's body. They may have assumed the worst and retaliated out of fear..."

Toriel resisted the urge to slump, to hang her head, to show signs of sorrow. Now more than ever, she needed to stand firm.

"Of course, I am not happy. My heart weeps for both of my children... but to strike out against the humans is to let the cycle of hatred continue. And in the end, it would only consume us."

She stepped closer to the edge of the stage, one hand clasped over her chest. "I understand that these are trying times. You may feel lost. You may feel betrayed. I understand if my words and actions disappoint you... but before you give in to your inner vices... Remember Chara. Remember the hope that they brought us, if only for a brief time. And remember... you are not alone."
Page 55 Transcription
Mettaton had seen everything. One of the perks of being a robot, really. All he had to do was extend his arm, and a convenient little screen popped out, giving him free access to all of the CORE's security feeds. So, naturally, he watched Frisk's journey through the CORE, from random robot quizzes to pitfalls into electrified ponds. Quite the endurance test, his cousin had put him through...

But in the end, her transformation into a more feminine, feline form was overshadowed by perhaps an even bigger plot twist.

With a swing of her cleaver, she had... split Frisk into two. Beside them, glowing red, a second human had appeared on the screens. Yet even with their ruby red aura, Mettaton recognized those rosy cheeks and that single striped shirt any day. He'd studied enough about the royal family over the years for the sake of his unreleased passion project...

Of course, Mettaton had always suspected. A strange voice, albeit equally familiar, to that of the tapes Undyne once showcased to the kingdom. The way they reacted, their demeanor, their vocabulary...

Before, it was just a hunch, but Mad Mew Mew's SOUL-splitting trick proved it. Chara... was. Well. Perhaps not alive in the traditional sense, but present. Conscious. Very much there.

That... changed things, didn't it?

Mettaton brought his free hand to his... not quite hip as he watched the two humans clumsily dart between magical orbs and crescent slashes. Honestly, it was incredible. Mettaton knew Undyne had attempted SOUL-fission in the past, but to see something this stable? Something that lasted more than mere moments... That opened up so many possibilities.

Just what were the limits here? Could the technique be refined? And if Chara was there, whether in separate form or merely in spirit, couldn't they work together to thwart the years of bad faith misconceptions?

Oh, what a thought! If Mettaton's rectangular form had lips, he'd be smiling at the mere thought. Grinning, even. And what's more, this meant that Queen Toriel could reunite with at least one of her children. It was the perfect way to tear her from that throne she'd no doubt languished in over the years and give her a reason to stand again.

Yes. It was perfect! All they had to do was prove beyond a shadow of a doubt that Chara was innocent, and then everything would be right again!

Except...

"I thought being Undyne's training dummy would be a dream come true! Every day, taking spear after spear!"

That's right. Undyne...

Mettaton wilted at the thought. Because, despite this revelation, once Frisk made it past Mettaton's raving cousin, they would undoubtedly face him in combat. His bombastic season finale. The debut of his new form... Everything his audience had hoped for...

Yet Undyne had all but strongarmed him into this, even after the trial. He heaved a heavy, robotic sigh.

Of course he would have performed one way or the other, but this presented a tricky dilemma. Naturally, he'd no intention of killing Frisk, but he had to fool Undyne at least long enough for her and his fans to believe his heart was in it. If he could just dazzle the crowd long enough to get enough eyes on the screen, then perhaps...

Haha. Of course he could. He was Mettaton! And this was THE big show. A battle against a real human! One with the power of two humans inside them, even. ...However that worked. Two SOULs, one body, perhaps? Even though humans couldn't absorb the SOULs of their own kind.

Agh. He rocked on his wheel, the closest equivalent to a head shake that he could muster. What point was there in getting hung up on logistics?

This would be fine. All he had to do was get the big battle out of the way, guarantee Frisk (and Chara) a clean escape, and once that was said and done, he could swoop in. Perhaps corner them before they reached Toriel, and drop the news that he'd seen Chara via the cameras. Then they could band together. Prepare Toriel for a grand reveal! All would be right again.

It was... a nice idea, at any rate. But for now, he needed to brace himself. After all, there was no doubt Undyne was watching as well, and who knew how she'd take the news?
Page 56 Transcription
It all began with good intentions.

Asriel's idea. He wanted to take a proverbial page out of his mother's book and bake a pie to surprise the king. And so, with Toriel off on a political meeting and Asgore on a community picnic, it was the perfect time to set their plan into motion. Thus, they'd pulled down a cookbook and all the essentials. Eggs, flour, cinnamon, sugar... All according to the book. If they followed the directions, then surely their inexperience would not matter.

But, ah... they hit a snag.

Asriel, up on his tiptoes, practically buried his snout in the book. "Cups... butter..." He glanced over his shoulder. "Hey, Chara? Do you see any butter in the fridge?"

Chara opened the refrigerator door, but after a quick glimpse over the shelves and some rifling through the door, they turned around and shook their head. "Alas. It would appear we are out."

"Aw, man! We can't do butterscotch-cinnamon pie without butter!"

"You know, we could just go to the store."

"Nuh-uh! That's way too conspirac..."

"You mean conspicuous?"

"Yeah, that. We'd ruin the surprise!"

Chara threw up their hands. "Well, then either we abandon all hope, or we substitute."

"Substitutes, huh?" Asriel turned away from the counter, tapping one foot and crossing his arms. Then, as if a proverbial lightbulb lit up in his head, he snapped his fingers and darted for the door. "Wait! I know just the thing!"

And so Asriel, perhaps a touch too eagerly, sprinted out the door. Chara followed behind him, naturally, although when he scurried outside, they stopped in the doorway.

"Asriel, where are you going?"

"To the garden, duh!" He stopped near one of the flowerbeds near the front of the house, adorned with tiny yellow blossoms.

Buttercups.

Chara brought a hand to their face. "Oh, you cannot be serious."

"Hey! C'mon. They're called BUTTERcups."

That was... some logic. Chara was sorely tempted to point out that flowers and dairy products were not remotely comparable, but... Ha.

What was the harm, really? They were just flowers. And besides, the Dreemurrs were goat-like. And goats did, presumably, enjoy eating flowers just as much as tin cans. ...And snails. Besides, it would make an amusing prank. Surely he would appreciate the pun, even if they did loot his garden in the process.

So, after a moment's contemplation, Chara shrugged. "Very well. We can give it a try."

So it was that, in lieu of cups of butter, they used buttercups. A mess of flour, dough, and assorted splatterings decorated the kitchen, but in time, they placed their forbidden creation in the oven. And, in time, a heavy shadow cast itself into the messy room.

"Golly! Taking a page from your mother's book, are we?"

"D-Dad!" Asriel spun around, eyes wide. "Uh. Look, we can explain-"

But Asgore, in typical fashion, gave a great guffaw. "What's there to explain? You've clearly worked hard, and nothing's burning. That's certainly better than my first cooking attempts!"

"...Well, the jury is still out on that," said Chara. "But your timing is impeccable. Any second now, and-"

DING.

Yep. Right on cue. Chara reached for the door handle, opening the oven and leaving the pie on full display. A light golden brown on the crust. No black blemishes or excessive smoke. Surprising, given how much they had to improvise.

Asriel skittered over to grab the oven mitts, retrieving the pie and delivering it to his father.

"Yeah! We made this just for you!"

Asgore's eyes grew wide as dinner plates. "All of this, just for me?"

"'Course!" Asriel beamed. "You're the KING of cool dads!"

Asgore... sniffled, wiping an eye. "Well, shucks. Who am I to turn down such a heartfelt treat?"

So it was that Asgore gobbled down the pie. If he noticed anything off about the flavor, he certainly did not say. At first, Chara assumed that was where this escapade would end.

They were wrong.

It started with grunts of pain. Sniffles from... a sudden cold? But the symptoms grew worse still. Blisters on the tongue. In the blink of an eye, Asgore had keeled over.

Frantic, Asriel rushed to a phone, tears welling in his eyes. All Chara could do was stand, petrified, and watch as Asgore writhed on the floor.

A stiff smile carved itself into their face.

Toriel came home soon after, no doubt informed of the situation. She wailed at the sight of her husband on the ground. The medics lifted him and carried him off. Toriel followed.

She disappeared for... a while. Chara wasn't sure how long. Time itself became a haze. But eventually, she returned.

And when she did, she spoke coldly, a scowl carved into her features.

"What. Happened?"

Asriel tapped his fingers together, eyes still leaking tears. "W-We were just... we wanted to make a pie for dad... A-and..."

Chara snorted. Then snickered. Then burst into hysterical laughter. "Oh, the irony! The recipe asked for cups of butter. But we used butterCUPS."

"Chara! This is NOT a laughing matter! You two should have waited until I returned. Now, you father is sick-"

"And it is all our fault?" More laughter. Oh, they couldn't help it. The IRONY. Asgore had called them the future of humans and monsters... But would he even make it through the night?

Toriel turned the other way, slowly inhaling before letting the air escape in a harsh sigh. "...You are just children. But when you are baking, it is important to be extremely careful with substitutions. Buttercups may look pretty, but they are extremely poisonous when ingested."

"...I-is dad gonna be okay?"

Toriel took another deep breath, squeezing her hands together. "He is... in the best possible care. And it is fortunate that you called when you did. Your father is very strong, Asriel... But it is too soon to say how swiftly he will recover."

So that was it, then. No guarantee. Just... hope.

Chara forced that smile, nodding in silence. Resisting more laughter.

It was all they could do, really.

They could have said no. They could have told Asriel it was too risky. But they... encouraged it, treated it like nothing. Didn't even do their research first.

Even if Asriel suggested the flowers, did that not make Chara the true villain in this tale?

If nothing else, it proved that they were no angel. Angels did not push their caregivers to near death.

Angels did not laugh at misfortune.

Yet here they were, unable to let themself cry. Unable to even utter an apology.

All they could do was smile away the pain.
Page 57 Transcription
Being the prince was hard.

Asriel had a loving home, of course. All he had to do was take one look across the room to see the mountain of stuffed toys to find proof of that. And every night, tucked in his fluffy, soft blankets, his mom and dad would sit at his bedtime, patting his head and reading him all sorts of stories.

...Or telling jokes, sometimes.

"Oh! I have a new one," his mom had said one night. "What happens when two snails have a big fight?"

His dad stroked his big, bushy beard. "They go to snail?"

Asriel snorted at that, but his mom shook her head.

"No, no! They... slug it out."

....More giggles from Asriel, but his dad just kinda stared at her for a few seconds.

"But I thought this was a joke about snails."

Toriel huffed and pouted. "Well! At last our son appreciates my sense of humor."

It was... nice, of course. Always having someone there. Or in this case, two someones. But they were the king and queen. Sometimes, they'd have to leave the house to go on important grown up meetings, leaving Asriel to fend for himself.

And, sure. Commander Snuffles and his plushie platoon made... decent company, but there were only so many times Asriel could act out the same made up scenarios, by himself, before things got a bit stale.

One day, he decided to leave the comfort of his room and march out into the great outdoors. What was the worst that could happen? His mom and dad took him on walks all the time... always holding his hand. Keeping him close.

They'd sit down in the park, a picnic basket of fresh-cut sandwiches and snail salads, sniffing the flowers and listening to the water flow. Sometimes they'd watch other monsters pass by. Asgore would always wave and give a great big "Howdy!"

But even then, Asriel could tell things were... different. The way people would talk to his parents. The way they'd talk about Asriel.

One Froggit mother would croak out something that roughly meant, "Oh! Look, children! It's the little prince."

Some fluttering whimsuns would huddle together, whispering things like, "Oh no! I forgot to shower this morning."

"I forgot to bow!"

And even though Asgore would stand tall, shaking his head, and say, "Now, now. You don't have to be so formal! I may be your king, but today I'm just a father enjoying a pleasant afternoon with my family."

...That didn't change the fact that they were royalty.

They were different.

But... so what? Asriel huffed as he hopped down the steps of his house. Today it was just him. He could handle this! He'd just... find some other kids. See if they wanted to play. Maybe, for once in his life, make an actual friend.

That was the plan, but even as he ventured from the comfort of his front yard, passing monsters stopped and stared.

A Loox's eye snapped wide open. "Y-yo! Aren't you the prince?"

"...Um. Yup. That's me." Asriel scratched the back of his neck. "But you don't have to make it weird. I'm still a kid just like you!"

"Just like me, eh?" The Loox scoffed. "Naw. You got it good. King and queen for your parents. Big, fancy house. And one of these days, you'll be runnin' the show." It turned the other way, waving a hand. "It ain't even worth trying to pickpocket ya."

"...Well, we could still hang out, right?"

"Why? So you can lord it over me? Sorry, but I'll pass."

The Loox stormed off, and Asriel's heart sank.

Why did it matter if he was the prince? Was everyone gonna look at him this way? He sniffled, trying to hold back tears. That was just one monster! There had to be others who'd give him a chance.

So he kept walking. Kept searching.

When passing through another hallway, he stopped at the sight of some leaves poking outta the ground. Kneeling next to it, he gave a friendly, "Howdy!"

The dirt rustled. Two eyes popped outta the ground. A raspy voice said, "Plants Don't Talk, Dummy."

"...But you just did."

But the Vegetoid ignored him and buried itself back in the dirt. Asriel sighed. So much for that...

In the hall with all the switches and pillars, some froggits jumped over each other in a little game. Curious, but equally cautious, Asriel walked over with a wave. "Um... howdy! Is it okay if I play, too?"

The little froggits looked to each other, ribbiting and... meowing. It was a bit hard to make sense of it all. His Froggitese was still pretty basic.

But one eventually said something close to, "You seem nice, but I don't think it's fair if you play. 'Cause you're the prince. You can watch, though!"

Asriel could've stayed. He could've watched. It... wasn't a complete no, but it sure felt like one. So, practically wilting, Asriel shook his head and said, "No... that's okay. Thanks, anyway."

It seemed like this pattern would keep going no matter where Asriel went. Even alone, he stood out like a sore thumb, a Boss Monster child in a city of strangers. A future king who could never blend in with his subjects.

He rubbed his eyes to try and get rid of the tears. It was probably better if he headed back, anyway, before his parents got home and wondered where he'd gone.

So in the end, Asriel shambled back into his room, throwing himself onto his bed and crying into his pillow.

It wasn't fair! His parents loved him, and he was grateful for that, but... why did his royal status have to shine on him like some giant spotlight. Why couldn't he just... be a kid?

Why couldn't there be someone, anyone, like him? A little different. Someone just as lost and alone. Someone he could connect with...

Even one good friend would be enough.
Page 58 Transcription
Sometimes... it was nice to step away from the capital city. Sometimes, it paid to slip off while the king and queen were off attending to one matter or another. It had been two years now. Two... Haha. How funny, that back then, they had intended to end it all. Yet here they were, wandering through cavern corridors, an umbrella in hand as droplets splattered all around, and their boots splashed in puddles of standing water.

They took a moment to gaze down at their reflection and rub their throat. The passage of time was... undeniable, not just in growth. The pesky thing about this human form was the onset of change. A bandage on their cheek to conceal an embarrassing pimple? Simple enough.

Though it had been awkward when Asriel had asked, "Hey, Chara? What's that red thing on your face? Do humans get spots when they get bigger?"

And Chara had to answer back, sounding a bit hoarser than they had in the past, "No. It is an unsightly growth that you are going to tell no one of."

And Asriel, of course, just had to press on. "How come? It's not that big. And, hey. How come your voice sounds so weird?"

...Was Chara seriously going to have to explain human puberty to him? And how in the world did monsters differ in that respect? Surely, at some point, Asriel would sprout horns. If his parents were any indication, he'd gain immense height at one point or another. But was that where the commonalities ended?

Chara could have offered a clinical response, but at the time, they shook their head and said, "You idiot. Isn't it obvious? My voice is changing because I am becoming... a demon."

They had flashed a terrifying smile, eyes wide and unblinking. It made Asriel hop back with a squeak. "Charaaaa! C'mon! I'm serious!"

"Ah, but so am I!" Their horrendous smirk had only grown. "You'd thought me an angel, but in truth, I am nothing more than a vile demon in human's skin. And soon I shall burst from this frail form and assume my true appearance! Then, all shall fear my wrath..."

"Oh. Well, uh. If you wanna be a demon so bad..." Asriel had turned around, shuffling up to his drawers, and... pulled out a red headband with little devil horns. "Here. You can have this."

"...How long were you hiding that in there?" It was the first thing that had come to mind, not to be ungrateful, but it seemed odd that Asriel would keep something like that stashed away with his clothes.

Asriel had titered, running a hand over his fluffy, hornless head. "Well, y'know. My horns haven't come in yet. ...But I know I'll get 'em someday, so I don't really need it."

"Ah." Hm. It was... still strange, accepting gifts like this. Even though they had two years of experience at this point. But... well, it was a kind gesture, and so after a moment's hesitation, they had taken the headband. "Very well. I shall accept your offering and spare your pitiful SOUL." Though, they snickered seconds later. "For now."

The strange sound he made, like a squeal crossed with giggling, was... somewhat worth it. What a strange kid, that Asriel.

But now, as Chara wandered through the rain and gazed down at their reflection, they tucked a hand in their pocket. They still hadn't worn the headband. It was... silly, really. What was the harm? It'd be... nice to have at least something to distance them from their human form. A step away from their old life. Their old self.

They'd had so many opportunities to... experiment, yet years of repression throughout their childhood made it easier said than done. Those vile individuals that had brought Chara into this world certainly wouldn't understand. All they saw was their accidental heir, to dress up and present around 'respectable society'. Something to be seen, not heard. A burden, not a gift.

To the Dreemurrs' credit, they had... done their best to pull Chara away from that life. They knew that. But old habits died so very hard. Could two years of love really undo a decade of self-loathing and resentment? It... wasn't as though Chara wanted to be this way. They just...

They...

They stomped their foot in the puddle, in their reflection.

This is why they needed space. Those warm, wonderful, joyous monsters did not need to see them like this. But then, alone in the rain, who did they have to turn to? They were left with their own thoughts as company...

Their own, dangerous thoughts.

Haha... Either way, they were trapped, in a sense. If only they could flip a switch and make those intrusive thoughts flutter away. If only there was at least someone as broken as them, who would understand.

Because at the end of the day, for as kind and sincere as Asriel was, he was nothing like Chara. He'd only ever known love.

But in a twist of irony, despite how long Chara had longed for love... it was equal parts terrifying as it was alluring.

Well. Whatever. This was their life now. They dug out that headband and, despite lingering reservations, placed it on their head.

They rounded the corner, and soon emerged beneath a 'sky' of glittering crystals overlooking the now distant castle. A perfect reflection of their feelings, really. Though they could reach out, the castle remained out of their grasp. They could not simply insert themself seamlessly into the Dreemurrs' lives.

Would it be better, perhaps, if they had never fallen down here? Had they only been a burden?

Before Chara could dwell on such thoughts, the sound of shuffling from behind caught their ear.

"Asriel. You shouldn't have followed me."

"Eep!" They heard him shuffle back. "Dang it! I thought I was being stealthy, too."

"You? Stealthy? Perish the thought." They did not turn to face him, but even so, he moved closer.

"I see you're finally wearing that headband."

"Indeed. You are fortunate that I had already granted you my favor, otherwise your SOUL would have served as my midday snack."

"...Aw, geez. You're just not gonna drop that demon thing, are ya?"

"Bold of you to assume it is a farce." At that, they sent him a half-glance and a slightly weaker smile. "Honestly, though... Why did you follow me?"

"Because I know what it's like to feel alone." He looked up at the castle, bouncing in place. "It's not fun. So I just thought it'd be good to check in on you. That's all."

...Right. He'd alluded to that before. As the prince, he was certainly of a different caliber than other monster children. And Chara never saw Asriel play with any others his age. Was Chara... really his only friend?

Chara folded their arms and shut their eyes. "You really are hopeless, aren't you?"

"H-hey! And here I was, trying to cheer you up."

Oh, that pout. Chara snorted, then snickered. "A pity there aren't any puddles out here. The look on your face is quite a sight."

"Yeah, yeah." He puffed out his cheeks and rolled his eyes. Still, it wasn't long before his expression softened. "At least I got you to laugh. Maybe you aren't a lost cause!"

"Wow. Awfully pessimistic, coming from you."

"Says the one who's always being suuuuper serious." Asriel poked them. Chara bristled. "...Oh, sorry. Forgot you don't like being touched."

"It's... fine. After all, I am a merciful demon."

"Sure you are."

Silence followed, for several minutes. Perhaps longer. Lost in the glittering horizon, time itself became a blur.

But then, out of the blue, Asriel said, "Hey, Chara. Do you think someday we'll get to see real stars?"

"Well, there is some sunlight visible from the throne room. And what about the end of the Ruins?" Technically, there were options.

But Asriel shook his head. "No, like. A REAL view of the stars! Something like this."

"I... don't know, Asriel." Chara turned away, hands collapsed behind their back. "Those plaques said that we need seven SOULs to stand a chance at escaping. So, unless seven more humans miraculously fall down here and all break their necks upon impact, I don't see any immediate opportunities..."

Asriel shuddered. Perhaps the description was a bit too much. "C'mon! There's gotta be another way. The barrier was made by human magicians, right? So maybe some kinda human magic's the key."

"Ah... perhaps. But if it is, it's far beyond my skillset." They'd... read a little, but it all seemed so foreign. So daunting, really. It was easy enough to read monsters for their strengths and weaknesses. Perhaps generate tiny fireballs if they forced themself, but... beyond that?

They were certainly no wizard.

"But... they do think I'm an angel. The least I can do is keep studying."

"We could both study! Bet if we put our heads together, we can find a super secret spell to bring the whole thing down!"

How painfully naive. Still, Chara couldn't bring themself to dash Asriel's dreams. It was... pleasant, they imagined, to still have hope.

So for now, they nodded along and turned their sights back to the crystalline skyline.

"Just don't blame me if you get bored. You're the one who signed onto this."
Page 59 Transcription
It... wasn't supposed to end like this. That ghost didn't even seem so bad. A bit quiet. A bit shy. When Frisk flirted, they brushed it off with a simple, "i'd just weigh you down..." followed by... giant, shaking letters in the air spelling out their depression. It urged Frisk to at least TRY to cheer up the spectral stranger, even if it was just a simple smile...

There was just one problem. The tears.

So many tears leaked from the ghost's eyes, and while at first Frisk wove between them with nary a scratch, the squiggly projectiles that ricocheted around the room soon after boxed Frisk into a corner. A rush of pain seized their entire body.

They fell to the floor as the world blurred, then blackened...

Was that... really how they were gonna die? Less than an hour into this strange labyrinth? No accomplishments? No...closure?

Hahaha... Maybe Lilac was...

No. No, no! They couldn't just accept that! Maybe it was futile, feeble even, to cling to life. But they were so young, and they'd accomplished NOTHING in this life! Nothing of value, anyway...

And... what if this was it? What if there wasn't anything after? And if there was, wouldn't they just go to hell? HahAHaHAHaha... No. No! This was all just a bad dream...

Just a bad... dream...

And then, from the encroaching darkness, a voice called out, "You cannot give up just yet... Chara! Stay determined!"

Who was... Chara? Who was that VOICE? So many questions, and yet that firm, yet encouraging tone pushed Frisk even further to their delusion...

And then their eyes opened, and they found themself on the floor, by that strange, twinkling star, in the room with the cheese table.

Was that it, then? WAS it just a dream?

But the pain. The agony. The eclipse of their surroundings. Their body still ached with phantom pains. Beads of sweat trickled down their cheeks.

So Frisk just... lay there, for several minutes, trying and failing to catch their breath.

What did that even mean? If it happened, if it was real, then did Frisk turn back time? Did they develop latent mutant superpowers? And if so, what did it MEAN? What could they do?

Shakily, they climbed back on their feet. They poked their head through the doorway and saw... that ghost.

Frisk froze.

Not just a dream, then? But... they were alive. Should they have resented the ghost? Their hands curled into fists and they inhaled through their nose. It... was an accident, wasn't it? That ghost seemed too depressed for bloodlust. Resenting them would be like kicking a puppy when it's down.

No. They'd just have to do better this time. Dying was unacceptable.

One way or another, they had to survive.
Page 60 Transcription
It happened too fast. Asgore, down on his knees, showing remorse. Begging Frisk to just take his SOUL. Frisk had refused, of course. Everything seemed like it was going so WELL...

Until a ring of bullets surrounded Asgore, pelted him to dust, and shattered his SOUL within seconds.

And then that flower. That horrible, wretched WEED...

He grinned. He cackled. The SOULs surrounded him as he taunted Frisk with glee.

"You IDIOT. You haven't learned a thing. In this world..."

His face distorted, like a rotting corpse, eyes hollowed out and black.

The SOULs flew toward his body.

"It's KILL or BE killed."

His jaw detached. Mad cackling filled the air. Whiteness flooded Frisk's vision...

And then the whole world went dark.

Was that it, then? No. Couldn't be. Frisk gritted their teeth. Reached for their SAVE file...

"Long ago, two races ruled over earth. HUMANS and MONSTERS."

So far, so good...

"One day, they all disappeared without a trace."

The file appeared, but something was amiss.

FLOWEY LV 9999 9999:99

My World

Continue Restart

...How? How could HE have overtaken their file?

Frisk's skin crawled. A gnawing feeling overtook their chest.

They pressed on.

But the hallway was gone. So was the barrier. They emerged in pitch blackness, left with no choice but to move forward.

As they walked, a window popped up. A save file... albeit with a name not at all their own.

It shattered. File erased.

Flowey's swollen, bulbous face greeted them with that sickly-sweet smile.

"Howdy! It's me, FLOWEY. FLOWEY the FLOWER."

"You...!" Frisk's fists clenched so tight that their knuckles turned white. They fought the urge to dive at his face. To tear off his petals. To stomp him into the dirt.

But Flowey just chuckled. "I owe you a HUGE thanks. You really did a number on that old fool."

Frisk wanted to snap back. Flowey killed him! This was HIS fault...

And yet, Frisk had beaten him down first. Knocked him on his knees. Left him wide open.

"Without you, I never could have gotten past him..." Flowey's face twisted into a smiling facsimile of Asgore's. "But now, with YOUR help..."

Asgore's face rotted away, eyes sunken in and flesh askew. The stuff of nightmares. Nausea bubbled in the pit of Frisk's stomach. A nightmare. That's all this was. It wasn't real. It wasn't...

"He's DEAD. And I'VE got the human SOULs!"

That rotten, haunting Asgore face shifted back to Flowey's typical grin. A small sigh of relief escaped Frisk, despite the circumstances, as Flowey pressed on.

"Boy! I've been empty for so long..."

Empty how...?

"It feels great to have a soul inside me again." He winked. But... again? What? What did that even mean?

"Mmmm, I can feel them wriggling..."

Frisk backed away without thinking.

"Awww, you're feeling left out, aren't you?" No. Absolutely not. "Well, that's just perfect. After all, I only have six souls. I still need one more..."

A twisted, jagged smile crossed his face. "Before I become GOD. And then, with my newfound powers..."

His face shifted again, to Toriel's. "Monsters."

To add further insult to injury, it shifted to Frisk's, in a neutral expression. "Humans."

Three rotating, inhuman eyes overtook his face. "EVERYONE..."

And then the center of his face blackened, leaving his eyes and smile an eerie, solid white. "I'll show them all the REAL meaning of this world."

...Was he for real?

"Oh, and forget about returning to your old SAVE file. It's gone FOREVER. But don't worry. Your old friend FLOWEY... Has worked out a replacement for you!"

His mouth opened wide, baring teeth as sharp as swords. A dribbling tongue hung out. His eyes grew sunken in, black with tiny white pupils.

"I'll SAVE over your own death. So you can watch me tear you to bloody pieces... Over, and over, and over..."

Frisk's heart rate accelerated. Their eyes stung, and they squeezed them shut tight to hold back any tears. Their save, gone? Was this it, then? Were they just gonna be stuck in this black void, faced with a bloodthirsty demigod? Was there no hope to escape?

Instead of sobs, laughter crept out of them, first at a whisper, then a chuckle, then a howl. They wiped their eyes. A smile forced its way across their face.

"Nice try, edgelord. But I'm not about to throw in the towel."

They stepped forward, and Flowey's jaw dropped.

"...What?"

"You heard me." Frisk pointed at him, cocking their head to the side. "You wanna kill me? Join the club. Almost EVERYONE here's tried it at least once." Honestly, it was partially a bluff. Flowey was different. Six souls worth of power. He'd overtaken their file. This wasn't the same... But they couldn't let him know that. Couldn't let him see the fear that sank its teeth into their entire being.

So, perhaps stupidly, they cracked their knuckles and said, "But go ahead. Do your worst! I could use a laugh."

Flowey blinked, then snorted. "Do you really think you can stop ME?" He shut his eyes. "Hee hee hee... You really ARE an idiot."

His face faded into the darkness. The six human souls blinked into view, then dispersed...

Blood red overtook the blackness, strobing in and out of sight. A gargantuan, pulsating form with immense, thorny arms, snapping pincers, convulsing tubes, and leafy vines drifted down from above. A screen blinked on, revealing a crude, smiling face. Its eyes opened sideways, blood red, and a hideously grotesque smile unfurled.

Flowey cackled wildly.

That was the only warning before the darkness dissipated, and Frisk met an onslaught of attacks quicker than they could process his fleshy, second face and its four bloodshot eyes, the flaring nostrils, or the tangled mess of tubes and worm-like protrusions that suspended him off the ground.

Flamethrowers charred their flesh. Homing bullets pursued them in rapid succession. Smaller vines with red, human hands lunged at Frisk, threatening to tear them limb from limb. It happened too fast. They couldn't fight back. They could only run, biting their lip to hold back screams.

What were they thinking? Oh, why did they boast? What could they even DO here?

Missiles fired. X-shaped bullets exploded from his eyes.

Agony seized Frisk from head to toe. The world went black.

A familiar voice, Asgore's voice, called to them...

"This is all just a bad dream..."

But something changed. Flowey's voice, twisted and raspy took Asgore's place.

"And you're NEVER waking up.

HAHAHAHAHAHAHAHAHAHAHAHAHAHAHAHAH AHAHAHAHAHAHAHAHAHAHAHAHAHAHAHAHA HAHAHAHAHAHAHAHAHAHAHAHAHAHAHAHAH AHAHAHAHAHAHAHAHAHAHAHAHAHAHAHAHA HAHAHAHAHAHAHAHAHAHAHAHAHAHAHAHAH AHAHAHAHAHAHAHAHAHAHAHAHAHAHAHAHA HAHAHAHAHAHAHAHAHAHAHAHAHAHAHAHAH AHAHAHAHAHAHAHAHAHAHAHAHAHAHAHA..."

But the pain stopped. Frisk found themselves in the dark again.

Flowey's voice echoed in the abyss. "Hee hee hee. Did you really think I was gonna be satisfied... killing you only ONE time?"

And then, in the blink of an eye, his monstrous form greeted them with more mad cackling. More vicious, unwavering attacks.

Once more, Frisk could only flail and flee and hope for the best... Though they sliced at Flowey's vines, their dagger barely sank in. Flowey didn't even flinch.

But then, something changed. The faces vanished from the TV screen, replaced with a warning text. Sirens blared. One of his petals lit up with the cyan SOUL...

And Frisk descended into blackness, surrounded by giant, rotating knives. They swerved between the bullets, but... what did this mean? Was the human SOUL attacking them now?

...An idea dawned on them, however stupid it seemed. Despite the danger, despite the isolation, they... called for help.

The knives froze. They trembled, and in a flash, they transformed into glowing green bandages. Healing magic.

Frisk rushed for the bullets, embracing their soothing warmth, and returned to face Flowey anew.

The soul must have heard their cries. It... helped them, despite being within Flowey's warped, behemoth body. And if one of the souls could hear them...

"...You start to realize what you must do. This isn't hopeless after all."

No. It wasn't. They just had to... stay determined.

Stay determined despite the insects swarming them, the bullets sailing at their sides, and the laser gushing from Flowey's mangled jaws. Stay determined even as pain and death overtook them again, along with Flowey's ruthless cackling.

He kept bringing them back, gloating all the while. The souls, one by one, heard Frisk's cries... And with each subsequent cry for help, their attacks cleaved a bit deeper into Flowey's vines. Hit a little harder. The tide of battle shifted bit by bit...

Soon, the six souls surrounded Frisk, bestowing upon them burst after burst of healing magic to cleanse their wounds. Scrapes, burns, bruises all vanished. Frisk straightened their posture and turned to face Flowey unflinching.

"Flowey's defense dropped to 0." There was just a hint of smugness in Captain Cryptic's voice.

Frisk couldn't blame them.

And with newfound conviction, they rushed into the fray, ducking, rolling, hacking and slashing, as Flowey's cries of anguish grew louder with each strike. This was it! Just like cutting through grass. Nothing to fear. Everything was JUST fine!

And then, finally, Flowey's hideous, overgrown, swollen form started shuddering.

"No... NO!!! This CAN'T be happening! You... YOU..."

The shuddering stopped. A smug smirk spread across the screen.

"You IDIOT."

He blasted Frisk.

Reloaded.

Vines impaled Frisk.

He reloaded.

He repeated this several times, before surrounding them with a ring of inescapable bullets.

...Did Frisk get their hopes up too soon? But the souls helped them before. Did he overpower them, then? What was happening? Frisk didn't know whether to laugh or to cry. They could only wince from the residual pain and brace themselves for the next round.

"Hee hee hee... Did you REALLY think... You could defeat ME?!"

The face on his screen quivered. "I am the GOD of this world. And YOU? You're HOPELESS." Static flickered. A face with hollowed out eyes appeared. "Hopeless and alone..." More static. Flowey's face returned. "Golly, that's right! Your WORTHLESS friends..." Toriel's face appeared, then decayed, just as Asgore's had before. "Can't save you now. Call for help. I dare you. Cry into the darkness!" The decayed Toriel face returned, and he spoke with a sickeningly sweet voice. "Mommy! Daddy! Somebody help! See what good it does you!"

Frisk shut their eyes, taking a deep breath. "...Please. I know you're in there."

Silence followed.

Flowey sneered. "But nobody came. Boy! What a shame..."

No. That couldn't be it. It wasn't over. It wasn't over. It wasn't...

"Nobody else... Is gonna see you DIE!!!"

The bullets fired, closing in on Frisk from all directions. They flinched, bracing themselves for the end...

Instead of pain, more warmth. More burns cleansed. More cuts closed.

Flowey stared, mouth ajar. "What...? How'd you...? Well, I'll just-"

LOAD FAILED.

"Wh... Where are my powers?!"

All six SOULs emerged from Flowey's petals, circling him. "The souls...? What are they doing?"

Frisk tipped their chin up and crossed their arms. "Aw, what's the matter, Flowey? You TOLD me to call for help."

And just like that, all the souls assaulted him at once, rattling his twisted form as he cried out in agony.

"YOU CAN'T DO THAT!!! YOU'RE SUPPOSED TO OBEY ME!!! STOP! STOP IT!!!!"

The air flooded with white light.

"STOOOOOOOOOOP!"

Frisk shielded their eyes and dug their heels into the ground.

When the light faded, they found Flowey, wilted and petals in tatters.

How... pathetic.

Frisk stared for several moments. If Flowey was even conscious, he made no moves. Stayed equally silent.

Frisk turned their dagger over in their grasp. It'd be so easy to finish the job. Flowey deserved it, too. He'd tortured Frisk through repeated killings. Murdered Asgore in cold blood. Used the souls of the departed as his weapons...

But then what? Isn't that what he wanted? Proof of his stupid, shitty worldview. Kill or be killed. He'd warned Frisk before. Mocked their mercy after they'd gone back to rescue Toriel from her cruel fate...

Frisk tucked the dagger away.

Flowey slowly turned his head.

"...What are you doing? Do you really think I've learned anything from this?" He wheezed out another laugh. "No."

Frisk just stood there, waiting and watching. Flowey turned ever closer.

"Sparing me won't change anything. Killing me is the only way to end this."

And still, Frisk held their ground. Flowey's scarred face faced them dead on, now, stem bent at an angle.

"If you let me live..." He straightened his stem. "I'll come back. I'll kill you. I'll kill everyone." A few more seconds passed. His mouth cracked wide open. "I'll kill EVERYONE you love."

But that smile soon faded, bit by bit. He stared, eyes darting as if searching for an answer.

Then he scowled. "Why...? Why are you being..." The scowl softened. His voice dropped to a pitiful squeak. "So... nice to me?"

His eyes squeezed shut. His teeth clenched. "I can't understand..." He shuddered. "I can't understand!" And still, Frisk did nothing. "I just can't understand..."

And then he ducked away, leaving Frisk all alone.

After everything they had just endured... it was finally over.
Page 61 Transcription
Something did not add up.

Why had Flowey spoken... as if he was empty? As if he had no soul? It was peculiar, to be sure. His wording was... oddly specific.

"It feels great to have a soul inside me again."

Again. Implying that, at one point, he had one, but now he did not. So, what did that mean? Was he not a monster?

Perhaps it was a stupid question. Chara knew the golden flowers all too well, after all. Plants spawned from the surface. In all their time living among monsterkind, they had never seen a monster quite like Flowey.

"Can't save you now. Call for help. I dare you. Cry into the darkness!"

Something about the way he mocked their partner...

"Mommy! Daddy! Somebody help! See what good it does you!"

Sounded incredibly personal...

It wasn't even the first time.

The echo flowers, on the way to Undyne. On a whim, their partner had turned around, approached the flowers, and...

Toriel's voice had spoken, "Where oh where could that child be...? I've been looking all over for them..."

And then Flowey's infernal laughter overtook her voice. "Hee hee hee... THAT'S not true. She'll find another kid, and instantly forget about you. You'll NEVER see her again."

It felt like... projection. Bitterness. But why? Why did this flower care so much? Why take such personal pleasure in mocking Toriel?

Who WAS Flowey?

It bothered Chara long after their partner had reloaded, had gone back to befriend Undyne (despite their reservations), and ventured to the depths of Alphys' lab.

Now, in the elevator, their phone rang...

A strange voice spoke.

Strange and yet... familiar...

Chara spoke staggeringly slowly, "It's a voice you have never heard before..."

"Chara... Are you there?"

Chara. Specifically Chara. But... why?

"It's been a long time, hasn't it? But you've done well. Thanks to you, everything has fallen into place."

Their partner couldn't even muster the words to reply. The phone trembled in their grasp.

"Chara... See you soon."

The elevator violently shuddered as it made its way back up.

Chara's thoughts raced just as fast. This voice knew Chara's name. Flowey could change his voice. Something about the tone... everything... it felt unsettlingly nostalgic.

Was Flowey...?
Page 62 Transcription
Chara knew it was too good to be true, though they'd held their tongue throughout the reunion. At first, everything seemed right as rain. Toriel intercepting Asgore's fight. All of the friends the human had made along the way gathering together in support of their right to live. But still...

"Thanks to you, everything has fallen into place."

Chara wasn't stupid. Too many things lined up too coincidentally.

"I KNOW WHAT YOU DID."

Papyrus calling the human, urging them to go to Alphys... with a howdy. Specifically a howdy.

"have you ever heard of a talking flower? "

There was precedent. Papyrus and Flowey shared a connection. He'd even mentioned a 'Flowery' over the phone. Undyne didn't believe him, of course, but Chara knew better. They'd seen the flower, after all, through their partner's eyes...

And Flowey had... told them to go back and befriend Undyne. To be friends with 'everyone.' Though he seemed remorseful, who was to say that wasn't just a ruse? Chara wanted to speak up, to warn their partner so they could warn the others, too. When could life ever truly be this happy? This... ideal?

"Uh, anyway... If I got here before you... How did you know to call everybody?"

Ah, and there it was...

"LET'S JUST SAY... A TINY FLOWER HELPED ME. "

Of course. Of COURSE...

"A tiny flower...?"

Vines tore through the room, monstrous and thorny and all too familiar. They ensnared every last monster before the human's eyes, and all they could do was scream as the reality set in.

"NO!"

Flowey sprouted up, in his small, 'friendly' form. A stark contrast to the jungle of thorns around them.

"You IDIOTS. While you guys were having your little pow wow... I took the human souls! And now, not only are THOSE under my power... But all of your FRIENDS' souls are gonna be mine, too!"

...Flowey wasn't a monster. Alphys' reports did state that an immense power could theoretically absorb the souls of living monsters. The waterfall plaques speculated that the souls of every living monster...

Were equivalent to...

Oh.

Oh no.

"Hee hee hee. And you know what the best part is? It's all your fault. It's all because you MADE THEM love you. All that time you spent listening to them... Encouraging them... Caring about them... Without that, they wouldn't have come here. And now, with all their souls and the humans' together... I'll achieve my REAL form!"

Real... form?

No. It couldn't be. It wasn't. HE wasn't...

The human's fingers twitched, then rolled into shaking fists. Their teeth gnashed, and they muttered a low, "...Why...?"

"Huh? WHY am I still doing this? Don't you get it? This is all just a GAME. If you leave the underground satisfied, you'll 'win' the game. If you 'win,' you won't want to 'play' with me anymore. And what would I do then?" How... childish... "But this game between us will NEVER end. I'll hold victory in front of you, just within your reach... And tear it away just before you grasp it. Over, and over, and over..."

"...So you learned nothing. You were just playing me this whole time."

"Hee hee hee... Listen. If you DO defeat me, I'll give you your 'happy ending.' I'll bring your friends back. I'll destroy the barrier. Everyone will finally be satisfied..."

His face twisted into that grotesque, toothy smile. "But that WON'T happen. You...! I'll keep you here no matter what!"

A ring of bullets encircled the human.

"Even if it means killing you 1,000,000 times!"

A bombardment of bullets followed. Wave after wave of pain that squeezed the breath from the human's lungs and knocked them to their knees. Pain Chara shared.

The monsters intercepted. Flames, bones, lightning, and spears battled against the pellets. They offered words of encouragement, and soon countless other monsters flooded the room, sharing in the sentiment.

Flowey gasped and gawked. "Unbelievable! This can't be happening...! You... YOU...!"

But that smile, that twisted grin returned, and he cackled as he said, "I can't believe you're all so STUPID. ALL OF YOUR SOULS ARE MINE!!!"

The room flooded with light. The human shielded their eyes, as they had before...

And when the light dimmed, the vines had vanished. All their friends had disappeared, leaving a single, solitary form...

White fur. Floppy ears. A striped shirt. A knife pierced through Chara's heart at the sight...

His fingers twitched. He chuckled under his breath.

"Finally. I was so tired of being a flower."

No no no no no no no no NO.

He... turned around. Smiled that sickeningly sweet smile, with his eyes bright. Innocent.

No. This was WRONG. This had to be a joke. A cruel prank.

"Howdy!"

A lie. A hallucination...

"Chara, are you there? It's me, your best friend."

Another flash, and the child-like form vanished, replaced with a tall, slender boss monster with curved horns, pauldrons and a high collar adorning his blackened robes, and deep, black eyes with glowing white pupils.

"ASRIEL DREEMURR."

Asriel...

He was the flower all along. That wretched weed, eager to kill, reveling in the human's torment every step of the way. Bitter and resentful, spiteful and sociopathic. THIS is what became of that crybaby? The sweet child Chara tore from his family by forcing him into a plan he lacked the fortitude to commit to?

Hahaha... Hahahaha....

It was funny. When Chara died with Asriel, they were so quick to blame him. He was a coward. He was weak. This was his fault. He broke his promises. He was an idiot...

And yet, it seemed he had internalized all of that. No more tears. No more mercy. Kill or be killed. All of this...

It was... Chara's fault.

They created Flowey. They made their own monster.

They killed Asriel.

And now all that was left was a twisted mockery of their adoptive sibling.
Page 63 Transcription
Something went wrong. That much was obvious. Why else would Asriel turn back into Flowey? Why else would Flowey lose EVERYTHING? His god-like powers, his sweet victory, everything torn from his grasp just as he'd seized it...

Bullets battered the grassy ground all around him. This was Chara's doing, wasn't it? Some last-ditch trick? Because they just couldn't accept that HE won for a change! Because they just HAD to get the last laugh...

But... where were they? It was quiet. Too quiet. Maybe, if Flowey tried reaching his save point...

He shut his eyes, drawing a breath, but...

ERROR. FILE IS CORRUPT.

...Damn it. DAMN it! How did that even HAPPEN? Did Chara screw around with his file, too?

Though Flowey gnashed his teeth... well, no turning back. Like it or not, here he was.

The question was, what did that mean? He woke in the Ruins, not the throne room. That was different. So, did anything else change? Tired of sitting still, Flowey burrowed under the ground, tunneling forward and into the next room.

But when he poked his head up, his eyes bulged and his jaw dropped.

Up ahead, two daffodils flanked the save point. Huge beds of golden flowers lined the path leading up to it. To Flowey's sides? Bright pink tulips clustered in the corners. What the HECK was that about?

Toriel was no gardener. So... what'd this mean? Something had definitely changed. No doubt about it.

So he dug back down, burrowing into the next room.

Nothing of note there. Just the same old switches and the same old door, so he dug again, sprouting up in the switch hallway.

Immediately, the sight of more golden flower beds assaulted his eyes. Worse, he found a Froggit, a Whimsun, and a Loox chatting with... Napstablook? Smiling? And handing out CDs?

Gulping, Flowey ducked into the ground before they could see him. He scurried into the nearest flower bed and then poked his face up to watch.

"yeah... mtt really liked performing for you guys. he wants to do it again sometime, but you know how it is with celebrities....."

"Ribbit, ribbit!" The Froggit croaked something about how Napstablook was just as famous as he was. What.

The Whimsun chimed in, "Y-yeah. You're his sound ghoul! I'm surprised you can still make time to visit us."

Napstablook floated back, ducking their head. "oh... well. i'm more of a backstage kind of ghost. too much spotlight gets really overwhelming... and besides, i don't wanna lose touch with everyone here......"

So. That was new. A more confident Napstablook, handing out CDs on behalf of a Mettaton who, for some reason, performed in the Ruins. And kept in touch with his cousin? There musta been a reason for that...

Just like there musta been a reason for all the flowers.

On one hand, Flowey could have stayed here and listened more. On the other hand, there was still so much more to see. For one, where was Toriel? Was she even here at all? Enough had already changed that he couldn't rule out someone else guarding the Ruins.

The flowers already gave him a few inklings...

So he burrowed down again, pressing on.

Each room presented its own share of changes. The long corridor with the spiked bridge? More flowers. The bridge itself? Rid of all spikes and segmented with a gap. A few bridge seeds and a bell blossom against the wall made the path crystal clear.

The sign, though...

"If you get stuck, just ring the bell blossom. - Asgore"

...So it WAS Asgore.

Maybe reading one of the earlier signs would've confirmed it, too, but with Napstablook in the room, he didn't wanna risk it. And now he had the confirmation he needed.

Asgore was here, in the Ruins. And he'd turned it into his own little garden. Because of course he did.

Heck, a bunch of echo flowers lined the bridge up ahead, adding to the room's Waterfall-based contents. So what was up with that? Did Napstablook bring him the seeds? Did Asgore even live here full time, or did he just visit from time to time? What was his DEAL?

Flowey dug down again, sprouting up on the bridge and listening to the echo flowers...

"GREETINGS, BEAUTIES! THOUGH OUR TIME TOGETHER WAS SHORT, KNOW THAT I'LL ALWAYS REMEMBER YOU!"

Ugh. Yep. That sure was Mettaton...

"BUT IT'S A SHAME ISN'T IT, BLOOKY? SURE, THE GARDENS ARE GORGEOUS, BUT THIS PLACE LACKS A CERTAIN SPARK..."

And, yep. He sure did keep touch with his cousin. Something musta changed here, but what? He was so eager to abandon his old life in the previous world...

Heh. Previous world... A smile started to sneak across Flowey's face. This world was DIFFERENT. Even these few short minutes made that abundantly clear. So... maybe it wasn't a total loss.

"but it's quiet, and the monsters seem happy..."

"BUT WHERE'S THE EXCITEMENT? WHERE'S THE PIZAZZ?! THEY'RE DYING FOR ENTERTAINMENT, AND THEY DON'T EVEN KNOW IT YET!"

Well. Clearly Mettaton hadn't changed THAT much...

"Maybe..."

"AND WORSE! THEY'RE COMPLETELY DEPRIVED OF MODERN CONVENIENCES!"

"so, what are you gonna do?"

"STEP 1! INTRODUCE MY BAND AND REVOLUTIONIZE THE RUINS! STEP 2! FIND SHYREN AND PUT ON A SHOW THEY'LL NEVER FORGET! STEP 3! WATCH AS OUR RATINGS SOAR!"

...Shyren, too. Huh. So this was a Mettaton who kept both of them in his life. VERY interesting...

Asgore in the Ruins, on top of all that... But where? Flowey had to see him to know for sure.

So he burrowed onward...

Straight into the longest hall in the entire Ruins, only to find the entire path decorated with an even wider assortment of flowers than before. Roses joined the tulips, daffodils, and smaller red blooms. Stranger, yet, the sound of... music filled the air. Mettaton's theme tune? But with a brassier vibe. This he had to see...

Digging ahead, Flowey stopped every now and then as the ground rocked with the presence of footsteps. Heavy ones, too. Was he getting close?

Following the vibrations, Flowey sprouted up flat against the wall, between all the other flowers. Up above, a flashy poster caught his eye.

He'd never miss that rectangular robot, but... pointy shades? Huge, spiked pauldrons? A red cape and an arm cannon? THIS was new...

Just a few feet away from the wall, two beanbag chairs offered comfy cushioning for resident monsters. Another Loox had already flopped into one of them. And further down the path, at a small, wood table...

Huge horns. Floppy, white ears. A bushy, golden beard.

Asgore.

But gone was his crown, his pauldrons, and his cape. Instead, he wore a big, purple robe with a hood over his head, and he set down a plate of teacups and a matching kettle.

"There we are! A fresh batch of lavender tea. I hope you all will enjoy it!"

A vegetoid licked its lips. "Always A Pleasure."

Two moldsmals wriggled... excitedly? Maybe. It was always tough to tell with those guys, even after all of Flowey's previous loads.

Another whimsun tapped its fingers together. "A-and is the meeting still on? I, um. Well. I've got a lot to get off my chest, so..."

Asgore gave a huge, hearty chuckle. "Of course! In fact, a dear friend of mine has even offered to share some of his favorite puzzles to spice up the occasion."

Puzzles... That had to be Papyrus, right? No one was half as puzzle-obsessed as that guy...

The whimsun squeaked. "Are they... safe puzzles this time?"

"Yes, yes! No spikes. No spontaneous fireballs. And, for the record, he'd like to apologize for the trouble last week. I think he just got a bit too excited to share his... unique puzzle concepts with you all."

Yep. That settled it. Spikes and flames were a dead giveaway...

But what'd this all mean? A more open Ruins, decorated with flowers. Asgore in charge. A kinder Mettaton who kept his loved ones close. Just how much HAD changed? And why did it change?

And where was the kid? Where was Chara?

It was tempting to explore further... And maybe he'd scope out a few more rooms before he headed back, but sooner or later, they had to show up. Chara wouldn't just abandon him!

...Right?
Page 64 Transcription
Deep breaths...

There was no sense in hiding it. Undyne refused to let him live out an escapist fantasy. And... she was right. It wasn't fair to abandon his old life. His friends and family. However much he cherished his dreams, would they truly be fulfilling without Shyren and Blooky by his side?

Honestly, he wasn't even sure why he was so jittery as he led them past Gerson's shop and down to the riverboat. Every now and then he'd stop, look over his shoulder, and watch to see how the two responded.

Shyren gave a simple, soft toot, while Blooky frowned.

"hey... is everything okay......?"

"Ah, yes! Better than okay, in fact! Just you wait..."

They rode the boat in relative quiet, though the Riverperson gave a perplexing, "Tra la la... A perfect box to fit your dreams. Just be careful with old home videos."

An... odd statement, that prompted Metta... Well. 'Mettaton' was the stage name he had settled on, even if he hadn't officially assumed it yet. Point being, Mettaton merely folded his stubby little ghost arms in confusion.

He'd long since come to accept that the Riverperson never gave straight answers, after all.

But soon the boat stopped! The formerly moist air gave way to dry, sizzling heat. Shyren shrank back, eying the water below, but Mettaton offered a gentle smile.

"Don't worry, Shyren darling. Undyne has plenty of water to go around!"

"but why are we all the way out here, anyway...?"

A fair question. Mettaton stopped halfway up the stairs, tittering. "Blooky, Blooky, Blooky. Why spoil the surprise?"

There. Nailed it.

Both Blooky and Shyren shared a look, but raised no further protest. Good! He was fighting enough jitters as it was.

Soon, they reached the door to Undyne's lab. Clearing his throat, Mettaton knocked on the door... except his spectral hand phased through it. Curse his nerves! He hadn't even gone inside yet, and already he'd de-solidified.

Still, it... seemed to do the trick, as the door slid open.

Heaving a small sigh, Mettaton waved for the others to follow, drifting past Undyne's many computer monitors, some blueprints on the wall, and unsettlingly sharp buzzsaw machine. Both Blooky and Shyren winced, but Mettaton flashed a winning smile to soothe their nerves.

"Don't fret, you two! You know Undyne would never hurt you." They did, after all, once live in the same hometown. And didn't Undyne give Shyren piano lessons? Odd that she wasn't down here, come to think of it, but...

Ah, a note on one of the work tables caught his eye.

'Hey, punk! Figured you'd want to handle this yourself, but if you need me, I'll be upstairs.

Undyne '

A bit further down, a large, rectangular shape draped in cloth caught his eye. So... this was it, then? He'd unveil the surprise, wow the two monsters closest to him, and then... his life would change forever, wouldn't it?

Movement in the corner of his eye yanked him back to reality just in time to find Blooky hovering a few feet away.

"what's really going on here? you've been acting really weird since yesterday..."

"Ah. Well, you see..." How to phrase this. He needed to be mindful. So many of their relatives had left to claim vessels, after all. Really, it was just the two of them, now, and their cousin.

Well, best to be honest. "Undyne... has offered me a once in a lifetime opportunity, you see." He hovered over to the cloth-covered surprise. "The chance to be my truest self one day... and it all starts with this."

He grabbed the cloth, and though his little hands sank into it for a moment, he soon yanked them out and grabbed the cloth with an iron grip. One swift tug and, voila! The flashy, rectangular body stood for all to see, complete with shining shades, powerful pauldrons, a fabulous cape to give his movements dramatic flourish...

Perhaps not as humanoid as he'd like just yet, but it was a start.

And yet, Blooky slumped over, giving a hushed, "oh....."

Ah. Best to alleviate any concerns. Mettaton waved his arms and said, "Now, now, Blooky! I'm not going to abandon you or Shyren. In fact, I was wondering if, perhaps... you'd like to be a star?"

"i don't understand..."

"Think about it, Blooky! Me, with my spectacular new body, to draw in the crowds. You with your spooktacular mixing skills. Shyren's heavenly voice and soothing piano skills. We'd make an unstoppable team! It'd be... everything we've ever dreamed of and more."

"...would i have to get a robot body, too...?"

Mettaton crossed his arms and shook his head. "No. I know you've never needed a vessel to feel whole. But... for me, this is a chance to gradually work my way towards a body I feel truly at home in. This sexy rectangle is just the beginning of my transformation!"

Before Blooky could speak, Shyren floated over, looking the robot body up and down. She glanced back to Mettaton, then tapped her chin with her little fin.

Finally, she turned around with a nod and a cheery hum.

"...yeah. i think so too," said Blooky. "i can tell you've been unhappy for a while. who am i to get in the way of that...? and... i guess performing together would be pretty cool...."

"Ah. Then... in that case..." Mettaton drifted behind the body. Now came the moment of truth. It was just one small... not quite step. He needed legs for that, and those were still a ways off, but. Metaphorically! Yes. That.

Shyren clapped her fins together, as if to say, "Do it!"

So... he did just that. He shut his eyes, took a breath, and... sank into the rectangular shell.

Something surged within him. An electric sort of... something-or-other. The next thing he knew...

He teetered toward the floor, like a freshly chopped tree.

But he threw his arms out, catching himself mid-fall, and then shifted into a reclining pose, as if it was no big deal.

Both Shyren and Blooky gawked. Were they not convinced...?

Must not have been, as Blooky came closer and said, "...are you okay?"

"NEVER..." He paused. Whoa, that voice was big and booming, wasn't it? "NEVER BETTER!" He even flashed a thumbs up. Cool. This wasn't so bad. He just had to... shift his position. Tilt back upright. "HAHA... JUST NEED A FEW DRESS REHEARSALS! EVEN SUPERSTARS DON'T MASTER THEIR ROLES OVERNIGHT, DARLING!"

But... it was funny, really. Somehow, being in this body, however temporary it was, already made it so much easier to chew the scenery. To act big. To radiate true charisma! A little clumsiness was to be expected, really!

And besides, after a lifetime of feeling... incomplete, a few stumbles were worth it.
Page 65 Transcription
Undyne could travel through time. Such a strange, mysterious power... Yet it opened so many doors.

"Yeah, so. I guess it's like... I focus REALLY hard on going backwards, and poof! There I am. Back at one of these stars."

She'd gestured at the air. Papyrus never could see them, but the growing, tingly type sensation and hazy deja-vu were proof enough. He'd tell her something, then she'd go back, then repeat what he was going to say before he could even say it!

But as fascinating as it all was, Papyrus couldn't help but wonder one day, as they met in the abandoned lab behind his home.

"DO YOU THINK I SHOULD TELL SANS ABOUT THIS? " he once asked. "HE USED TO BE SUPER INTO WEIRD, TIME STUFF! "

"Don't!" Undyne said without missing a beat. "Look. Your brother's got a LOT of baggage. For all we know, this could bring back some crappy memories. And besides... I wanna keep this our secret. For now."

"STILL, I WONDER... DO YOU THINK IT'S WORTH FINDING A WAY TO MAP AND MONITOR YOUR ABILITIES? IF WE COULD CREATE SOME SORT OF... TIME-PROOF LABORATORY, IT'D MAKE OUR EXPERIMENTS MUCH EASIER! AND BESIDES, FOR ALL WE KNOW, THERE'S SOMEONE ELSE OUT THERE WITH A SIMILAR ABILITY. "

"Huh..." Undyne fell back against the wall, arms crossed. "But how do you just... block time powers? As far as I can tell, EVERYTHING goes back when I use 'em."

Hmm... It was a tough question, for sure, but perhaps...

Papyrus tapped his foot for a few seconds, then paced back and forth. "WE COULD TRY CROSS-REFERENCING YOUR ABILITIES WITH... HMM... " He gazed across the room, to the machine long abandoned and draped in cloth. "I WONDER. "

"What, Sans' old machine?"

"SANS' AND... HIS. YES. YOU SAID IT YOURSELF, UNDYNE. THOSE GREY MONSTERS SAID SOME... PECULIAR THINGS, DIDN'T THEY? WE DON'T KNOW IF THERE'S A DIRECT CORRELATION, BUT THIS MACHINE ALWAYS HAS GIVEN OFF A STRANGE SORT OF ENERGY... "

"So you think we could contain some of that energy..."

"HYPOTHETICALLY! PERHAPS WE CAN CROSS-REFERENCE IT. COMPARE IT TO DETERMINATION. AND... " What else, what else... There had to be another way to be sure... "OH! I KNOW. WE COULD CREATE A SMALL DEVICE THAT TRACKS FOR ANY WEIRD ENERGY SURGES. YOU COULD CARRY IT WITH YOU, THEN LOAD. IF THERE'S A NOTICEABLE REACTION EVEN AFTER YOU RESET, THEN THAT COULD BE A KEY TO UNDERSTANDING THE TEMPORAL FREQUENCIES!!! "

Flashing a toothy grin, Undyne rubbed her hands together. "Hell yeah! And maybe I can rig it to pick up on the SAVE points, too. Might take some work, but if we run a few tests, we could totally pinpoint what this power FEELS like."

"CORRECT!!! AND THEN, NATURALLY, I COULD USE THIS KNOWLEDGE TO THEN BLOCK OR REFLECT THOSE ENERGY WAVES, THEREBY RENDERING THIS SPACE IMMUNE TO YOUR POWERS. A CONTROL CENTER, IF YOU WILL! "

"And you're sure your brother won't mind?"

Papyrus shook his head, sighing. "HE SAID THIS SPACE IS MINE. I CAN DO WITH IT WHAT I WILL. USE HIS OLD NOTES IF NECESSARY. I DOUBT HE'D MIND, REALLY. "

"Well, if you're sure..." She pushed away from the wall, wandering toward the machine. "But maybe we should take this with us. It'll be easier to make comparisons if we have the DT extractor on hand."

"TRUE. ...AND FOR THE RECORD, I'LL STILL GLADLY TAKE SOME DT AS WELL IF IT HELPS- "

"No way!" Ack. So swift to shoot him down. "Look, Papyrus. I don't wanna risk anything. I mean, I can handle the stuff, but our physiologies are totally different. It's... better if we wait to see how the other specimens handle it before spreading it around."

"BUT WHAT ABOUT METTATON? "

"I put the DT in his body. It's more of a booster to his power. Totally different."

Ah, well, Papyrus couldn't argue that... as cool as it'd be to be on the same wavelength as her. "WELL, I SUPPOSE WE SHOULD GET STARTED? "

"Heck yeah, we should!" And without missing a beat, she grabbed the machine and tore it off the ground.

Hopefully she'd at least handle it gently...
Page 66 Transcription
It just wasn't fair. Ever since Jerry was small, it stood in the shadows of one monster. One monster so big, so cool, so hip, everyone knew it. Everyone respected it. Everyone... loved it.

With its stupid pompadour that looked like one of those rolled up cakes. With its shades that said "tryhard." With its... T. The T in its name obviously stood for tryhard, too!

That's right... Terry. Terry was the epitome of everything Jerry was NOT.

It'd happen at least twice a week. Jerry would strut its stuff in the Snowdin Forest, looking for a posse all its own. Someone to totally curbstomp in With Me, the latest hit mobile game that was TOTALLY not an overhyped meme. Naturally, Jerry was NEVER gonna be the doppelganger. And even if it was, it'd totally fool everyone. That's how cool it was.

And, hey! A crowd of clueless Ice Caps gathered by a tree.

Licking the last of the cheese puffs off its fingertips, Jerry cleared its throat and strutted over, ready to steal the show...

Until that TERRY leaped down from the treetop, carrying a... cat in a bird's nest? What?

"That's right, little cateroo. I DON'T have to go to the bathroom. And neither do you! Stay cool. And remember to wash your hands."

It sat the cat down, and the cat... gave it a fist bump? Took an extra pair of shades?! What was this?! Way to cramp Jerry's style!

In fact, Jerry made itself known with a dramatic clearing of the throat.

"Hey, so. I was looking for a group to play With Me. So..."

The three Ice Caps didn't even bat an eye. They were too busy looking at Terry's stupid fake hair. Ugh.

So Jerry raised its voice. "HEY! I SAID I'm gonna be playing With Me... so who wants to, like. Play with me?" It expected laughter. Applause for its grade-A pun.

But Terry scoffed and said, "Broseph, I dunno if you noticed, but nobody's playing With Me these days. It's all about Saturday Swingin' now."

Saturday... swingin'? What?

"Come on. Don't tell me you're behind on the times..."

"HEY! It's not my fault the wifi here SUCKS."

"Well, of course you'd say that after you dropped it in the lake. Like, maybe take better care of your tech next time."

Before Jerry could even respond, the three Ice Caps turned away.

"C'mon, guys! Let's go find a cool cave to take a selfie in. It'll TOTALLY capture our hats and Terry's cool hair!"

And so once again, Jerry was left out in the cold.

But one day that would all change. One day, Jerry would get its sweet revenge...

It just needed a new pair of scissors. THEN Terry's hair would be history.
Page 67 Transcription
Science was a funny thing. You could use it to improve lives, expand technology, revolutionize the world... or design over the top weapons for the heck of it.

It was strange to think that the same egghead who created the Underground's central power generator would jump from altruistic devices to something so... unnecessary, at least in Sans' eyes.

"BUT YOU SEE. MAGIC MELDED WITH MACHINERY IS ONE OF OUR GREATEST ACHIEVEMENTS," said the doc with one bony finger raised. "OUR INHERENT GIFTS ARE DESIGNED. FOR BLUNT FORCE. EVEN IF WE THROW. THE BONES. THEY ARE LIMITED."

And so he gestured dramatically, even doin' jazz hands to... a floating, animal-like skull. "AND SO. I PRESENT... THE GASTER BLASTER. A SECRET AND STYLISH WEAPON."

"and you brought this garbage because...? "

"SANS. I AM NOT GOING TO USE A TRAINING DUMMY. DUMMIES. HAVE FEELINGS TOO. DISCARDED HUMAN TOILETS AND MOLDY MATTRESSES. DO NOT."

Sans shrugged. "i dunno. what if a ghost really wanted to embody the spirit of sleep? "

"THAT GHOST WOULD NOT USE. A MOLDY BED, THEN. PROBABLY. I HAVE NOT STUDIED GHOST CUSTOMS IN-DEPTH." Dr. Gaster turned away for a moment, tapping his chin. "NOTE TO SELF. ASK GHOSTS FOR OPINIONS ON FURNITURE AT A LATER DATE."

Heh. Always funny how easy it was to get him to go off on weird tangents. Still... best not to let him fall too far down the rabbit hole. Sans circled the weapon, hands in his pockets. "so how's it work? "

"OH! RIGHT. YES. THE BLASTER. THE BLASTER I INVENTED. THE BLASTER THAT SHOOTS THE LASERS THAT ARE METAPHORICALLY COOL AND LITERALLY QUITE HOT." Gaster spun on a heel, patting the blaster like some sorta pet. "YOU... FOCUS YOUR MAGICAL ENERGY INTO IT. AND THEN YOU..." He thrust a pointer finger toward that moldy bed.

Right on cue, the blaster's eyes flared up. Its jaws clattered, and it reared back before unleashing a huge, white blast at the bed... and reducing it to ash.

Wow.

"THEY WILL BE. LINKED TO OUR UNIQUE MAGICAL MAKEUP. YOU, TOO, WILL EXPERIENCE THE THRILLS OF. INCINERATING TRASH. OR POTENTIAL ENEMIES. AND POTENTIAL, TRASH-WIELDING ENEMIES."

"heh. but why me? isn't this stuff better left for the royal guard? "

"THEY ARE TRAINED TO FIGHT. WE ARE TRAINED TO USE OUR HEADS. THAT MAKES US. LESS EQUIPPED FOR COMBAT. ERGO. EXTRA FLASHY, POWERFUL WEAPONS."

He brushed his hands together. "AND. OUR RESEARCH IS PRECIOUS. WE DO NOT. NEED ANYONE SNOOPING AROUND. INTIMIDATION IS A GREAT DETERRENT."

"...huh. guess so. " Still seemed a little excessive, but eh. Sans shook his head. No point in arguing. "and what about papyrus? "

"OH YES. I SHOULD MAKE A JR.-SIZED BLASTER FOR THE OCCASION. SMALL. LETHAL. PERFECT..."

"...you're really gonna give a superweapon to a kid? "

"OF COURSE. KIDS LOVE EXPLOSIONS. FUN FOR THE WHOLE FAMILY."

Sans winced. Good grief was he outta touch. ...then again, it wasn't like either of 'em spent a lotta time at home these days. Still, "...uhhhh. maybe give it a few years. this is just the prototype, right? don't wanna give him somethin' unstable and all. "

"...TRUE. THAT IS. WISE. WE MUST FINE TUNE THE BLASTERS FIRST. AND THEN... EXPLOSIONS FOR ALL."

"yeah, sure. whatever you say, old man... "

Sheesh. Times like these made Sans wonder how he, a teenager, possessed more maturity than an almost century old bonehead.

But, eh. At the end of the day, the doc was right about one thing. Those blasters could come in handy...
Page 68 Transcription
It was everything she dreamed of and more.

A sleek, curvaceous, butt-kicking body! Cute, but fierce. Beautiful, but bold! When that capsule launched from the ceiling, and when smoke gushed through the cracks, they had no idea what to expect, but now...

Their dummy body had hit the ground with a clatter. Smoking. Sparking. Useless! So useless. Not that it mattered. Their spectral form dived inside, embracing the feline form that emerged from within. Like a prize inside of a sweet, candy shell...

A surge of energy rushed through them. Ears twitched. A tail swished. Fingers flexed. Their... no, HER eyes opened to greet the human.

Mad cackling burst from her lips.

"Yes. Yes! YES! I can feel it. This body is PERFECT!"


The human. That infuriating, simple-minded HUMAN... gasped at her dramatic transformation. Of course they would! They'd already proven themself closed-minded, just like their little invisible friend.

But so what? So what?! She raised her... cleaver. Ohoho, Undyne had spoiled her! A brand new knife, big and broad. But what could it DO? Flashing a toothy smile, Mad Mew Mew slashed the air, unleashing a wave of energy straight at the human.

A brilliant flash flooded the chamber. The human's very SOUL broke apart. A bright blue aura took over one half, while the other half...

Oho. What was THIS?!

ANOTHER human materialized, bathed in red. Rosy cheeks. A striped shirt. A heart-shaped locket... How interesting. Of course, it all made sense, didn't it? A voice only a select few could hear. Familiar. Pretentious. She'd been there the day Undyne had broadcast those tapes. So many people were...

How funny. She thought humans couldn't absorb other human souls! So why were they like this? What did it MEAN? She could have asked. But there just wasn't time.

The two humans gasped and gawked at each other.

The first one cried out. "Y-you're...!"

But Mew Mew wouldn't let their partner get a word in. She huffed and smirked. "Well, WELL! Undyne, you're just FULL of surprises!" She inched closer to her pitiful opponents. Her laughter rose to a roar. "HahahAhAHAHAHA... This is going to be SO much FUN!!!"

One swipe of her cleaver sent orbs of energy rushing toward the two humans. Still unaccustomed to their separation, they gawked at the sight, taking a direct hit. No style! No grace! And after all the trouble they'd given Mad Mew Mew before...

She grit her teeth and snarled.

"Weak. Weak! WEAK!!! Are you two even TRYING? At least ATTEMPT to give me a challenge, you fools!"

The two humans gave each other weird looks. Was this too much for their feeble minds to take in? Was Mad Mew Mew's awesome power really that mind blowing?

Well. Of course it was! Splitting SOULS! No ordinary monster could boast such a cool trick. Ah, leave it to Undyne to make something so incredible!

The red one, no doubt Chara, looked away from their partner. "I..."

But the blue one... Friskies, or something? They stepped closer. "Cap, why didn't you tell me you were-"

"Now is NOT the time for this!"

Quite right! Mew Mew huffed. It was the time for blood-pumping combat! Screams of terror! Yowls of fury! The stage was set for a rush of emotion... the perfect setup for her to finally, after all these years, merge with a body that truly spoke to her on a personal level!

She stomped in place. Legs! Actual legs! And well before Mettaton made his own bipedal debut. Luscious locks. A winning smile... and to think those two once mocked her for POGOING... Well. Now was time for karma to rear its merciless head!

The two fidgeted in place, probably lost in awe at her new, menacing form. Oh, what would they do?

...Evidently, stare her down and... oh. A tingle. Did that red human just use CHECK on her?

"Mad Mew Mew - ATK 50 DEF YES

The dark, edgy reboot, legs now included."

...Yes. That was a check. Hmph! She turned up her chin. "It's ABOUT TIME your little 'FRIEND' showed up! I bet you just LOVED insulting me. You must have thought your quips were so CLEVER! But now I'M the one with the LEG up on you, mew~"

Chara ducked their head and grimaced, but no time to regret! Hehe... Mew Mew twirled and slashed her blade once again, forcing the two humans to the left. Then, the right! Then back to the middle. Some orbs red, some orbs blue! They crashed into each other like idiots who'd only JUST learned to walk.

Ironic, since SHE was the one new to proper legwork.

And still, they seemed to preoccupied with each other to care about the true meaning behind her words!

"Damn it, Frisk! We need to coordinate our moves CAREFULLY."

"I'm TRYING, okay? It's just.... This is SO beyond weird. You're human, and I-"

"I'd hardly call this sorry state human... Regardless, we can't afford to keep crashing into each other!"

The two shared a Starfait. Just another reminder of Mettaton's media monopoly. Not that it mattered! Mew Mew wasn't jealous! Not at all! She shut her eyes and smirked, though her tail twitched erratically.

"And to think Undyne was hiding this the whole time... Ohoho! It's cute. Stylish. Sleek! DEADLY! It's EVERYTHING I ever wanted and MORE!!!"

Another barrage of orbs, white, blue, red, scattered across the battlefield. The two humans darted about, leaning close together, then springing apart. To their credit, only a single hit this time...

But neither quipped. Both avoided eye contact. No matter! Mew Mew winked and twirled her cleaver. She expected SOME kind of reaction... but neither spoke, attacked, or met her gaze. What was WRONG with them!?

Well, whatever. Whatever! This was a prime monologue opportunity!

So she did just that.

"I'll get my revenge and look GREAT doing it! But why stop there?"

Chara winced, rubbing their shoulder. Oho. Was the guilt finally setting in?

"If I can just MERGE with this body, I can start an ALL NEW life!"

She raised her arm and, to her surprise, a majestic staff sparkled into her grip, topped with a feline face. Well, whatever. Whatever! Whatever this was, it'd work! Grinning from one pointed ear to the other, she flailed about, shouting with glee.

"NEW LIFE! COOL LIFE!"

Little feline faces burst from the staff. Ah, the power! The cuteness! A truly terrifying blend! How could the humans even measure up?

...

They couldn't.

The repeated blows knocked them off their feet. They collapsed with a cry of anguish. Their SOULs drifted from their-

...

A strange sort of tingle shot down the Mad Dummy's spine. They looked down at their hands, rubbed their metallic face. Even ran a hand over their spiky hair...

Spiky, but overall short. More like a mullet. No... cat ears. But why would they have cat ears? They looked down to find nothing but the jet propelling them into the air. Their torso snapped its teeth. Ugh. It must have been a daydream!

A... wonderful... daydream.

Hazy as it was...

A curvaceous, bipedal form. Lips. Ears. A cute little tail. Just like that badass beauty from Undyne's animes...

The hiss of static brought their attention to the screen above them.

"Hey! You got a sec?"

"UNDYNE!?" The Mad Dummy lurched back, eyes wide. "I mean. Of course. Of course! Of COURSE I have a minute!" Drat. They were in for it now, weren't they? They weren't even supposed to sneak in here, but...

"Listen. Any second now, the human's gonna confront you. They already went through this song and dance once."

...A reset. Of course. That would explain it, wouldn't it? But then... Their eyes widened. They clasped their hands close to their chest, listening intently.

"So... uh. Kinda awkward timing, but I kinda. Have a surprise for you. I mean, I MEANT to give it to you sooner, but you know. Human menace. Promise. Mettaton's whole TV schtick..."

"I... It's fine. Fine! More than fine! It's great!" Mad Dummy tittered, turning away to conceal a blush. Undyne, giving them something special! Oh, just the thought gave them butterflies in their metaphorical stomach.

"Oh. Good. Heh... Well, anyway. You've been a great training dummy, but I think it's time for an upgrade! So..." Something clicked. A hatch on the ceiling flew wide open, and a HUGE, round pod crashed into the ground before Mad Dummy's eyes.

"Is this...?"

"Yep. No more pretending. No more trying to fit a square into a circular slot. From now on, you can be your OWN monster! ...Cat... girl... Robot. You get the idea!"

The pod cracked open. Smoke seeped into the air. A twitch of familiarity, but they... no, she. She drifted closer, as if guided by an invisible hand.

The dream melted into reality. They cupped the sweet, feline face in their gloved hand, and then...

Melded into it, leaving their dummy body to clatter to the ground next to the pod.

Eyes fluttered open. A little button nose twitched, sniffing the air. Ears flicked. She wobbled back onto her new feet...

And she smirked. Oho... When the human saw her again, she'd be ready. No more 'pogoing'! She'd dance all over their bruised, bloodied form!

"...And for the record," Undyne said, as a crane grabbed their former form, "even if you DON'T win, I won't be disappointed. This was always my responsibility. ...But it's nice to have someone on my side."

But Mad Mew Mew, refusing to settle flashed her a peace sign and winked. "Don't worry, Undyne! You'll NEVER have to face this alone. Mew Mew NEVER abandons a friend in need!"

...Not that she'd. Change her whole persona. But in the heat of the moment and with the human on their way, she knew Undyne could use a little hope.
Page 69 Transcription
This was it. Big bonding moment! Ehehe... Just had to... straighten up the couch cushions a little, and... Shoot! An old ramen bowl still sat by the TV. Biting her lip, Alphys skittered over, scooping up the remains of her snack, then dashed toward the kitchen. She'd just... set it on the counter. For now. Yeah. Classy.

As long as she kept Sans out here, it's not like he'd notice, right? Wiping some sweat off her forehead, she hurried back to the living room and past the TV, straight to her shelf stuffed with assorted manga and anime. But what to watch? Her tail swished as she contemplated the choices...

Would Sans like something slice of lifey? Perhaps with cute boys? Or cute girls? O-or both. There was always room for a little sports anime. Swimming, volleyball, maybe even chess? Or... that one anime about the maids and butlers. Which was also a sports anime. Or, uh.

"knock, knock. "

Alphys jumped back with a squeak, crashing into the shelf and nearly bashing her head with assorted manga. Thankfully, she spun around, catching the few that threatened to topple outta place.

"E-ehehe... Just a minute!"

It only dawned on her as she rushed to the door that he probably wanted a, 'Who's there?'

But when she opened the door, Sans just chuckled and said, "wow. shortest minute i've had in a while. "

Folding her arms, Alphys gave a small huff. "Oh, har har." But she stepped aside, motioning for Sans to step in.

As he joined her, he whistled... somehow. "dang. that's a lotta pink. " He turned his focus toward the door to her room, and Alphys shrieked, practically launching herself in front of her Mew Mew cutout.

"I-it's not what it looks like!"

"oh, so it's not a cute catgirl? "

"...Y-you think she's cute?" He... wasn't laughing. That was a good sign! Probably. Hopefully. O-oh god...

Shrugging, Sans turned toward the couch. "look, i'm not here to judge your interests. maybe do a little light ribbing*- "

Sans winked as a pair of percussion drums banged from...somewhere. Alphys was very confused.

"-but this is your place. you can decorate it however you want. "

"...Oh."

"and if that's not enough to convince ya of my low standards, i literally keep a trash tornado in my room. "

Alphys' snout wrinkled. "A...what."

"yup. literal whirling garbage. self-sustaining, too. "

Alphys raised a finger, then immediately dropped it. On one hand, the mechanics of it were fascinating. And potentially disturbing. For one, did Sans make the tornado? Did it manifest on its own? Was this the fate of all trashy rooms? And if so, was this her fate, too?!

So. Maybe she should've asked. She opened her mouth to do just that, when Sans flopped on the couch and said, "but enough about me and my trashy hobbies. you wanted to watch some of that anime stuff, right? "

"R-right! Anime. Hanging out. F-Friendship stuff." Tittering, Alphys returned to the shelf. "So, um. Do you... I mean. Have you ever... Gosh. I just..."

"seems pretty hard to come by unless you loot through the dump. and just look at that collection. heh... you must be some sorta garbage guru. "

She waved her hand, ducking her head. "I-I mean, there's just so much neat stuff that comes from the surface! It'd be a waste to let it sit and rot, right? And human culture's just so fascinating!"

"true. i mean, where else wouldja get a movie about some middle-aged guy in a cheap cat suit? "

"...W-was it a cute cat suit?"

"naw. totally fake. didn't help that he was goin' around, teachin' kids about bullying. really badly. unless it was goin' for dark comedy, anyway. but if you REALLY want a masterpiece, i oughta show ya that movie about a room. you might even call it THE room. "


There was something about his grin, the crinkle in his eye sockets, and the laughter slipping between syllables that made Alphys question if this 'room' movie was actually good or if he was just pulling her leg.

...She'd check it out later, for research purposes. For now, she heaved a small sigh and turned her attention back to her catalog.

"S-So you like comedy...?"

"sure. and sci-fi. cool action scenes are neat. "

Okay. So... Probably no sports anime. Or maid cafes. But maybe...

"And... how do you feel about r-romance?"

Sans sat up straight, raising an eyebrow. Somehow. "whoa there, tiger. you hittin' on me? "

Gah! Alphys' cheeks burned bright red, and she flailed her arms. "N-no! It's not like that!"

But Sans just laughed, relaxing on the cushions again. "heh. just giving you a hard time. it's cool. and, uh... even if i'm not super into romance, it's your place. you can pick whatever you want. put on some of that totally-not-a-catgirl, for all i care. "

...This was Alphys' chance. Finally, at long last, she could introduce someone to Mew Mew Kissy Cutie WITHOUT making it awkward. Or too forceful. She always worried about that. But he opened the door. He opened his... heart. His... metaphorical heart.

...Actually he also just reached inside his ribcage and pulled out a bag of Cheetos.

A big, goofy grin spread across Alphys' face as she snatched up her Mew Mew Kissy Cutie box set and carried it over to the TV.

"Oh, Sans... You are in for a TREAT."

At first, it went smooth enough. A bright, flashy OP with a peppy, emotional song about love, friendship, hopes and dreams. Hearts! Sparkles! Mew Mew waging battle against a rogue's gallery of villains-of-the-week one minute, then hitting volleyballs the next...

Without even realizing it, Alphys started singing the theme song under her breath. Until Sans looked at her. Then she turned away, face in hands.

"dang. you memorized all that? i can barely speak pig latin. "


Alphys gulped. Okay, so he wasn't judging her, but still... "I mean. Once you watch enough of it, y-you start to pick up on the nuances of the language. Especially if you watch it in sub. Which I ALWAYS do. ...Unless I can't FIND it in sub. But then you never know if you'll get a GOOD dub or a dumpster fire like..." She grimaced. "The ORIGINAL dub of Serpent Sphere."

"...how bad we talkin'? "

"Puns. Puns EVERYWHERE. WAY too much digital paint to cover up anything even REMOTELY mature. They turned HELL into some sort of stupid 'home for infinite losers,' for crying out loud!"

Sans covered his mouth, like he was holding back a laugh. "man. this i gotta see... "

"...Wait. You actually WANT to see bad dubs?" Alphys' eye twitched. Oh no.

In turn, Sans waved a hand and said, "look, i'm a sucker for low-effort cheese. you got any stinkers in your collection, and there's a 9/10 chance i'll find it comedy gold. "

...Alphys paused for a moment, while the show kept on rolling. Mew Mew was lamenting to her talking saberkitten mascot about who to ask to the school dance. A heart-pounding conflict between a sweet and sensitive honors student or the heart-throbbing track leader...

Sans glanced at it on and off, and even made some quips about... something. Alphys didn't pick up on all of it, too torn between the dread of knowing someone might LIKE those affronts to anime artistry and the potential opportunity to pawn off her worst discoveries to someone who might actually want them.

And... might even enjoy them more.

Oh god, he was one of THOSE kinds of fans, wasn't he? The kind that riffed more than immersed themselves in the brilliance of the material!

Well. Okay. It wasn't a total lost cause. She had to be a good host. And besides, it wasn't too late to make him see the light!

But... just in case, Alphys swallowed her pride and looked him dead in the eye. "Tell you what, Sans. You stick with me through the first three episodes... and I'll put on one of the worst dubs in my collection. And if you LIKE it, it's yours."

Sans perked up at this, grin widening. Somehow. "now we're gettin' somewhere... "
Page 70 Transcription
Finally. Mettaton turned around. FINALLY, some semblance of progress rested just an arm's reach away. Frisk leaped at the chance, literally and figuratively, flipping Mettaton's switch.

He tensed up, posture even more rigid than usual. "DID YOU. JUST FLIP. MY SWITCH?"

Whirling around, he grasped his... corners, screen flashing and body spasming. A sudden flash left Frisk dazed.

A deep voice cut through Frisk's daze, "OHHHHHHH, YES."

That... seemed kinda odd, given his freak out just a few moments ago.

But when the light faded, stage lights descended, highlighting a strangely humanoid figure in silhouette behind a veil of smoke. High heeled boots, long, noodle-like arms. Pointed pauldrons. Hair.

What the HELL?

"Ohhhhh my. If you flipped my switch, that can only mean one thing. You're desperate for the premiere of my new body. How rude..."

He chuckled.

"Lucky for you, I've been aching to show this off for a long time. So... as thanks, I'll give you a handsome reward. I'll make your last living moments..."

Another flash. The smoke cleared. Finally, Mettaton's new form appeared in blaring spotlights.

"Absolutely beautiful!"

Ignoring the metallic sheen, the occasional screws, and the speaker and knobs on his chest, he almost looked human. But why the big change? Something didn't add up. Almost on instinct, Frisk reached into their pocket and for the key they bought from Bratty and Catty...

But no time for that. A holographic screen lit up, projecting a graph with ratings. Ratings gradually dropping. The HECK?

And to shake their focus from their stupor further, Captain Cryptic said, "Mettaton EX makes his premiere!"

So... okay. This was a thing. This was very much a real thing. A battle on a suspended stage with a glam rock-looking robot man with skin-tight spandex and high heeled shoes.

Uh.

So, what to do, what to do...

Right. Checking. That was always a good start.

Their ever-convenient narrator dropped the details. "METTATON EX - Atk 47, Def 47. His weak spot is his heart-shaped core."

Mettaton ignored this (if he heard it), shouting, "Lights! Camera! Action!"

And then... IT happened.

Legs.

Legs coming in, pointed shoes out. Oh god. He had legs now. Very defined, very real, very... magical legs, and.

Impulsively, Frisk aimed their phone, firing a laser, and...

Okay. That knocked his flying laser-leg off balance. One of six of them. Frisk tumbled forward. So far, so good. Probably. Maybe? This was so weird...

Okay, so... They survived one attack, at least. And Mettaton got up on his tiptoes (the ones attached to his body- not the flying laser-legs), striking another pose. Not that Frisk could blame him. That WAS one fabulous new body.

But... legs. The attached ones. Frisk couldn't look away. More than the hair, the face, and the metallic shine, Mettaton's legs just...

Did he NEED legs so... uh. There was a word for this.

"...We get it," said Captain Cryptic. "The legs are hot, but your ratings are not."

"R-right!" So they needed to uh. Do something. Of course. That made sense. So... what would be crowd-pleasing?

Uh... right. Posing! Duh. Frisk spun around, stopping on a pose with one leg bent and their hands behind their head.

"You pose dramatically. The audience nods."

The... audience? What audience? It was so dark in here, how could they tell? The ratings jumped up a bit, so that was a good sign. And presumably this was airing on TV, but-

"Drama! Romance! Bloodshed!"

Shoot. Bombs descended over them, along with some funky boxes and tiny little Mettatons holding parasols. The heck?

Frisk, impulsively, fired at one of the bombs.

BIG MISTAKE.

A huge flash of energy fired at them, knocking them back.

So. Bombs bad. Boxes good?

They wove between the bombs, firing at the Mettaton minis instead. That... seemed to work, as they burst into splinters of light with each blast. At the end of it all, the remaining Minitons waved their little arms and launched magic hearts Frisk's way.

They hopped outta the way, but uh. Okay. This sure was a showy fight.

Unfortunately, the damage from that stupid bomb still burned. They winced as they straightened their posture. They COULD strike some epic pose again, but...

"You feel like posing again."

Nah. Self-preservation over style.

"You have chosen disappointment."

Frisk dug through their inventory and found... oh yeah. A pack of instant noodles. They'd been sitting on it for so long, they totally forgot to snack earlier.

Well. Better late than never!

"You remove the instant noodles from their packaging."

Mettaton's eye widened, and he clasped his hands together.

"Oh! I know just the thing..."

He set out a pot. Okay. Not sure where he kept that, but okay.

With a cheeky tone, Captain Cryptic pressed on. Narrating every little action.

"You put some water in the pot and place it on the heat." Because apparently there was a little fire now, too. Just casually committing arson on live television. Cool. "You wait for the water to boil..."

And they waited. The ratings waited. Mettaton waited. Silence filled the makeshift arena.

"It's boiling."

Okay, good.

"You put the noodles in the pot." Why, yes. Obviously. Sheesh. Were they THAT sore about Frisk choosing ramen over posing?

"4 minutes left until the noodles are done."

...Oh god.

Frisk looked to Mettaton, who smiled despite the delay.

"I've always loved making my audience shiver with antici..."

He trailed off. That, or he had a system bug.

"3 minutes until the noodles are done."

"...pation."

That 'anticipation' pause literally lasted a whole minute. Ugh. Maybe Frisk shoulda gone for one of those MTT-brand snacks. They wouldn't have had to boil burgers or parfaits. It was a miracle the ratings weren't dropping with such a blatant standstill.

"2 minutes until the noodles are done."

Frisk rubbed the back of their neck.

"So. Pretty boy robot. That's new."

"Oh, yes. Quite the plot twist! But don't think I didn't see you admiring my..." He kicked his leg. "New appendages."

"1 minute until the noodles are done."

From somewhere beyond the battlefield, a voice cried out, "YEEEEEAAAHHH LET'S GO, NOODLES!!!"

Okay.

Mettaton shook his head. "There's always at least one noodle-enthusiast. Don't worry about it."

"The noodles are finished."

Frisk reached for the pot, blowing on their snack, but as they took a bite...

"It doesn't taste very good."

Yeah, kinda flavorl... oh yeah.

"You add the flavor packet." How silly of them. Guess the delay made 'em spacier than expected. "That's better. Not great, but better."

And, at the end of ALL FIVE MINUTES OF HASSLE AND FRUSTRATION... "You recovered 4 HP."

...And that was it.

MINUTES wasted.

But the music kicked back to life. The ratings started dropping again. MTT returned to his elaborate posing.

"I'm the idol everyone craves!"

Oh great. More incoming legs. Weird, floating boxes. All just crashing down. Frisk fired away, gritting their teeth as unexpected heart projectiles struck them and their ratings gradually rose.

The next turn, they shook off their pain, leaping into the air and hitting the ground in a forced 'superhero landing.' The ratings spiked even further. Good! Because impractical acrobatics were hard enough WITHOUT injuries.

"Oooh, it's time for a pop quiz!"

Frisk balked. What? Was he serious?

"I hope you brought a keyboard... This one's an essay question!"

"Um..."

Mettaton snapped his fingers, summoning a holographic keyboard.

On-screen text prompted them: What do you love most about Mettaton? (No X or Z)

Fresh after the ramen, this was... a lot to consider. What even were the standards of grading here? What about length? What counted? And what DID they actually love about him, considering his clear murderous intent?

Lost for words, Frisk put the only thing they could think of: "hot legs"

As the timer rang, Mettaton beamed. "That's right. Legs WAS the correct answer!"

+350 ratings. Not too shabby. Best of all, he didn't attack. Yet.

So... time to heal again? Probably. But no noodles this time. Instead, Frisk whipped out that gaudy, glittery Glamburger.

"You ate the Glamburger. The audience loves the brand!"

"BURGERS! HECK YEAH!!!"

...Okay, so apparently there WAS someone out there. Someone very passionate about food.

+500 ratings, though. Definitely a step forward in this silly fight.

"Mettaton is saving your essay for future use."

So what to do now...

For now, Frisk struck another pose, firing off finger guns and winking.

And then their heart sank when they heard a loud PEW-PEW, followed by a big, bright explosion that set a wall on fire. Frisk realized that one of their 'finger guns' was still holding onto the laser-phone.

"WOOOO!!! ARSON!!!" That person in the audience again...

Unfazed, Mettaton spread his arms and said, "Your essay really showed everyone your heart. Why don't I show you mine?"

That little heart-shaped core broke from his chest, suspending itself in front of him.

Then came the lightning barrage.

So many bolts came surging in from all directions. Little Minitons fired off more of those pesky projectile-hearts that were distinct from that core-heart that needed zapping. Frisk kept dodging and blasting amid the lightning-and-heart barrage, even though their hair got all frizzy from the onslaught of attacks and they nearly fell on their back on more than one occasion.

Their shots still struck their target. Mettaton staggered with each hit, until the attack stopped.

Whew. That was rough. But there had to be other ways to handle this.

What if...

"An item, perhaps?" Not a bad idea. Frisk was thinking the same thing. But which one? They didn't wanna waste their healing items. They DID have some backup gear... Maybe that pan instead of the gun? Or...

>Stick

"...Partner, that's a stick."

A smirk slowly crept across Frisk's face. There was no guarantee this would work, but...

Captain Cryptic sighed. "You throw the stick."

Mettaton raised an eyebrow, and then... leaped into the air, mouth wide open.

"Mettaton catches it in his mouth and winks," said the tired narrator.

...Right. Okay then. Sure. That made sense.

Mettaton didn't even comment on the stick. He just carried on with, "Ooooh, I'm just warming up!"

And so the fight waged on with volleys of hearts, torrents of bombs. Impromptu discoballs forcing Frisk to strike the gaudy sphere or risk getting steamrolled by strobe lights. As Frisk adjusted to the frantic pace, they started shaking up their routine further. They'd boast, then hurriedly scramble between boxes and bombs. They'd turn on the audience they couldn't see in anticipation for brutal attacks, gaining boosts from enemy strikes...

Heart pounding, they scarfed down the starfait. Another boost. But what came next?

"Time for our union-regulated break!"

Just... letters that said "HAPPY BREAKTIME."

Frisk hurriedly turned to the audience and 'boasted,' "Um, I'm not going to get hit at ALL during this current turn!"

"The crowd isn't impressed."

And then Mettaton raised his arms and said "I will ALSO not get hit during this current turn!"

"The crowd roars. The ratings skyrocket."

Of course they did.

A swap from gun to frying pan catapulted the ratings even higher. They brandished the new weapon in conjunction with their phone, waiting for the next big burst. It had to be coming...

"We've grown so distant, darling... How about another heart to heart?"

Annnnd there it was. His heart broke free, surrounded by boxes as more of that stupid lightning spewed across the arena. Ducking behind the pan, they shot through the heart core's shield and danced between surging strikes.

At the end of their assault, Mettaton shuddered. His arms blew off, gushing smoke in the air, and leaving him with... legs.

Those freakin' legs.

"A...arms? Who needs arms with legs like these? I'm still going to win!"

But was he really? Before, he was invincible. But now, this new form was showing its weakness. Plus, he kept exposing his weak spot just for some flashy attacks. Frisk shook their head, readying their phone for the next onslaught.

And the next.

Narrow corridors with alternating bombs and boxes. Frisk slid back and forth, firing and dodging... and then Mettaton sent the attack careening back in reverse.

Frisk dodged every reversing obstacle with a dramatic pose to the sound of the roaring crowd.

And that's what they kept doing. More posing, more boasting, and more consuming brand-friendly snacks.

"L...Lights! C...Camera..." Mettaton's voice was awfully strained now. "Enough of this! Do you really want humanity to perish?! ...Or do you just believe in yourself that much?"

Right... This was all about 'humanity,' wasn't it? That was his excuse, anyway. Kill one human to save the rest. Frisk glowered. "You know, I doubt those humans would be too thrilled to know you killed a KID to get there..."

Mettaton winced, but forced a smile anyway. "Haha, how inspiring! Well, darling! It's either me or you!" He tipped his chin up. "But I think we already know who's going to win." He summoned more lightning, more legs, more BOMBS! All with his heart-shaped core exposed once more. "Witness the true power of humanity's star!"

And then Frisk shot one of the bombs before Mettaton could begin the attack proper. They ducked outta the way of the blast, but it set off a chain reaction that detonated ALL the other bombs too, with Mettaton and his heart caught in the middle. As the last of the explosive lights faded, Frisk heard a loud THUD. And, when the smoke cleared, they saw...

Mettaton... reduced to just a head on a torso. Finally, no more legs...

But Mettaton only smiled and said "OOH, LOOK AT THESE RATINGS!!! THIS IS THE MOST VIEWERS I'VE EVER HAD!!!"

...Yeah, of course that was his priority. Not, y'know. Being a quadruple-amputee.

"We've reached the viewer call-in milestone! One lucky viewer will have the chance to talk to me... Before I leave the Underground forever!! Let's see who calls in first!"

Captain Cryptic said, "You fight the urge to prank call the sexy robot man. You REALLY want to call and ask why he isn't box-shaped anymore."

Frisk's thumb brushed against their phone's button pad. "I really, really do..."

But Frisk held their tongue and their thumb as Mettaton picked up another call.

The soft-spoken, somber voice struck them as more pressing, anyway.
Page 71 Transcription
Sweat drizzled down Undyne's cheeks. She groaned, chugging half a water bottle down in a single gulp. Good thing she came prepared. A heavy backpack stuffed with even more bottles was just the start. A small, hovering fan blew cool air in her face. Just a small thing she'd whipped up for the occasion. She'd definitely have to do some renovating later, but first she had to get to the lab in the first place.

"y'know, you don't HAVE to set up shop in hotland. "

Undyne snorted, shaking her head and trudging along. "And miss out on the space? Please. There's no better laboratory in the whole underground."

"heh. it is pretty roomy. maybe a little too roomy if you're workin' alone. "

Undyne stopped at the doorway, shooting a glance over her shoulder. "Please. Do you know how hard it was to build the holosky WITHOUT the floorspace? I had to transport all the equipment by BOAT 'til I got that hovercraft working."

Sans chuckled. "surprised you didn't build a giant robot to do it for ya. "

Undyne's hand hovered over the door. "...Believe me, I thought about it, but I didn't have the budget to do BOTH. Not yet. But now..." The door slid open, and she peered inside.

It was... spacey, for sure, but in a way that almost looked... lonely.

Old, abandoned whiteboards. A huge computer terminal, its screens cloaked in a thin layer of non-monster dust. One of those cool wheely chairs. Old work desks. What looked like... escalators, maybe? Going to the upper floors. As Undyne wandered further in, she cupped her chin in hand, trying to visualize how she'd set up shop...

Yet a part of it felt almost disrespectful. After all, this was where Sans' dad...

Sans sighed, tucking his hands in his pockets. "don't hafta worry about me. i'm not even in the biz anymore. besides, i doubt he'd want this place to go to waste. "

He smiled like nothing was wrong. Of course he did. Sans was always guarded when it came to his past. Undyne had learned that the hard way. Even still... sheesh. Undyne paused to gulp down the other half of that water bottle.

"...Well, I might have to do some serious remodeling. This place is WAY too humid!"

"probably 'cause the ac hasn't been on in years. "

"Ugh! I can tell. But that's just the beginning. If I'm moving into Hotland, I'm doing it MY way!" She pointed dramatically at the ceiling for emphasis. "First order of business: moisturizing the air! I'm thinking a system of tubes circulating water through the whole lab."

Sans nodded. "sure. why not? it's your lab now. you could paint the walls pink with polka dots if ya wanted. "

"About the walls..." Undyne rapped her knuckles against one... and dented it lightly. Oops. "With the kinda work I do, I might have to reinforce everything. You can't make progress without at least SOME explosions!"

"heh. don't i know it... " The way he turned away... sheesh. Add that to the many mysteries of Sans... What even was his last name? Was it REALLY 'the Skeleton'? Ugh. Of all the times to go down that rabbithole.

Well, screw her plans. Undyne marched right up to him, hands on her hips. "You know, if there's something you gotta get off your chest-"

But Sans just waved it off. "nah. it's cool. but maybe work on gettin' that hydration system installed before you do anything too explosive. throw in some sprinklers, and ya might save yourself a little trouble down the line. "

"That's... actually a good point." Maybe some sorta smoke-sucking devices, too. Explosions could get pretty messy... "Ugh. I hate that I can't even get to doing REAL work yet. I'm supposed to be making the Underground a better place, not just one stinking laboratory!"

"you'll get there, but you'll do better work if you aren't catchin' heatstroke or scorching the floor. "

Undyne heaved a huge sigh, slumping over. "Yeah, yeah. I get it."

Sans offered her a pat on the lower back. "just... don't rush it. knowin' tori, she ain't expecting you to top the holosky overnight. "

"Sure. But I don't wanna get complacent, either! The holosky's just the beginning. Now that I'm here, I gotta raise the bar! Shoot for the sky! ...The real sky."

Chuckling, Sans' smile softened... somehow. The subtle shifts in his expression required a trained eye to spot. "well. whatever comes next, i'm lookin' forward to seeing you soar. knock 'em dead, kid. "
Page 72 Transcription
Dr. Gaster was a strange man. That became clear early on, what with the secret codewords, his refusal to eat anything but Bepis Valley Granola Bars and old potato chips, and his overall eccentricities. But today, hunched over his computer, the good doctor cackled and rubbed his hands together. It wasn't often he had diverted from the shared research into time travel, but apparently even he had side-projects.

And so the mage lingered behind him, staring perplexedly at the screen.

"So. Just so we're clear... You're reprogramming an old email client to be self-aware."

"YES." Another chuckle. Oh boy. Dr. Gaster raised a bony finger. "IT IS SIMPLE. THE HUMANS. THEY RELY ON THEIR ELECTRONIC MAILS. IT IS... THE BENCHMARK OF THEIR MODERN COMMUNICATIONS."

The mage blew a small sigh, but couldn't dispute this. "True. Technology has become a crucial part of our everyday lives..."

"YES. AND SO... I AM GOING TO. UTILIZE THEIR DESPERATION. THEIR NEED FOR CONSTANT STIMULI."

"...By making an email client that talks back?"

"CORRECT. THOSE HUMAN MAGES. THE ONES WHO TRAPPED US BENEATH THE SOIL... THEY WILL NEVER SEE IT COMING."

The mage opened their mouth to speak, to correct Dr. Gaster, as it was doubtful those mages were even still alive, but he pressed on

"AN ENDLESS BARRAGE OF INCESSANT MESSAGING. BUNDLED IN A FRIENDLY, CHARISMATIC FACADE. IT IS... THE ULTIMATE JAPE."

"...So you're swearing revenge by way of a prank?"

"A JAPE. THERE IS NUANCE TO THESE THINGS."

Ah... Of course. The mage rubbed the back of their neck, at a loss for words, while Gaster hunched back over the keyboard again.

"HMM. I SEE. I SEE..." His fingers rapped at the keys. "THE 'HOCHI MAMA' PROTOCOLS ARE FULLY CALIBRATED. GOOD."

The mage sputtered. "Hochi... mama?" What in the world?

Swiveling his chair around, Gaster raised a finger again. "YES. HOCHI MAMA. IT IS LIKE..." He made a... peculiar face. A raised brow. A crooked grin. "A HOCHI. MAMA. THE KIND OF PERSON WHO MAKES YOU GO, 'WHOA, MAMA.'" He paused, his smile receding. "PRESUMABLY. YOU KNOW I'M NOT INTERESTED IN SUCH... FRIVOLITY."

"Erm..."

"I DO REMEMBER. THE FUNNY BUFF MAN WITH THE ABSURD HAIR AND THE SUNGLASSES. HE WOULD PROBABLY CALL THE QUEEN. A HOCHI MAMA."

There was a lot to unpack here, and the mage wasn't sure where to begin, so they just sort of... stared for several moments before forcing a nod. Best not to question this. The idea of someone flirting with their mother was disturbing enough as it was.

"So..." Ah. What could they do? This seemed like a terrible idea. Disregarding how difficult it would be to unleash such a program onto the human internet, if the doctor's pedigree was any indication, it would be an unstoppable piece of malware.

Perhaps it was best to... intervene somehow. Hm...

The mage peered across the room, when an idea struck. "You know, it just occurred to me. If you want to make the most effective tool against the humans, it might pay to peruse more human cultural material."

"...THIS IS TRUE." Gaster cupped his chin in hand, spinning his chair again. "ARE YOU PROPOSING... A DUMP TRIP?"

"Yes. Of course. You never know what you'll uncover there."

"HM. I SUPPOSE IT WOULD BE GOOD TO. STRETCH MY LEGS." Slowly, but surely, he rose from his seat, then with a snap of the bony fingers, he turned toward the door. "VERY WELL. LET US PROCEED. RESEARCH AWAITS!"

Before the mage could even interject, Gaster barged out the door, but that was all right. This gave the mage the perfect opportunity.

They crept up to the computer, ejecting the disc.

The dump would be the ideal place to discard it, after all, and if it came down to it, they could just blame it on a certain canine.
Page 73 Transcription
She just wanted to leave. To roam. To explore.

But as soon as the door shut, they attacked.

Furious shouts. Slashing claws. Snapping teeth. Swords. Arrows flying. An unexpected ambush.

"Please!" she'd cried out. "I'm innocent!"

"NO human is innocent!" an icy bird shrieked.

"You must pay for your ancestors' crimes!" a wolf howled.

"NO MERCY!" an armored Migosp hissed.

Too fast. Too vicious. She tried shoving her way through. Tried fleeing. They pursued. But why? Everyone in the Ruins seemed so nice. Asgore, so kind. So hospitable. Why didn't he join her? Did he know what waited on the other side?

She leaped. She twirled. A blast to the back knocked her face-down in the snow.

Would they even listen? What could she even say to quell their fury?

The shouts drew closer. Snow crunched between a stampede of footsteps.

She winced.

All her life, she had tried to be open. Honest. Understanding. To give people the benefit of the doubt. But this...

She pressed her palms firmly in the snow, despite the cold.

It wasn't right. It wasn't fair. She had done NOTHING wrong... and they wanted to kill her for it.

She staggered to her feet, dusting snow off her tutu. The mob drew nearer. She bolted across the bridge. Couldn't stop. Not even for a second. Had to keep going.

Two paths stretched before her. Surrender and death, or self-defense and a chance at survival. Given the choice, and given those monsters' bloodthirsty intentions...

The human dashed back into the fray, leaping, twirling, kicking, fighting. They'd made up their minds, so why try to change them?

She danced between a storm of bullets of varying shapes, swerved between sword thrusts and claw swipes. In time, her pursuers' bodies crumbled, dust blending into the snow. It gave her pause... but only for a moment, as a barrage of arrows sent her tumbling behind a nearby tree.

She had no choice. She had to live. She had to FIGHT...

Even if it meant killing... they'd do the same to her.

So she kept fighting as she fled. Even as her sweat froze to her cheeks. Even as her lungs heaved each frosty breath. Even as her legs threatened to... give out... beneath her...

Soon the shouts died down. Soon the roars became feeble sobs. Soon... silence hung over her.

All alone, she collapsed in the snow. Her eyelids grew heavy. The world grew dark...

Muffled cries... Reinforcements? She tried to push herself back up, but...

No.

Too much.

Darkness claimed her, for a time...

Until she woke with a start... alone. In a room. Soft bed. Warmth all around. Quiet. Safe?

No. Someone must have captured her. She heard those reinforcements.

The human flung herself from the bed.

She couldn't stay here. Couldn't risk it.

She stormed through the door, past the counter, out into the snow. Tore through the town, its buildings a blur. Armored figures called out to her.

Of course. It was as she thought, then.

Just more enemies.

A twisted, teary smile crossed her face.

To think such a simple misunderstanding would spark the flames of tragedy...
Page 74 Transcription
Chara was no stranger to death. Putting aside their own demise, they'd seen Frisk kill before. Never intentionally. Always out of fear or pressure or an impulsive blow that dealt far too much on a monster's fragile form. In the world before, and this new timeline, they'd always tried to avoid taking lives. They'd always gone back to right their wrongs...

Down below, staring death in the face. Out of items, out of time, they'd faced off with Undyne, her skin peeled away to reveal metal plating and pulsating circuits embedded into her arms. Like nothing Chara had ever seen...

Still standing, though her clothes had torn and the heat surrounding them left Frisk's body sweating torrents. Sill fighting despite Frisk freeing her from her mecha. So many spears. So much pain. Talking did nothing.

Sparing did nothing.

There was nowhere to run.

Knocked to their knees, Frisk stared at their would-be killer. Undyne had already superseded Chara's voice the last time they died. Would they even be able to return from this?

With no other options, Frisk--and Chara–attacked. They had to make this STOP.

They did.

"...You really hate me that much...? Fuhuhu.... Maybe Papyrus was right about me..."

Everything happened too fast. Her body rippling. Dripping. Distorting. Papyrus and Mettaton dropping down. The shrill cries from Papyrus as Mettaton rushed to Undyne's aid. Mettaton draping an arm over Undyne's dripping form...

Why?

She struggled. He refused to budge. Why?

"YOU IDIOT! I...f... you doN'T... yoU'LL-"

"I... no. It's all right! I have wings!" Those wings flickered, just like his eyes. "JuSt... hoLD it toGeTHErrrRRrr..."

And then...

They melted together. Undyne's leaking remains melted into Mettaton's robotic shell... Throbbing. Writhing. Moaning incomprehensibly.

Papyrus' wails barely registered. Frisk's entire body trembled. Tears oozed from their eyes. Their jetpack, of course. Their jetpack... They could have left this entire time...

It turned on. They blasted away. Too late.

Much too late.

Why...? Why didn't they just reset already?

They ran down the hall. To the elevator. Slammed the buttons... and collapsed on the floor, hugging their knees.

Alone.

But not entirely alone. Chara was still there. Chara... could say something. Yes. That's right. They could still reach Frisk, couldn't they?

As the elevator ride lulled on, Frisk slowly rose to their feet. This was... It was their chance.

"Frisk, what are you DOING?!" Ah. Perhaps too loud. Too heated. Frisk's posture tensed. Still, Chara carried on, softening their voice. "Frisk, PLEASE! Just RELOAD already! You can fix this right now."

Frisk said nothing, clenching their teeth. A white light flooded the elevator–

But a sharp jolt shot down their spine. The image of that... amalgamate flashed before Chara's-no, Frisk's- eyes.

LOAD FAILED.

Frisk covered their mouth with both hands, frozen in place. This... was unexpected.

"Frisk. Just... calm down, all right?" Chara had to calm down, too. They wouldn't get anywhere if they panicked. "FOCUS. Please..."

The elevator stopped.

The door opened.

Frisk ran forward.

"Frisk-"

They tore down the greyscale hall, straight toward a dead end. A save point greeted them, no longer distorted. Frisk skidded to a stop, reached out their hand, and...

Their file. Back at the CORE. Before Mettaton...

Frisk pulled away. Turned a corner. Kept running.

At least they didn't save, but what were they DOING?

"This REALLY isn't wise! Running won't-"

"SHUT UP!!!"

Oh...

The first time Frisk had ever yelled at them. And even then, their tear-soaked cheeks betrayed their true feelings.

They kept running anyway.

Chara could only beg for them to stop.

"Look, I understand! Do you think I'M happy with my mistakes, Frisk?" No. Of course not. Every waking second, they regretted what they'd done. "I singlehandedly tore my family apart. My brother is DEAD because of me!"

Frisk stopped, if only for a moment. Perhaps... Chara was breaking through?

Or perhaps not. They turned another corner. They kept on running...

Chara kept pressing. "You kept asking me to open up to you. You offered to listen... Well, if you NEED to process this, I'm here! We CAN work this out, but we won't get anywhere if you don't SLOW DOWN!"

Frisk kept running. Were they even listening anymore?

...Was it right for Chara to be angry, when they were hurting so deeply? Both of them, really.

But Frisk just kept running away by running forward. Toward a familiar home that would've made Chara's heart stop, if it were theirs and not Frisk's.

Another save point. Frisk shuddered and booked it past it. Straight to the door...

Straight to the foyer...

Straight to–

Flowey.

Of all the times to show up, he picked NOW?

And with that insufferably saccharine smile, he said, "Golly, kid, are you okay?" As if he truly cared.

Frisk said nothing. Ran past him, straight toward the locked chain. And of course, he sprouted back up.

"Geez, kid. Nice to see you, too."

Again, Frisk ran past him. Good.

"Whoa, bud, shouldn't we wait for-"

Their jetpack activated. They flew over the chains.

"Oooor you can do that. Sure..."

Frisk kept their back turned. They clenched their fists.

But they didn't run.

"Gotta say, though, I'm surprised you haven't gone back. What's the matter? Can't focus?"

How DARE he try to console Frisk, when he's the one who-

"I..." Frisk turned to face him, covering their mouth. Why?

"Scared it'll happen again? Or maybe..."

Chara could read between the lines. 'Maybe you think she deserved it.' Of course Flowey would insinuate that.

The worst part was, Frisk didn't deny it. They crossed their arms, face downcast, but dead silent.

"Hey, I'm not judging." Of course Flowey wouldn't. "After all, SHE'S the one who pushed you in the first place... She did this to herself."

Chara so desperately wanted to wrest control of Frisk's body here. To snap back. To say SOMETHING...

But Frisk... turned to face Flowey. Frisk... spoke instead. "...C'mon. Don't you need those SOULs?"

No. They couldn't-

"Well, if you REALLY wanna get this over with, then by all means..."

Frisk turned toward the stairway. They... they ran...

Because of course. Of COURSE, at their lowest moment, Flowey would swoop in. Of COURSE he would exploit their vulnerabilities. Of COURSE he'd want to see what would happen...

And Frisk kept running. The halls, the city, it all became a blur. Despite sharing a body, Frisk felt so out of reach.

Perhaps... if Chara were there, physically, separately, they could stop Frisk. Grab them. Hold them. Comfort them in ways words never could...

But that was just a fantasy.

All Chara had was their words... and look at where it got them now.
Page 75 Transcription
Mettaton wasn't sure what to expect when Papyrus called him to the lab. A new innovation in puzzlery? Some outlandish invention, sure to inflict a dazzling display of arson? Perhaps he simply wanted to sit and chat. Well, whatever the case, Mettaton rolled into the elevator without hesitation, fingers rapping on his sides as his own elevator music played.

As he rolled down the hall and through the True Lab's lobby, he glanced around. No sign of the Mechamalgamates... Perhaps they were in their resting chambers. Good. One less mess to worry about. Well then! Onward he rolled, through the door, past all the tattered beds. The coffee machine tempted him momentarily, and he turned toward the table, but... No. Best not to keep Papyrus waiting!

After so many hardships over the years, hearing such genuine JOY in Papyrus' voice was always a welcome change of pace.

So as he entered Papyrus' wing of the lab, he called out, "HELLOOOOO, TRUE LAB! TODAY WE HAVE A JAW-DROPPING, MIND-BLOWING BULLETIN, STRAIGHT FROM THE UNDERGROUND'S MOST PROMISING YOUNG MIND!"

And just like that, Papyrus spun away from his work desk, eyes wide and googly and with his back pressed to the side to obscure... something.

"WAIT!!! ARE WE LIVE?! "

Mettaton chuckled, waving a hand. "NOT UNLESS YOU WANT TO BE."

Something shifted behind Papyrus, though in the darkness of the lab, it was difficult to make out what. Or who.

Then a strange voice broke out that could only be described as every human infomercial telemarketer thrown in a blender and subsequently bitcrushed.

"H-HEY! [$!$$] THE PRESSES! IS THAT A [FAVORITE SEXY RECTANGLE ]?!"

Did... did it just copy Papyrus' voice? Mettaton would have squinted if he had the eyes to do so. Instead, his shades flattened into the closest approximation.

He could just faintly make out a very long, very pointy nose, and the glint of... shades? Distinctly triangular, possibly copyright infringing shades. Or they could have simply purchased some of Mettaton's merchandise. Very, very interesting indeed...

Well! Only one way to find out. For now, Mettaton rolled closer and said, "WELL HELLO THERE, DARLING! I DON'T BELIEVE WE'VE MET."

"THAT'S BECAUSE HE WASN'T BORN YET! ...TECHNICALLY. " Papyrus paused, stroking his chin and turning to the stranger on the table. "HEY, WOULD YOU CONSIDER THAT COMPUTER LIKE A WOMB? OR AN EGG? "

...What in the world?

Said stranger started laughing very unsettlingly. A sort of EAHAHAHAHAHA sound that echoed through the room. The strange man's twitching didn't help as he rose to a standing position.

"ARE YOU CALLING ME A [Freshly Hatched] PIPIS? YOUR [Little Baby Boy]?"

Seriously, what?

Papyrus threw up his hands and smiled sheepishly. "WELL! YOU SEE, WHEN A SCIENTIST AND A COMPUTER... NO, THAT DOESN'T MAKE SENSE. BUT! WELL. THE IMPORTANT THING IS THAT I'M VERY PROUD TO HAVE BROUGHT YOU INTO THIS WORLD! SO. WITHOUT FURTHER ADO... "

A drumroll sounded from... somewhere. Papyrus stepped aside, and gestured to the mysterious table man as a spotlight shone down.

He was... a robotic fellow with slicked back, spiky hair, a pale, puppet-like face, and a fancy suit accompanied by a long, red cape, spiky epaulets, and... yes, a pair of VERY familiar shades.

"INTRODUCING SPAMTON G. SPAMTON, FORMER EMAIL APP TURNED FUTURE BIG SHOT!!! "

How... odd. It was a good thing Mettaton didn't have much in the way of facial features. Made it easier to keep a poker face. The smooth theme music that followed certainly didn't help, groovy beat or not. On one hand, it set the mood. On the other hand, what?

"THAT'S RIGHT! I'M [A Real Boy]! READY TO [R3ach for the Sky]!"

"...AND WHAT WAS THAT ABOUT AN EMAIL APP?" Mettaton tried to keep a level tone, but this was all so strange.

"WHOA-HEY! LOOKIN' FOR MY [Emotional Backstory]? WANNA KNOW [The Man Beh1nd the Mask]? WELL, [Don't Touch That Dial]! HIT THE [Lights, Camera Action] AND I'LL GIVE YOU THE [Story of a Century]!"

...Curse this song and its catchy hook. Be a big, be a big...

Mettaton brought a hand to... where his chin would be, if he had one. On the one hand, this was all... a lot, to say the least. On the other hand, an interview with an alleged AI given new life would make for one heck of a headline.

Papyrus must have shared some concern, as he crouched lower to the table and looked up at his... creation with concern. "WOWIE! ARE YOU SURE YOU'RE READY? METTATON'S THE UNDERGROUND'S PREMIERE SUPERSTAR-SLASH-STUD-SLASH VERY COOL DUDE! IF YOU GET ON HIS SHOW, EVERYONE WHO'S ANYONE WILL KNOW YOUR NAME! "

Spamton patted Papyrus on the head, as if the pressures of stardom were less unnerving and more... enticing. "THAT'S THE IDEA, [Buckeroo]. I'M HEADIN' STRAIGHT 4 [Prime Time]!"

Wasn't he getting ahead of himself? Mettaton folded his arms and said, "NOW, NOW, DARLING. I ADMIRE YOUR AMBITION, BUT IT SOUNDS TO ME LIKE YOU'VE ONLY TAKEN YOUR FIRST STEP INTO THE WORLD. THE SPOTLIGHT MAY SHINE BRIGHT, BUT-"

"I'LL SHIN3 EVEN BRIGHTR! AND UNLIKE YOU, I DON'T HAVE ANY [Skeletons in the Closet]. NO NEED TO PAND3R TO [Ungrateful Mobs]!"

Mettaton tensed. Thankfully, his robotic form made it easy enough to hide.

Still, Papyrus frowned. "HEY! YOU DON'T HAVE TO BE SO RUDE!!! "

"PAPYRUS, PAPYRUS, PAPYRUS. I'M [An Honest Man]. I CALL 'EM LIKE I SEE 'EM. AND RIGHT NOW, I SEE A GHOST IN A [Gilded Cage]. BUT, HEY! HIS SHOW. HIS [Rouxls]."

...How much did this robot know? Surely, Papyrus wouldn't have told him.

He couldn't have, given the wide-eyed stare that followed. "HOW DID YOU...? "

Mettaton coughed, then cleared his... well, not quite throat, but made the approximation of such a sound. "WELL! COLOR ME SURPRISED. YOU'VE DONE YOUR HOMEWORK. AND YOU SURE DON'T PULL ANY PROVERBIAL PUNCHES."

"THAT'S WHAT THE FOLKS IN THE BIZ CALL [TOUGH LOVE]."

"...YES, WELL. IF YOU'RE GOING TO BE ON MY SHOW, TRY TO REIN IT IN. I'M ALL FOR HELPING THE LITTLE GUY, BUT I'M NOT JUST GOING TO OPEN THE FLOOR TO UNPROMPTED HECKLING."

"OH, DON'T WORRY. YOU SHOW ME YOUR [Terms and S3rvices], AND I'LL READ THE [Fine Print]."

Hm... a contractual obligation meant Mettaton had the upper hand. That did mitigate some concerns, at least. "BUT IF WE DO THIS, I THINK WE OUGHT TO PICK A FLASHIER VENUE. ONLY THE BEST FOR PAPYRUS' NEWEST CREATION!!!" And besides, broadcasting in the True Lab felt like a breach of privacy Undyne would never tolerate.

This seemed to pique Spamton's interest, as a wide grin crossed his face, and he adjusted his shades. "SO, IT'S A [D3al]?"

"...YES. I THINK WE CAN WORK SOMETHING OUT."

Hopefully he wouldn't regret this later.
Page 76 Transcription
So many cries. So many moans. Voices muddled together. It happened too fast. Amorphous blobs crawling toward her. Reaching for her. Once separate. Once so full of hope. Now... shambling. Dripping. Oozing. Why?

Why?

Why, why, WHY?!

Undyne nearly hyperventilated. She backed into a wall. And Papyrus...

He had no idea. It was too early. He was probably still showering. Getting ready for another day of hard work. If he saw them now-

No... it was fine. She'd just... go back. Fix it. She just had to close her eyes, reach out, and-

Nothing. The moaning intensified. No.

This was all just a bad dream.

She reached out again. Squeezed her eyes shut. The star materialized in her mind's eye...

Then shattered.

And so many voices howled. She could barely make out the muddled cries for help.

"I'm TRYING!" She didn't mean to scream. Her heart raced. The whole room seemed to shake. Why? This didn't make sense! She'd never had trouble before, but...

Determination.

Oh NO.

All those injections... Just to enhance their SOULs. And their bodies...

The monsters charged. Undyne thrust her arm out. Their bodies turned green, and she bolted across the floor, rushing for the exit. The door slammed behind her. A wall of spears burst from the floor to further bar the way.

And then her legs gave out beneath her. She fell to her knees, tears leaking from her eyes.

She never asked for this. She just... She just wanted to keep her promise. And if she couldn't do that, at least... the monsters were alive, weren't they?

But now, stuck together, barely recognizable and barely coherent, could she even say that with a straight face? She'd promised they'd all go home soon. She'd arranged more meetings, and now... NOW...

Her fist smashed the floor, creating a small crater. Another strike. It deepened.

But... no. She could still fix this.

Undyne staggered to her feet, leaning into the wall.

She just... She needed to get more DT. Needed to up the ante. It was fine. Her body was predisposed. She just needed a light nudge. Enough to rekindle the spark and set things right.

It was... Everything was... fine. It had to be.

Anything less was as good as admitting defeat.
Page 77 Transcription
Frisk wasn't sure what to expect when they entered that foreboding laboratory. In the darkness, only the light of a computer screen guided them at first. On the screen, their own reflection. They stopped to stare for a moment. Was someone watching them? Along the way, they had seen cameras tucked into all sorts of odd places. But why?

Left with no other choice, save for exiting, they ventured further through the darkness. They passed... something large. A table, maybe? Stacked with... something. No sense walking too close, in case they tripped. They just had to go a little further, and-

An elevator snapped open. The lights flickered on, revealing... a chubby, yellow lizard in a lab coat and glasses.

Okay then.

Said lizard's jaw dropped at the sight of Frisk, and she skittered back with a gasp. "Oh. My god. I didn't expect you to show up so soon! I haven't showered, I'm barely dressed, it's all messy, and..."

Frisk folded their arms. "And you're the one behind all those weird cameras."

The lizard tittered. "Umm..." She tapped her fingers together. "H-hiya! I'm Dr. Alphys. I'm Asgore's royal scientist! B-b-but, ahh, I'm not one of the 'bad guys'!"

Okay. So the stalking, supposedly, wasn't because she wanted their head. Or their SOUL. Good to know.

"Actually, since you stepped out of the Ruins, I've, umm... Been 'observing' your journey through my console. Your fights... your friendships... everything!"

"But you work for the king, right? So why should I trust you?"

"W-well... I was originally going to stop you, but watching someone on a screen really makes you root for them. S-so, ahhh, now I want to help you!" She puffed out her chest and raised her chin, like a total nerd. Probably a play at confidence, but it sure didn't fool Frisk. "Using my knowledge, I can easily guide you through Hotland! know a way right to Asgore's castle, no problem!"

...Huh. Well, if she knew a shortcut, that would make Frisk's journey a whole lot easier. They cupped their chin in hand, nodding. "Hey, sign me up. The sooner I get to the castle, the sooner I..."

They'd... Hm. What would Frisk do? When they set off on their journey, they wanted to escape, but to what end? It wasn't like they had much to go back to. Well, besides Lilac, maybe. If they could find her again, and if she'd even want to see them again, but otherwise...

"I-is everything okay?"

"Oh, uh. Yeah. It's cool." Frisk feigned a smile. Nothing to worry about. They could just take it one step at a time. "So, anyway. King. Castle. All that good stuff!"

Alphys' looked over her shoulder for a sec, shoulders hunching. "Well, actually, umm, there's just a tiny issue." She turned to Frisk again, smiling crookedly. "A long time ago, I made a robot named Mettaton. Originally, I built him to be an entertainment robot. Uh, you know, like a robotic TV star or something."

Okay, so... robot star. Given that Frisk had already encountered a talking flower, pet a dog with an endlessly extending neck, and faced off with living bath tubs, that wasn't really a stretch at this point.

That did beg an important question, though. "What's a TV robot got to do with any of this? I mean, cool. I dig robots, but I don't really see why you're bringing this up now..." Unless-

"Ehehe... well, recently I decided to make him more useful. You know, just some small practical adjustments. Like, um..." Alphys winced, ducking her head. "Anti... anti-human combat features?"

Frisk slapped their palm over their face, grumbling. Of course. Of course she did. They just couldn't catch a break, could they? And right after they'd FINALLY managed to scrape past Undyne without casualty. This almost tempted them to turn tail and backtrack to her place.

Almost, but Alphys cut them off before they could even turn around.

"Of c-course, when I saw you coming, I immediately decided... I have to remove those features! Unfortunately, I may have made a teensy mistake while doing so. And, um... Now he's an unstoppable killing machine with a thirst for human blood?"

"Of COURSE he is." Ugh. Of course. Terrific. As if things weren't wild enough. "Got any other good news?"

"Ehehehehe... Heh." She rubbed the back of her neck. "But, ummm, hopefully we won't run into him!"

No sooner had she spoken than the entire lab gave an abrupt shudder. Loud clanks sounded off behind the walls, and Frisk cursed under their breath before grumbling, "Thanks for jinxing it..."

"Eh?" Alphys looked around. "Did you hear something...?"

Another shudder. Another slam.

"Oh, come on! There's no way you didn't-"

"...Oh no."

The lights cut. Because of course they did.

A deep, booming voice called out, "OHHHHHH, YES!"

Because of course it did.

Said voice then continued on with, "WELCOME, BEAUTIES... TO TODAY'S QUIZ SHOW!"

A spotlight shone down, revealing... a giant calculator with arms and a wheel? What?

And if that wasn't dumb enough, a tacky neon sign slid down from the ceiling, reading "GAME SHOW." Twin disco balls followed suit, casting the laboratory in a rainbow of strobing dots. Oh, and confetti rained down. Cool.

The robot ignored their bewilderment and continued his boisterous monologue. "OH BOY! I CAN ALREADY TELL IT'S GOING TO BE A GREAT SHOW!" He gestured dramatically. "EVERYONE GIVE A BIG HAND FOR OUR WONDERFUL CONTESTANT!"

Blatantly canned applause rang throughout the lab. Probably from some unseen speakers. Mettaton joined in the applause. This was... weird, but it almost squeezed a chuckle outta Frisk. It almost made them forget the whole 'killer robot' thing.

He must've caught the look on their face, though, because he pivoted directly toward them. "NEVER PLAYED BEFORE,GORGEOUS? NO PROBLEM! IT'S SIMPLE. THERE'S ONLY ONE RULE..."

A giant 1 appeared on his screen. "ANSWER CORRECTLY... OR YOU DIE!!!"

Frisk grumbled a little. They looked to the now shivering Alphys, then back to Mettaton. Little did either of them realize, death was hardly a dealbreaker at this point. Pulling up their sleeves, Frisk stepped forward and pointed straight at Mettaton's screen.

"Bring it, boxy. I'm not scared of some calculator on wheels."

Alphys squeaked. "H-Hey, you shouldn't-"

Raising a finger, Mettaton flicked a bolt of electricity just a hair's distance from Frisk. "A WORD OF ADVICE, DARLING: DON'T HECKLE THE ROBOT HOST."

Frisk glanced down at the smoking black blotch on the floor, wincing. Evidently, they'd have to watch their tongue around this guy.
Page ? (78) Transcription
I've been waiting so long...

But everything's finally going JUST right.

You know, it's funny, Chara...

I used to pretend that idiot was you. I projected...

And then I heard their name. their STUPID name.

I knew then. They weren't you.

But now? Now I know.

You aren't really gone. You were with them all along...

Why did you hide from me? Why did you try to turn them against me? We were best friends. We were supposed to be together FOREVER...

Hehehe... But then I blew it. I couldn't kill six humans. I thought MERCY was the righteous path...

And I DIED for it.

But I grew stronger, Chara. If only you knew. I've killed SO many people in SO many ways...

Your little crybaby brother is all grown up.

Do you not like what I grew into?

I can't hear you. I don't know what you've told that idiot. I don't know if you're doing this for petty revenge. I don't know if you actually care... I could never predict you.

Golly, I bet it's all just a game to you! You "befriend" a human. You get all chummy, even though you used to want them all DEAD. You force me to watch so I'll get JEALOUS. So I'll come BEGGING for you to forgive me. When you'll "win."

But no, Chara! I'm not gonna lose to easily!

No. YOU'LL come to me. I'll give you exactly what you need...

That cat gave me ideas. Those lab reports clinched it.

It's okay, though. I know how much that kid means to you. They're your FAVORITE TOY...

There's room for them in our game, too.

It'd be no fun if I just killed them. No, they'll get a nice, front row seat. Isn't that exciting?

I'm so tired, Chara.

I'm tired of sugarcoating everything. I'm tired of getting your silent treatment.

I'm tired of being a flower when I had all that power in the palm of my hand...

But I know that when it's all over, it'll all be worth it.

It won't be long now. The idiot and Papyrus are going to meet Sans, and after that, they just need to finish their victory lap. Once that's done, I'll show you, Chara. I'll show you that you never have to doubt me again!

And then you'll have no choice but to apologize. You'll have to admit that YOU lost.

But it's okay. I could never hate you. After all. we're best friends, aren't we?
The Console
The console, an easier way to access the codes, has some mysteries of its own. Located on the website and titled GASTOS, the console is a 90's era computer screen with a prompt line to enter a command.
Commands
help and ? - These commands access a basic help menu
page1, page2, page3, page4, page5, page6, page7 and page8 - These commands show all clues and hints
[any solution] - Entering any solution will give a link to the secret page
login - This command allows you to login as any active user, provided you have a password
archives - The archives prompt brings up a small menu with only the following command:

royal - Gives easy access to all Royal Guard History volumes that appeared in the Fort Aquarius arc
The following commands are not shown in the help menu.
bypass - The first step to the Admin account
override - The second step, brings up a series of security questions
Security Prompts
Who created the talking flower? -> Papyrus
What is Dohj's rank within the Guard? -> Sergeant
Who declared war on humanity? -> Asgore
Who was the Royal Scientist after Dr. Gaster? -> Sans
What is Captain Alphys' weapon? -> Crossbow
Who enlarged Napstablook's house? -> Papyrus
Which is objectively better? Mew Mew 1 or Mew Mew 2? -> Yes
Inputting the answers gives you all of the secret page codes, essentially a cheat sheet.
hack - Reveals an easter egg insulting your intelligence
butt - Reveals another easter egg
bepisvalleygranolabars - Gives you access to recovery1 the next time you login as Undyne.
Login
The login command allows access to more secrets than ever before, as long as you know an active user's name and password.
Active Users
User Passwords
Undyne: I'll keep my promise


Gaster: 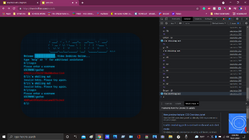 -When you login as 'GASTER' with your computer console open, the console will display the message "I'm chilling out"
Undyne Commands
notifications - Brings up a small menu with the following command:

core013 - Redirects you to a preview of the Determinator battle.

report01, report01b, report01c, Gives easy access to the Dog Mechamalgamate's records.
recovery1 - Displays a report detailing Undyne's encounter with the Memoryheads (Only accessible if bepisvalleygranolabars has been entered before.)
References